On a five-day Taste of Israel tour organized by Stand With Us, I visited local restaurants, bustling food markets and participated in cooking classes that connected me to some of the people and mouth-watering foods of Israel.
Since I'm still progressing from what used to be a picky palate, I was surprised to find that I enjoyed so many different foods and had plenty of yummy options to choose from at each meal—too many options, maybe, as my overfull belly protested when I played the "just one more bite" game. Some of my favorite local foods include savoury shakshouka, spicy zhoug and creamy hummus.
What to eat in Israel
If you don't speak Hebrew or Arabic, you'll probably find Israeli menus challenging to decipher. Here's a cheat sheet so you, too, can eat well when you're in the Holy Land:
1. Dolma
Stuffed grape leaves filled with rice.
2. Falafel
Deep-fried ball of ground chickpeas and spices.
Ingredients: Chickpeas, onions, garlic, parsley, red peppers, cumin, salt, pepper, baking soda and baking powder
3. Halva
Ground sesame seeds mixed with sugar and flavorings such as coffee beans, chocolate and almonds.
4. Hummus
Chickpea spread.
Ingredients: Ground chickpeas, olive oil, sesame seed paste (tahini), paprika, fresh onions, lemon juice
5. Jachnun
Doughy pastry. The finely rolled pastry is rolled into a log with margarine between the layers.
6. Kadaif
Shredded phyllo dough topped with sugar and baked till golden and crispy. These pastries look like pretty little birdsnests.
7. Kanaffe
A savory sweet cheese-filled pastry. It's drizzled with sugar syrup and served warm.
8. Lahmacun (Lahmabiajin)
Like a no-cheese pizza with seasoned ground lamb meat, drizzled with olive oil and tahini and sprinkled with parsley.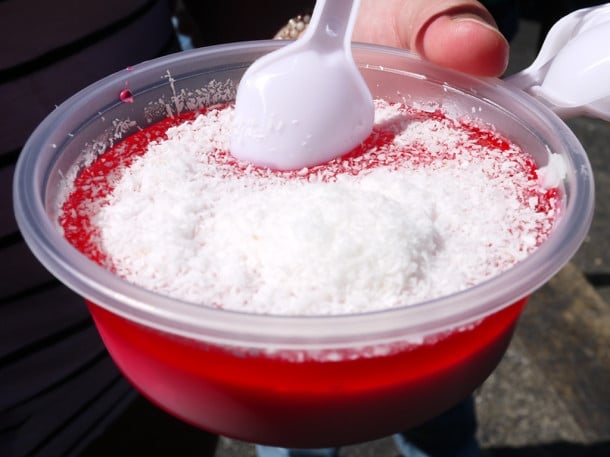 9. Malabi
Milk pudding in rosewater and sugar syrup. It's typically made with milk or sweet cream and thickened with cornstarch.
Ingredients: Sugar, water, red food coloring, lemon and rose-water extract
10. Shakshouka (also spelled shakshuka)
Eggs in a tomato pepper sauce. Sop it up with some pita and savour it. Yum!
Ingredients: Tomatoes, garlic, hot green peppers, paprika, eggs, cumin
11. Sambusak
A savoury turnover. It can be sesame-seed crusted and filled with cheese or meat.
12. Tabbouleh
Cracked wheat salad. Make it gluten-free by replacing the bulgur with grated cauliflower.
Ingredients: Bulgur (cracked wheat), lemon, parsley, mint, green onions, tomatoes, olive oil
13. Za'atar
A mixture of green herbs such as oregano, basil thyme, thyme and savory. It's also used to describe a mixture of the herbs with sesame seeds, salt and sumac.
14. Zhoug
Hot pepper sauce. Careful. It can be really spicy so start with just a taste by dipping a tiny corner of some pita into it. If you can take the heat, munch on! Green chili peppers with seeds, garlic, cumin, cloves, cardamom, cilantro.
Where to eat in Israel
Now that you're salivating, do you want a few recommendations on where to eat? I didn't have one bad meal while I was in Israel so follow my lead and you, too, will be well fed throughout your trip:
15. Yaffo Tel Aviv, restaurant, Tel Aviv
98 Yigal Alon St., Electra Tower, Tel Aviv
Visit Chef Haim Cohen's restaurant for irresistible food with a comforting, home-cooked flair. The ambiance in his dining room matches the chef's warm and inviting nature. He's got hospitality to spare and masters meals that'll make you feel like you're right at home even though you're abroad.
16. Herbert Samuel, restaurant, Tel Aviv
6 Koyfman, Tel Aviv, Israel
Boasting a huge selection of mouthwatering menu options, this place is impossible to leave hungry. Chef Roshfeld, a leading chef of Israeli cuisine, keeps a packed dining room so book early to get a reservation.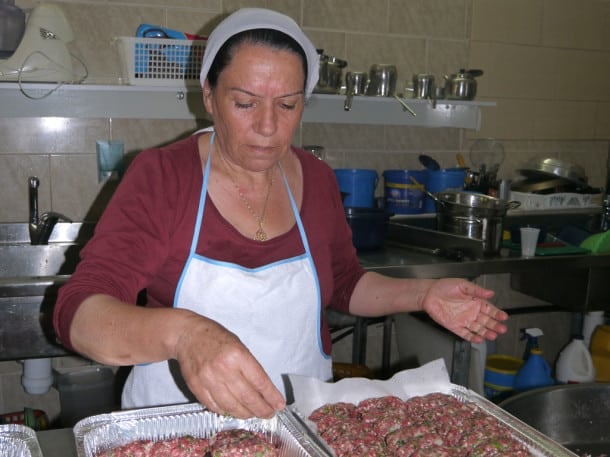 17. Nora's Kitchen, restaurant, Mount Carmel
Traditional Druze cooking in Daliyat El-Carmel at its finest. Chef Nura (a.k.a. the cooking Superwoman to me) takes private bookings so your best bet at scoring a prized seat in her dining room is to ask some local Israelis to help arrange things. Here's her Facebook page (in Hebrew).
18. Machane Yehuda, food market, Jerusalem
Jerusalem's iconic and historic market is cradled between Machane Yehuda St and Agripas St. Check out: Basher Fromagerie for delicious cheese; the Halva Kingdom for sweet halva; and Uzi Eli for fresh-squeezed juices. You just might get a free massage and lots of laughter at the latter.
19. Link, restaurant, Jerusalem
3rd Hama'alot St., Jerusalem
Dine in a casual and intimate setting at Link in Jerusalem. This hybrid restaurant/bar/bistro features a yummy selection of meat, fish, pasta, salads, soups and more. A word to the wise: Don't forget to save room for their decadent desserts.
20. King's Garden Restaurant at the King David Hotel, restaurant, Jerusalem
23 King David St., Jerusalem
Dining al fresco at King's Garden Restaurant at the King David Hotel is an affair to remember. You'll enjoy fine dining on a spacious terrace overlooking gardens, towering palm trees and the stately and swanky hotel as a backdrop.
With so many great dining options in Israel, surely I haven't captured them all in this post. Share your favorite must-eat food or must-book Israel restaurant by posting in the comments section below.
For more on what to see and where to stay in Israel, click here. And because food photos are calorie-free, check out this photo gallery with more fabulous foods from Israel: