After a fun weekend visiting friends and perusing what's new in Vancouver, I flew East on Air Canada Express (one hour) to Penticton, BC.
I was part of a small group of Canadian and American writers there to tour the farms and vineyards of the South Okanagan Valley. We were met by Patty Ogden-Grady, owner of Okanagan Country Wine Tours, in a luxurious Mercedes touring van, which would be part of our lives for the next three days. Okanagan Country Wine Tours was the first tour operator in the Valley (17 years ago), and for $185 you can experience their full-day tour that includes wine-tasting fees, lunch at a winery and door-to-door service. I highly recommend them.
The wineries

1. Liquidity Winery
Our first winery visit, at Liquidity Winery in Okanagan Falls, began with lunch. The winery's Bistro restaurant is set in a beautiful white room with floor-to-ceiling windows to take in the incredible expansive vistas that literally go on as far as the eye can see. Large paintings from local British Columbian artists grace the interior and sculptures adorn the outside.
The terroir in the Okanagan is perfect for growing grapes and other fruit because of its mineral rich soil, deposited by glaciers 10,000 years ago. Before the wine industry took hold, the Valley—"the fruit basket of Canada"—was known for growing cherries, peaches, apples, and berries, and it still is. The Bistro serves Italian/Sonoma-style fare—perfect to enjoy with their wines and views.
Pet-friendly tip: Dog-friendly See Ya Later Ranch winery in Okanagan Falls is known for its love of dogs, is dog-friendly and has contributed more than $150,000 to the local SPCA since 2006.
2. Tinhorn Creek Vineyards
Our next winery was Tinhorn Creek Vineyards, where we dined with winemaker Sandra Oldfield at their restaurant Miradoro, a partnership with Vancouver restaurateur Manuel Ferreira, owner of Le Gavroche. Sandra is down-to-earth friendly and very non-chalant despite having won numerous awards for her wines. Manny came over and asked how our dinner was, of pork roast and beet risotto over greens with goat cheese.
Everything was superb, from Tinhorn Creek's Cab Franc Rosé to the rustic Italian-influenced cooking of chef Jeff Van Geest, who also came by to tell us which local farms the ingredients for the meal came from. A night to remember!
3. Black Hills Estate Winery
Black Hills Estate Winery is known internationally for their Cabernet wine—especially the blend of Cabernet Sauvignon, Merlot and Cabernet Franc called Nota Bene, an industry favorite, which people like to save and age. I liked the light Alibi, a blend of Sauvignon Blanc and Sémillon and bursting with BC fruit. Their wine advisors are called "evangelists" because they're so enthusiastic about wine!
4. Le Vieux Pin
Le Vieux Pin—"The Old Pine"—is a winery dedicated to making wine in the French tradition—which the antique handwritten labels attest to—but with the fruit of the new world. Their Ava is a blend of Viognier, Roussanne and Marsanne, "with bright stone fruit flavors and bright acidity." It was delicious! A private tasting with winemaker Alex Rousseau in their back room—filled with oak casks and actually on top of an oak cask—was pure romance. If you live on the US west coast, it's possible to order it. If you live on the east coast, you can take back a certain amount of bottles by plane, or drive there and fill your trunk!
5. Culmina
Culmina—Latin for "peak"—is the brainchild of wine experts Don and Elaine Triggs. It's now run with scientific expertise and overseen by daughter Sara, who is hands-on. All the wine grapes are grown on property.
The family's love for elegance and art goes right down to the delicate, oversized wine glasses and clean-lined tasting room. Spend a lovely afternoon tasting the Riesling Decora—Latin for "pretty"—or Hypothesis, a blend of Merlot, Cabernet Sauvignon and Cabernet Franc, in the tasting room or on their gorgeous patio.
6. Covert Farms
Covert Farms is a fourth-generation family farm estate located in North Oliver, BC. I foraged for strawberries after a ride in the back of their red 1952 Mercury pick-up truck. On the way we visited their highland cows and enjoyed the views of the acres and acres (650!) of scientifically regulated vineyards.
Back at the barn/store, we purchased and drank their sparkling wine Odie—an ode to their beloved chocolate lab, whose picture is on the label—as well as Rosé and Cabernet. Covert Farms is very organic and even salmon-safe. That means everything they use to help the grapes grow will not run off and damage the salmon swimming upstream. Covert Farms is next to McIntyre Bluff, which is an ideal place to hike or mountain bike—and it's dog-friendly.
Boat tour with Nk'Mip Desert Cultural Centre
Native-owned Nk'Mip Desert Cultural Centre offers a pontoon boat tour with Captain Ken and is a wonderful way to see Lake Osoyoos. We were lucky to have Charlotte Stringham, a tribe leader, who talked about what the Nk'Mip do to to educate and protect their ancestral lake and its salmon inhabitants. The center is a must-visit.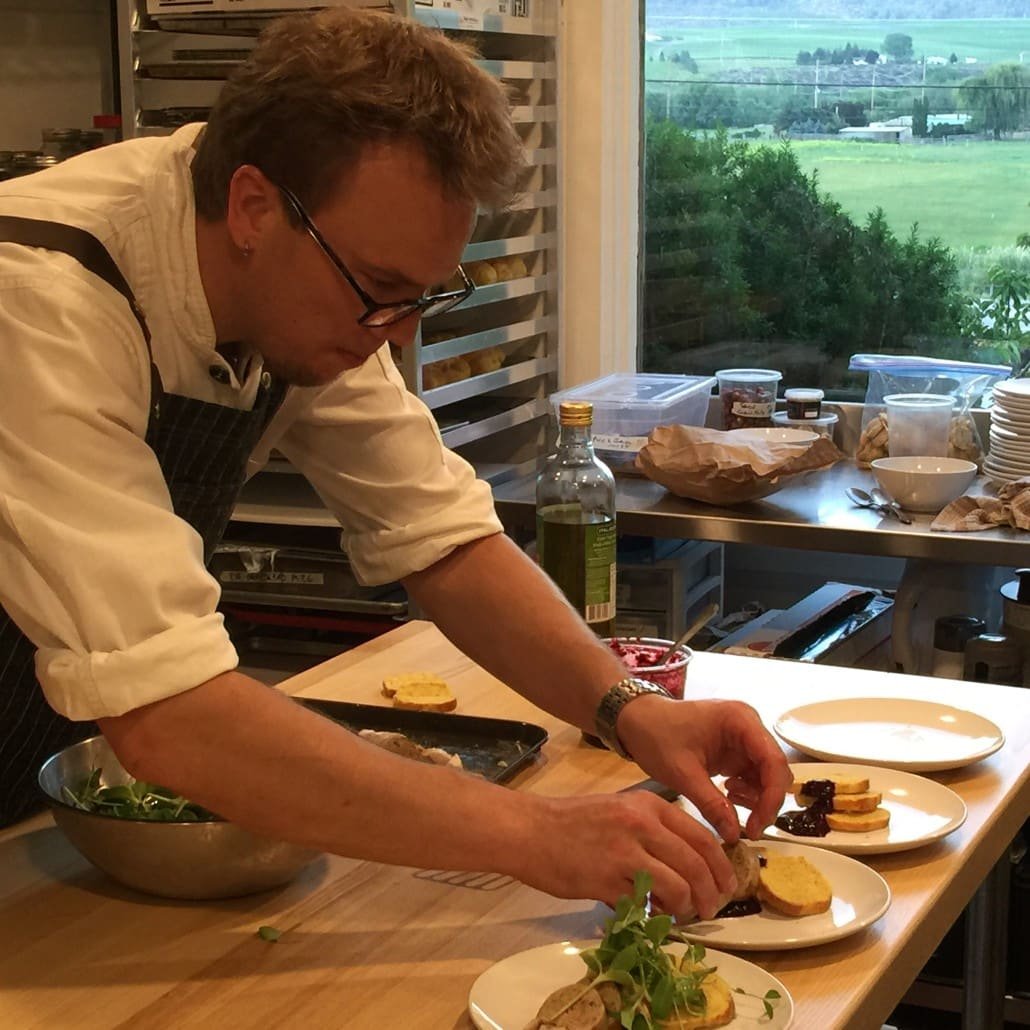 Dinner at Backyard Farm
Dinner with Chris Van Hooydonk of Backyard Farm was a great way to see what the Okanagan is all about. Chris hosted a five-course dinner and paired wine-tasting in his private kitchen/dining room on the Golden Mile in Okanagan. We watched as he and his assistant effortlessly prepared and served Pacific Coast Oysters, asparagus soup, homemade ricotta gnocchi, a rabbit terrine, and baby organic heirloom carrots. Chris is dedicated to supporting the local farms, and all the meats he uses are ethically raised without chemical interference. Chris's labor of love is available for private parties and wine-paired cooking demos.
Bill Eggert of Fairview Cellars was among the guests at our dinner party and he brought with him some of his highly sought after library wines.
Home base: Watermark Beach Resort
The Watermark Beach Resort sits on 1,000 feet of sandy beach along the shores of Lake Osoyoos and was the perfect place to call home. Lake Osoyoos is known as "Canada's warm welcome" because of the lake's mild temperatures. We were there to search the Okanagan Valley for the best wines and farm cuisine the Valley has to offer (and there are many!).
Pet-friendly tip: I love traveling with my dog and love that the Watermark Beach Resort is pet-friendly! (additional charge of $25 a day). Close by are dog-friendly beaches and parks.
The dry desert country landscape is surreal, with low mountains in sandy, ochre and green pastels with Lake Osoyoos smack in the middle. My villa (#23) at Watermark had a view of the lake and a private balcony on the second floor and a patio with a BBQ grill on the first floor, and in my suite was a wine refrigerator to keep all the bottles I bought at wineries the perfect temperature. From my room it was an easy jaunt to the lake, breakfast on the restaurant patio or yoga class on the lawn.
The Watermark restaurant uses ingredients from local farms and purveyors. The wine list had bottles from many of the wineries we visited, and my breakfast of poached eggs—yolks the orange color found only in fresh farm eggs—with a zingy ginger bran muffin and Pacific Coast berries was delicious as well. And for our evening meal, we sat out on the patio surrounded by flowering vines as a full moon beamed down its reflection on the magical lake.
My time spent in the Okanagan Valley will be savored, like the fine wines it's known for, and it will be fondly remembered for its family farms and small wineries. Check out Hello BC's webpage to start planning your trip there now, and you won't be sorry. And tell them Georgie Jet sent you!