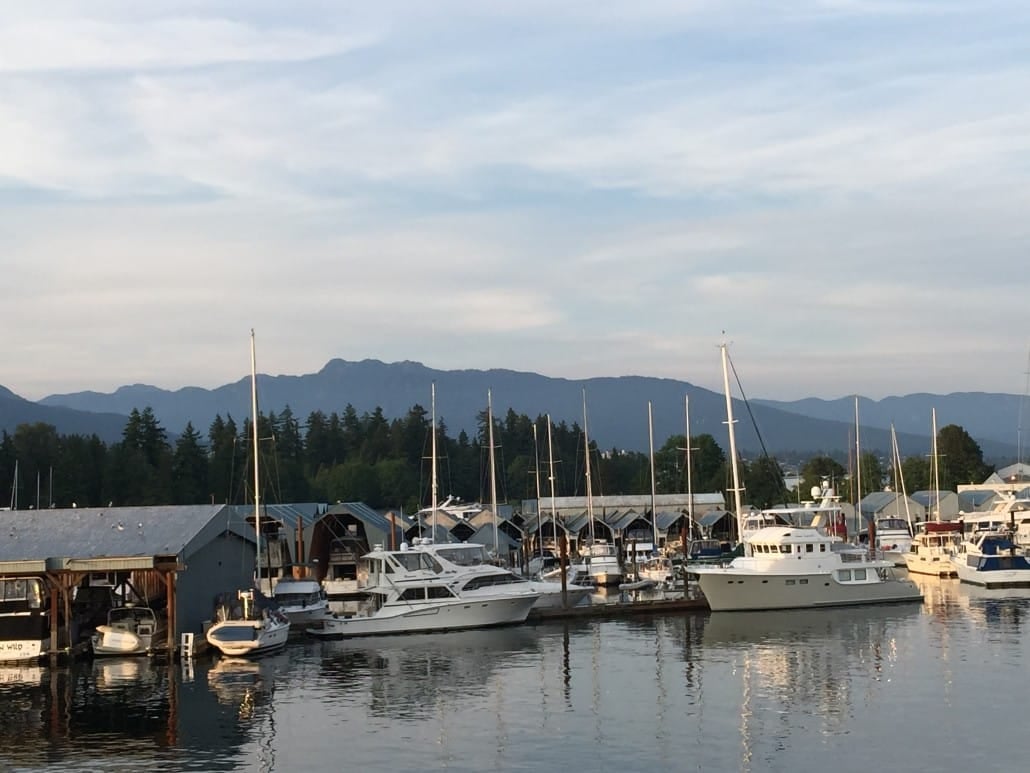 Since this was my fourth time visiting, I guess you could say I love Vancouver! I love the international feel of the city, the hipster vibe and the Pacific west coast native art (I wrote about art for JohnnyJet.com five years ago in this post).
Vancouver is also a gateway into all that British Columbia has to offer. Before heading out to BC's Okanagan Valley—known for exquisite boutique wineries and farm-to-table cuisine (not to mention providing much of the fruit and vegetables for Canada)—I rediscovered Vancouver by staying at three very different hotels in three radically different parts of the city. One luxury, one super modern, and finally Vancouver's only First Nation boutique hotel in the historic Gastown district.
1. Night one, at the Fairmont Vancouver Airport
The Fairmont Vancouver Airport is right at the First Nation-themed Vancouver airport, which is technically located in Richmond, BC. After the long drive to the airport from Connecticut and the direct Air Canada flight from Newark, all I had to do was walk upstairs to the Fairmont Vancouver Airport Hotel! My room was right on the runway (something Johnny Jet would appreciate) and completely soundproof, and it featured modern design and the comfortable bed that Fairmont hotels are known for. I loved the large bathtub with it sensuous Le Labo Rose 31 products. In the morning I took the convenient, safe and inexpensive way to travel to Vancouver: the Canada line train, new since the Olympics.
Tip: All Fairmont hotels in the Pacific Northwest are pet-friendly (dogs and cats!) and charge $25 per pet per night. A bed, a bowl and treats are provided. Quiet animals are permitted to stay in the rooms without their owners.
Later that evening, I met up with writer and Vancouver native Kasey Wilson, who co-hosts the popular radio show Best of Food and Wine. Kasey, Nancie Hall (from Fairmont) and I had dinner at the newly renovated Hotel Vancouver located on West Georgia Street, in the heart of downtown Vancouver. The historic hotel with a colorful past was originally built as a railroad hotel.
We dined at the downtown Fairmont Hotel Vancouver at Notch8, a thoroughly modern, bustling restaurant whose whimsical designs give homage to the railroad (as does the name; "notch 8" is a railroad term that means running the train at high speed). If you can't bring your dog, the hotel's yellow labrador named Beau will make you happy! You can even take him for a walk.
Everything at Notch8 is beautiful, especially the colorful china the tea and apple pie å la mode were served in. The cuisine is traditional Canadian fare, and they source locally and even grow their own vegetables and make their own honey on the roof.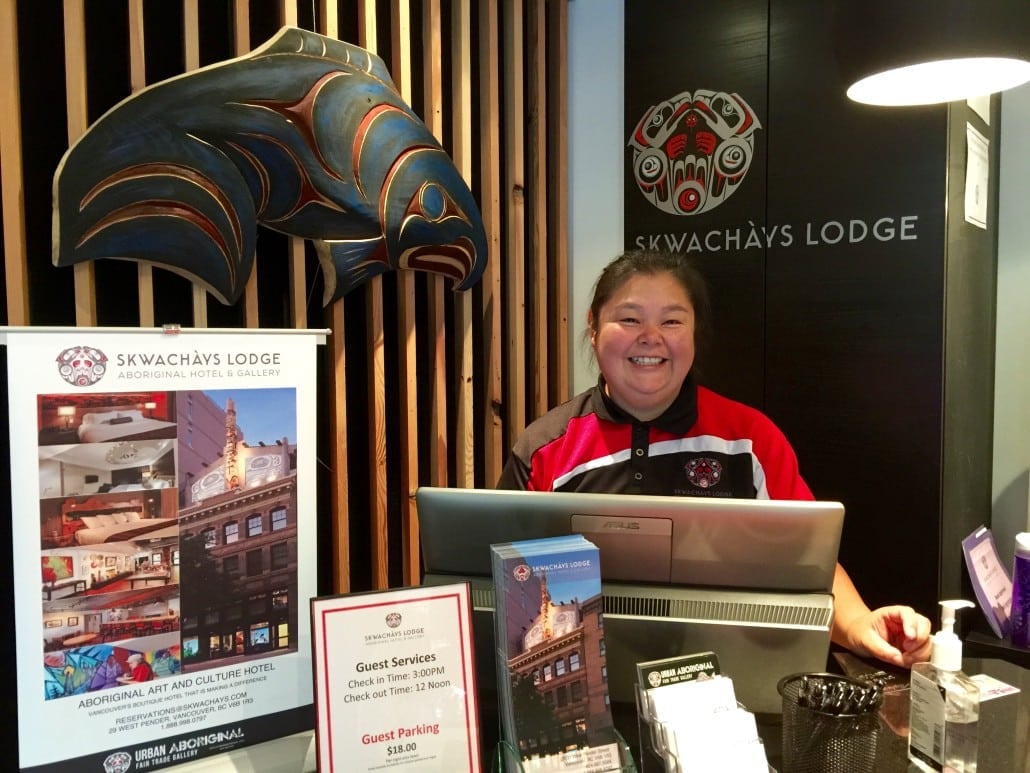 2. Night two, at the Skwachàys Lodge Aboriginal Hotel and Gallery
If you love Pacific First Nation art, you'll love the way this hotel is decorated. Each room is a unique art installation done by world-renowned interior designers and First Nation artists—and you'll want to spend some time in their gallery. This is not an ordinary hotel. It's the first home away from home for native people and also happens to have 18 guest rooms for socially responsible travelers.
The Bill Reid Gallery is a must for art lovers and Skwachàys Lodge has a package that includes a visit to the museum and time with one of the in-house First Nation artists.
I love the native art work at the hotel—especially when it's affordable and I can wear it everyday in the form of a scarf or shirt. I bought my dad a tie in the classic red and black colors.My room was decorated in the same colors, with red and black salmon swimming on my headboard. I was on the top floor, where there's a ceremony room, and on my private balcony, there was a real 40-foot-high totem pole! It has to be one of the coolest places to stay in the city!
3. Night three, at the Opus Hotel
I visited some old friends in the super pet-friendly (no charge for dogs, and free dog walking!) Opus Hotel in Yaletown. Yaletown and the Opus Hotel feel like home. All I was missing was my chocolate labrador, Baci. The staff made up for it by providing me with gifts to take home to Baci and a pet-friendly terrace suite.
The Opus' Pampered Pooch package includes a pet massage, a pet portrait, a designer bandana by Dog and Crow, and walks at nearby parks by their Bow Wow Butler. All of the rooms at the Opus are fashioned after one of five muses; my Pierre Room (named after a fictional Parisian food critic) was painted bright orange. Last year's stay was in Lola, the rock-star's lilac room. I loved the room, and could easily live here! Celebrities stay here for a month at a time.
Yaletown has a farmers market on Tuesdays and luckily, it was Tuesday when I visited. I found fiddleheads, morels and strawberries that were bursting with flavor. They even had unusual cucamelons: miniature cucumbers with a pungent and sweet taste.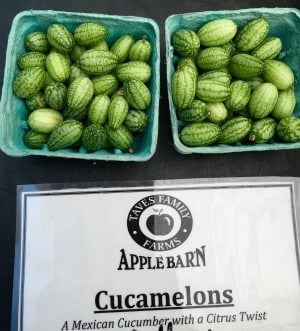 Since the Vancouver Tequila Expo was on at the time, Kasey Wilson and I went on a "tequila safari" designed by Chef Manuel Otero  We joined 30 party-goers, hopped on the Vancouver Trolley and set off for five different restaurants—including the legendary Joe Fortes, a seafood and chop house, and the Left Bank, a Parisian-style bistro. All served different types of tequila straight up and wonderful house-made little bites. The Vancouver Trolley trip provided a fun way to interact with new friends and drink responsibly. Since I had an early start the next morning, the trolley driver actually drove me to my hotel: the Opus. The next morning I was heading to Canada's only desert, the Okanagan Valley, for a farm-to-table and wine adventure!
More photos: