A big thanks to Discover Los Angeles and Universal Studios Hollywood for providing us with tickets so we could write this report on our experience.
If you read our review of The Garland Hotel in North Hollywood, then you know that one of the best things about it is that it's a mile from Universal Studios Hollywood. The surprisingly outstanding hotel provides an hourly free shuttle so you don't have to worry about parking at a large theme park, which usually entails paying a hefty fee, walking a long distance to and from the entrance, and then trying to find your car when you return (especially when you've got tired kids in tow). TIP: Always take a photo of your parking spot and location so you can easily find your car.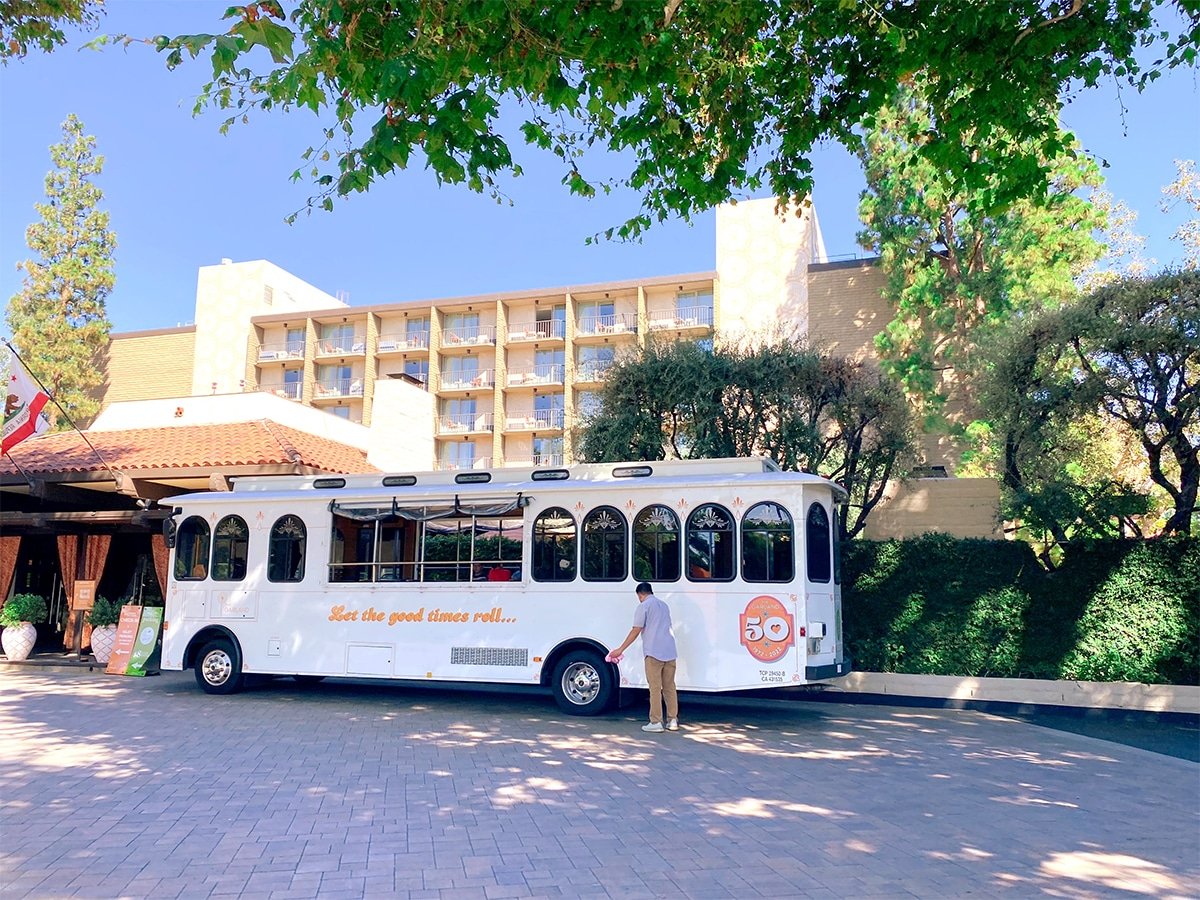 Of course, we took advantage of the hotel's free shuttle service (pictured above). This was my first time going to Universal Studios Hollywood in close to a decade and this trip with my two little kids (ages four and six) brought back memories of my first visit when I was 13 years old.

Back then, the theme park had a huge impact on me, so much so that it was one of the reasons I wanted to move to Los Angeles from Connecticut. They still have a couple of the attractions they had decades ago including the Jaws Lake (sit on the right-hand side to get a picture like the one above) and the Old Mexico Flash Flood, which looks like it's going to take your tram out (sit on the lefthand side if you want a good shot of it). Both are on the Studio Tour, which involves a 45-60 minute tram tour. NOTE: There are no bathroom breaks on the tour so make sure you use the loo before getting in line.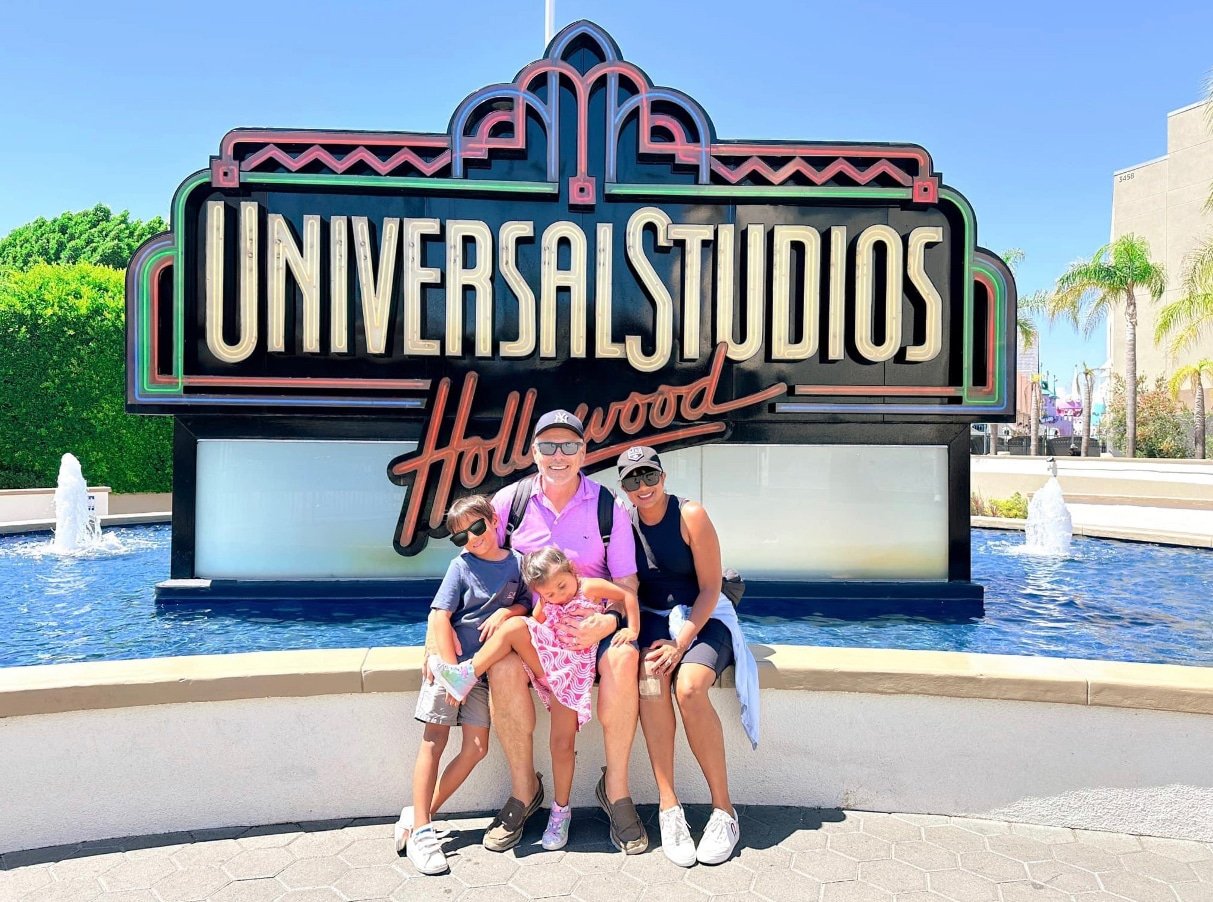 Whether you're visiting with little kids or not, be sure to do your research before arriving so you know which rides are best for your family. There are a lot to choose from and we focused on the ones best for little kids. We used YouTube and Undercover Tourist to help plan our visit.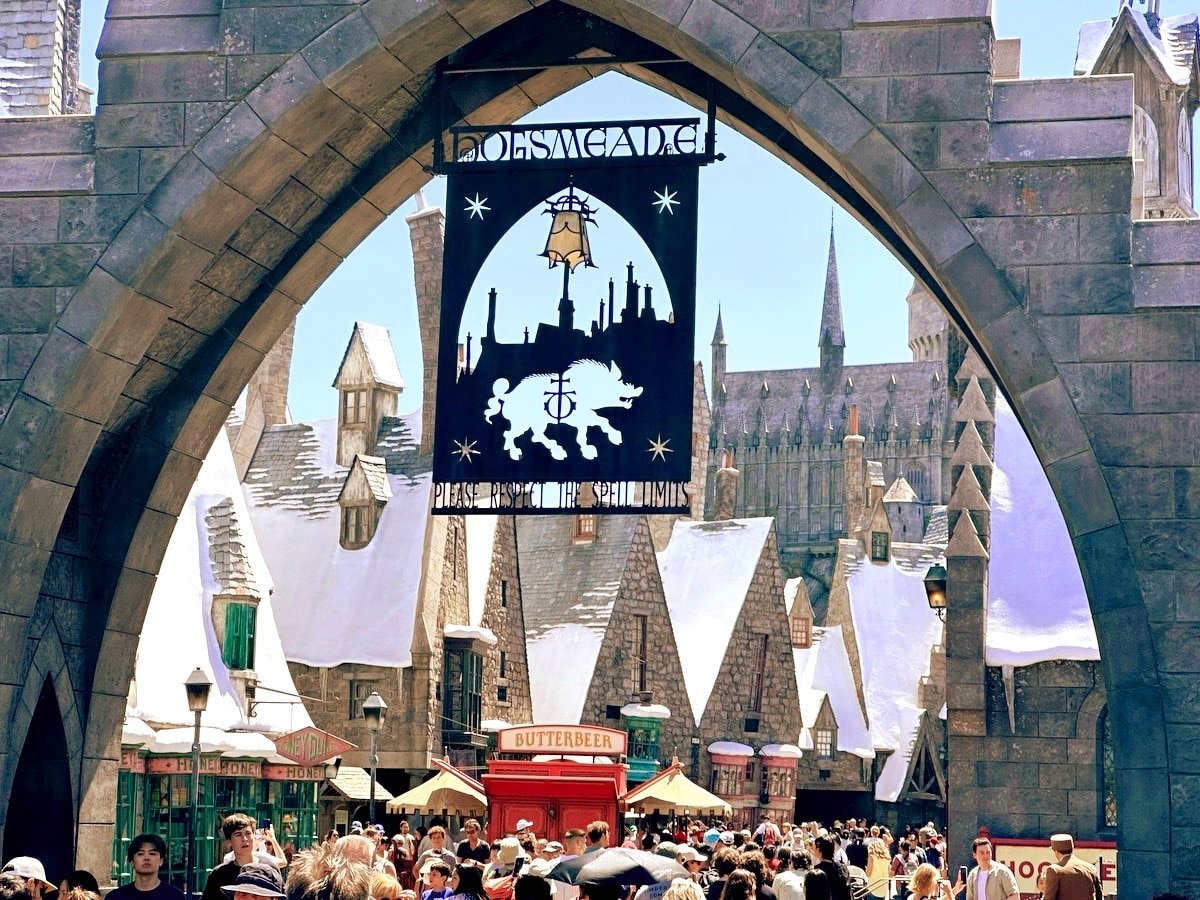 In my opinion, Universal is a bit better suited for older kids since there's a strict height requirement on many of the rides. Our four-year-old didn't make the 40-inch cutoff on many of the kids rides which are listed below, which obviously caused some heartache and temper tantrums. So it's best to know before you go so you can manage your family's expectations.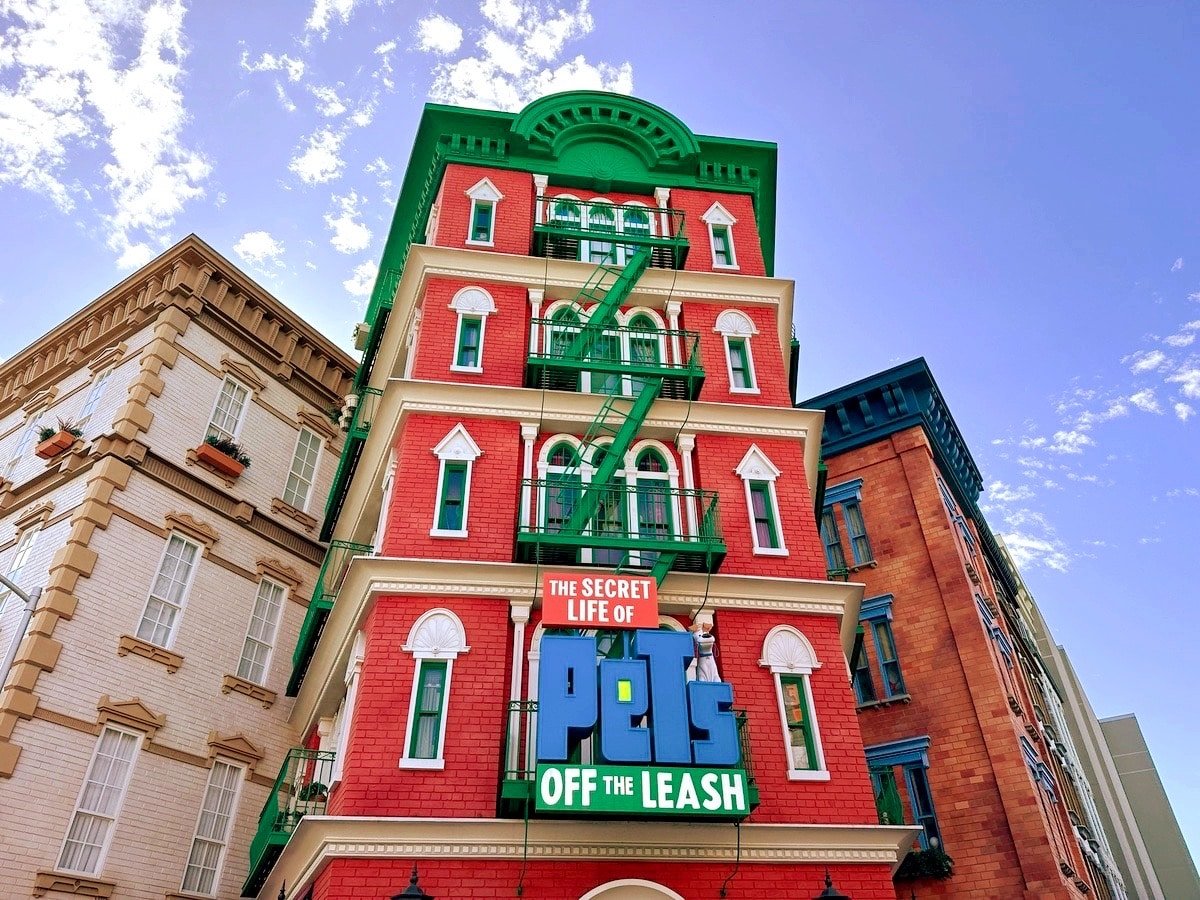 Height Requirements:
The Secret Life of Pets: Off the Leash – 34 inches
Flight of the Hippogriff – 39 inches
Despicable Me Minion Mayhem – 40 inches
The Simpsons Ride – 40 inches
Transformers: The Ride 3D – 40 inches
Mario Kart: Bowser's Challenge – 40 inches
Silly Swirly Fun Ride – Kids under 48 inches require a supervising adult
Kung Fu Panda Adventure – No height requirement
Studio Tour – No height requirement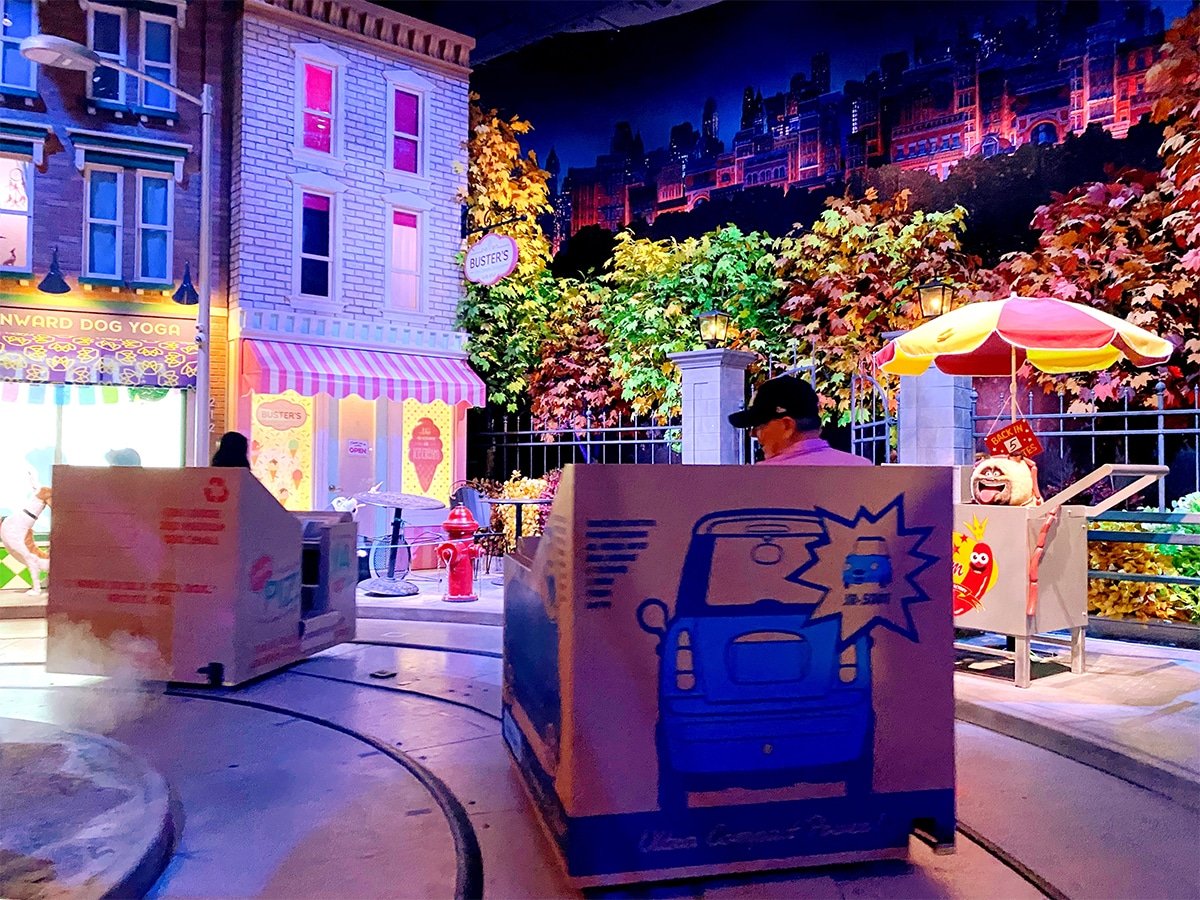 The Secret Life of Pets ride was our family's favorite …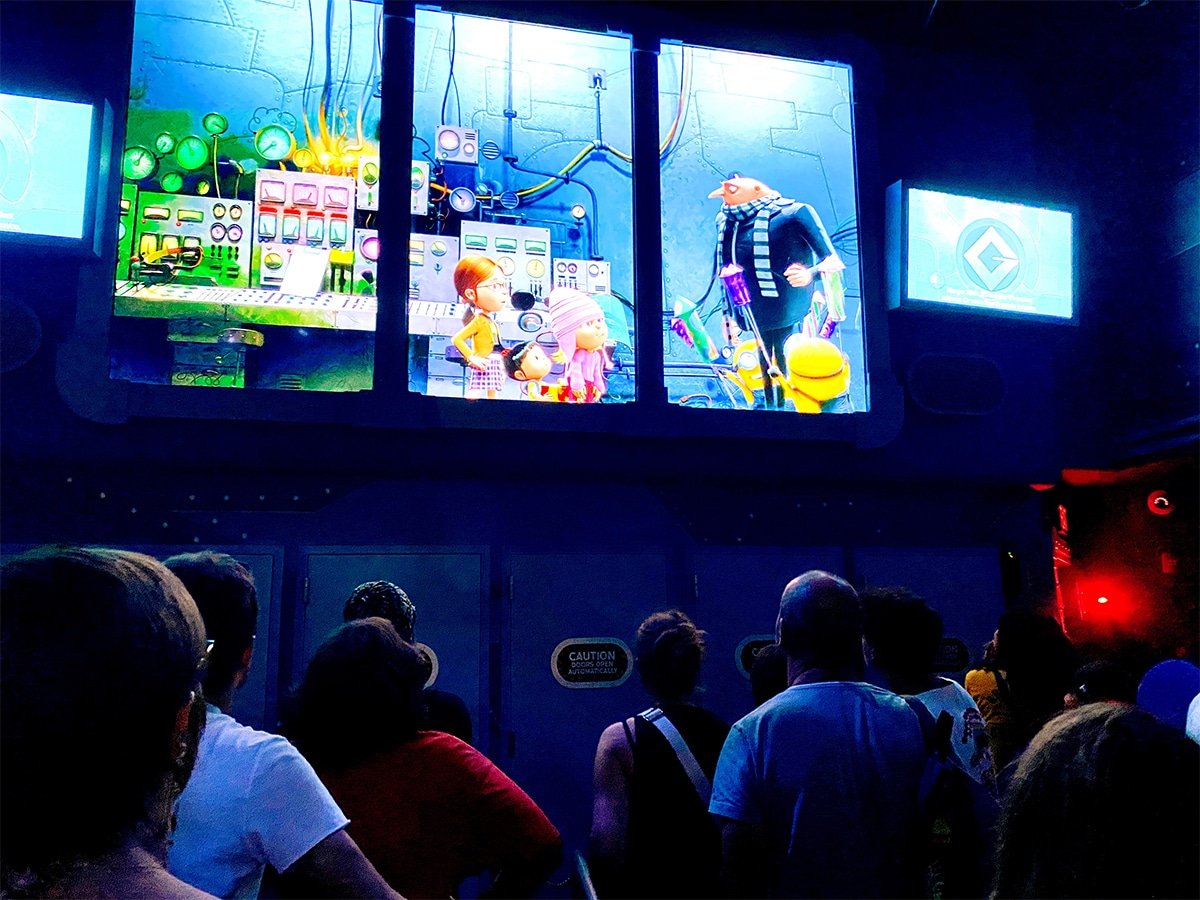 … but our son also loved the Despicable Me Minion Mayhem experience. Our daughter didn't meet the height requirement so I waited outside with her.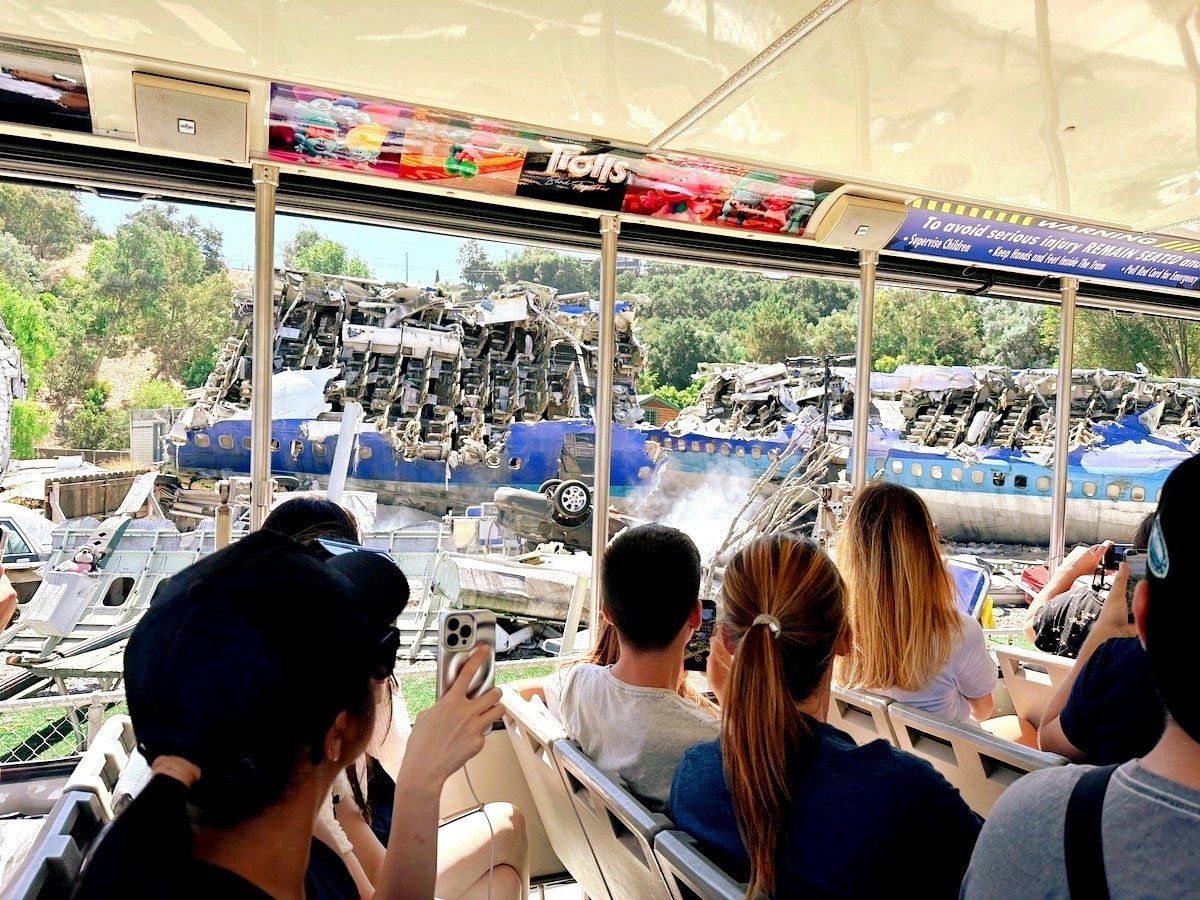 My kids would probably say that their least favorite experience was the Studio Tour but that's because they were too young for it. The behind-the-scenes peek at movie-making was really cool and eye-opening but is definitely targeted towards an older audience. For instance, when we stopped at the unbelievably realistic wreckage of a 747 plane crash, we covered the kids' eyes. They're great little flyers and I don't want to scare them.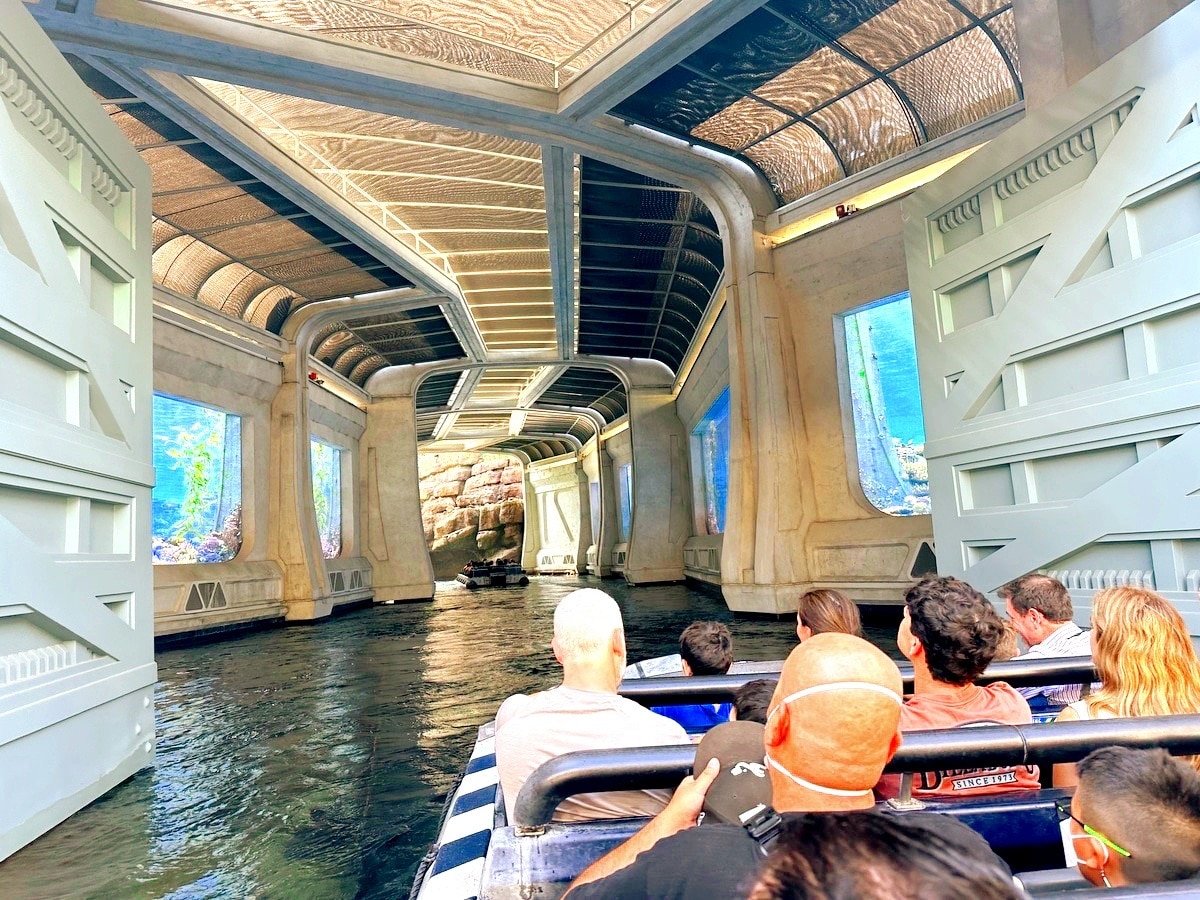 I also took my son on Jurassic World – The Ride, which has a 42-inch height requirement. He begged me to take him and he LOVES dinosaurs. But he soon realized that it was a little too scary for him, especially the 85-foot drop at the end. I enjoyed it, though. GOOD TO KNOW: You will get wet in the front couple of rows. We were in the back and didn't.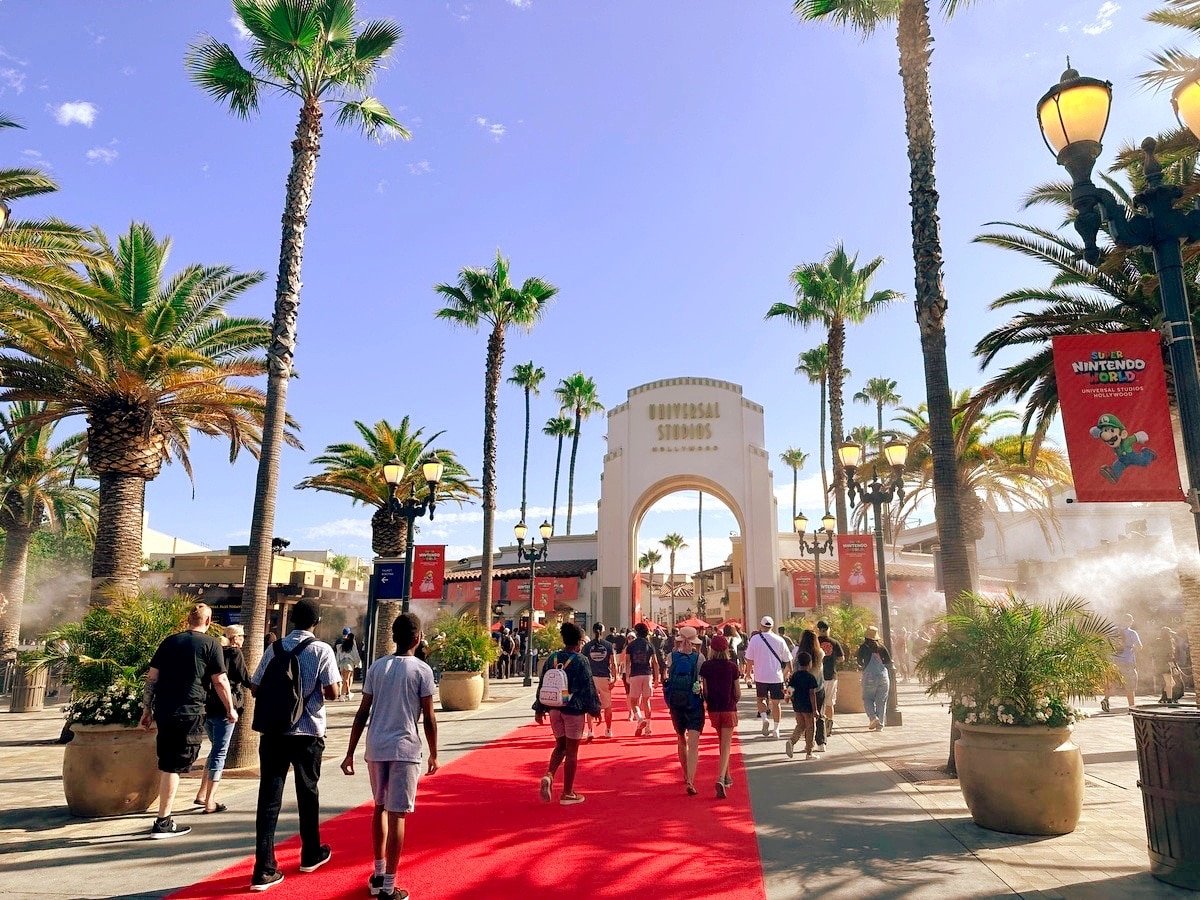 We were fortunate that via LA Tourism, Universal Studios Hollywood provided us with tickets for the day and were kind enough to give us Express Passes, which typically cost an extra $167 per person. It's steep but for those who can afford it, it's the way to go so you don't have to wait in long lines.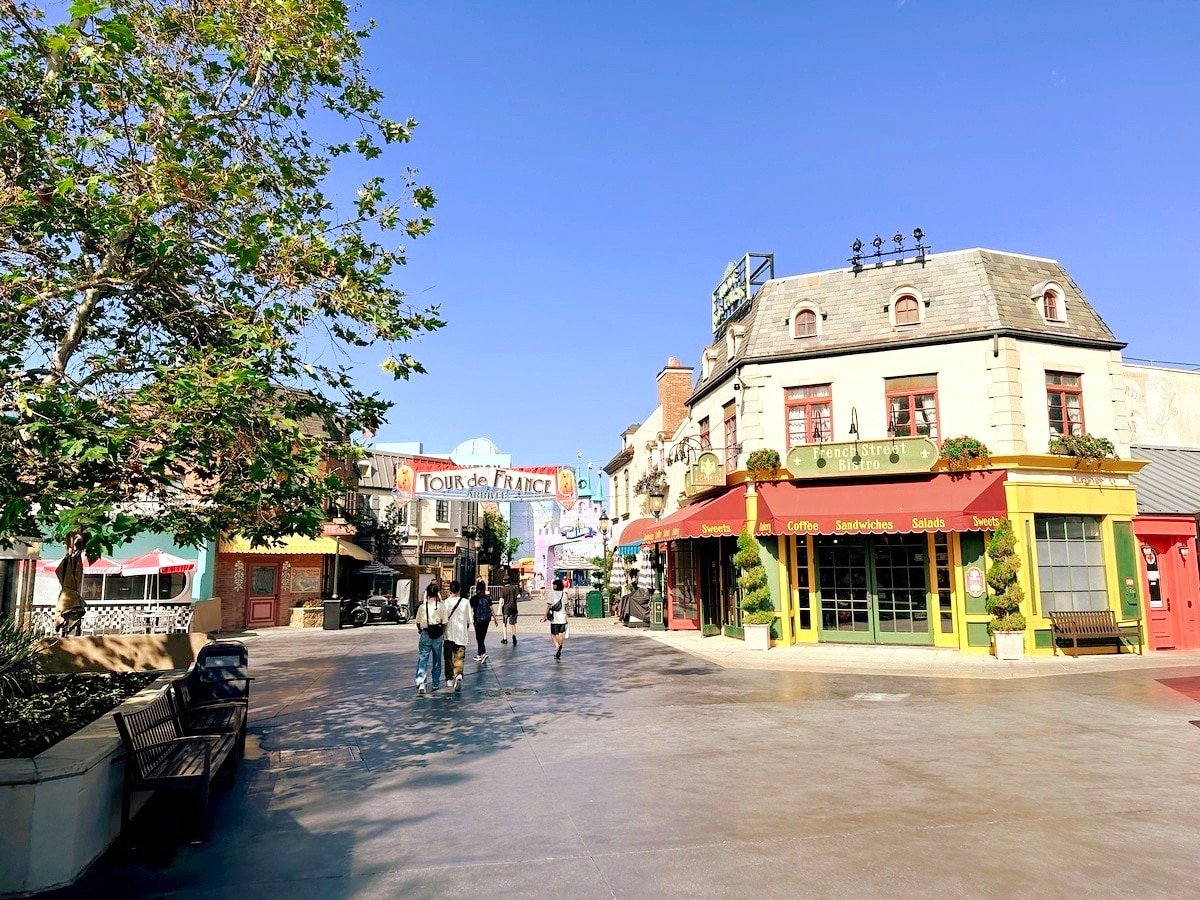 However, I found that if you go right when the park opens, you don't have to wait in any long lines for the first few rides. It's also good to know that the Express Pass doesn't cover Super Nintendo World, which is currently one of the most popular attractions there.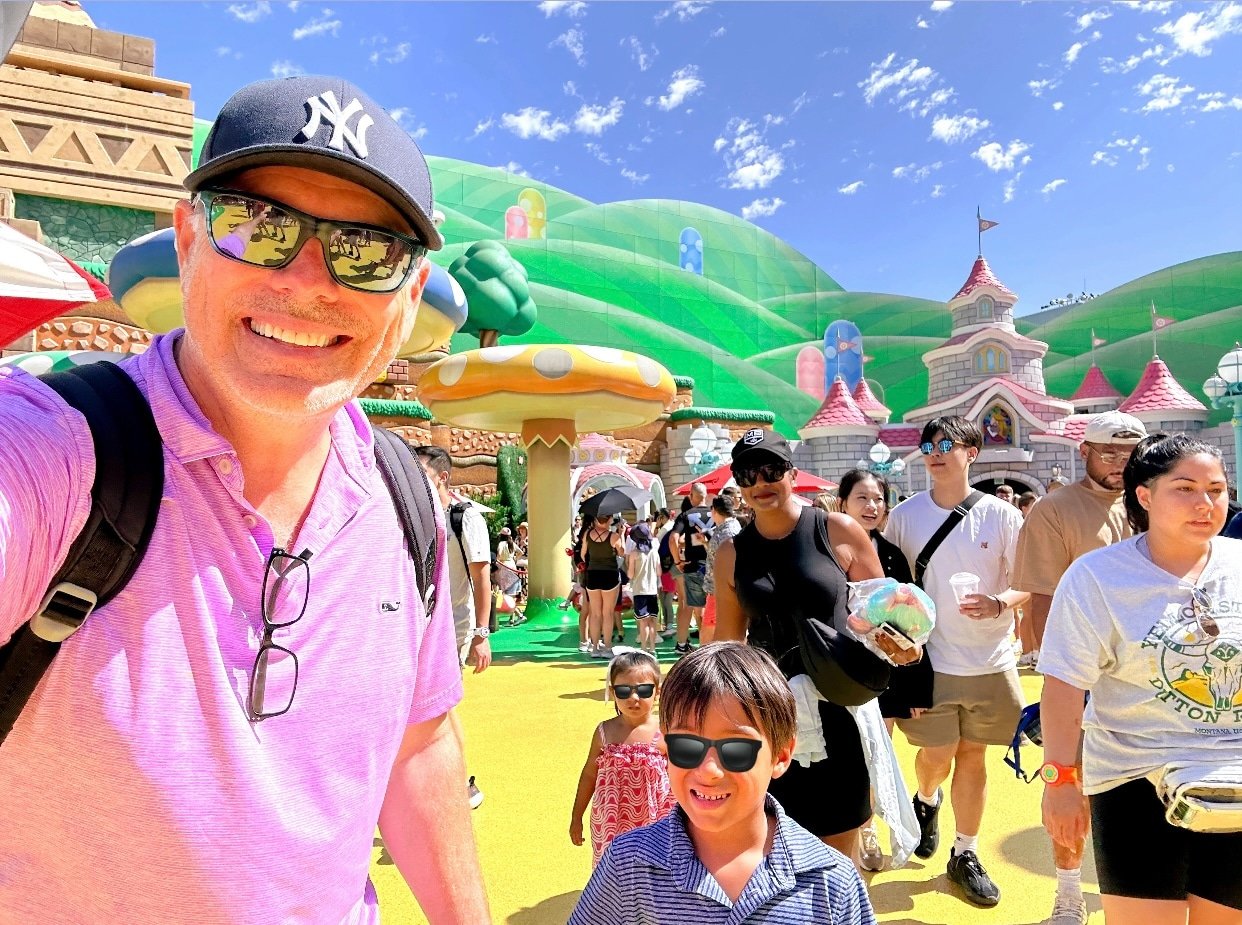 So you might want to go there first as the wait was two hours when we rolled up at 11am … and no one wants to spend that long in a line, especially on a hot day like it was when we were visiting. TIP: Pack sunscreen, lip balm and a hat for your visit to Universal Studios Hollywood. There are water refilling stations around the park so should also bring a reusable water bottle.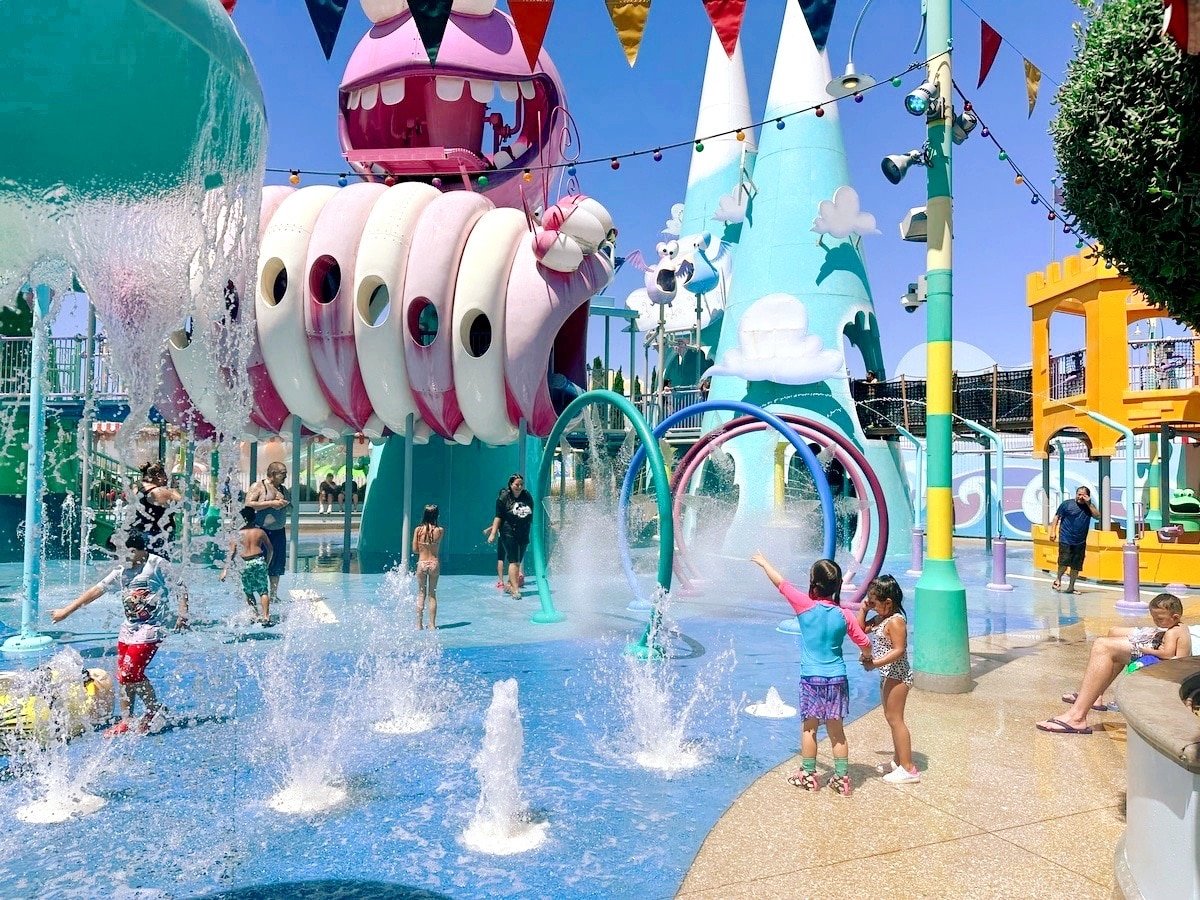 Since it was so hot, we took the kids to Super Silly Fun Land, a big splash pad that's perfect for little ones and a great place to cool down on hot days. Be sure to bring water shoes since you're not allowed in barefoot. I was also impressed at their awareness about what's going on in there. A little girl near us was throwing up water discreetly in the corner and they ended up shutting the splash pad down for at least an hour to sanitize it. Great job.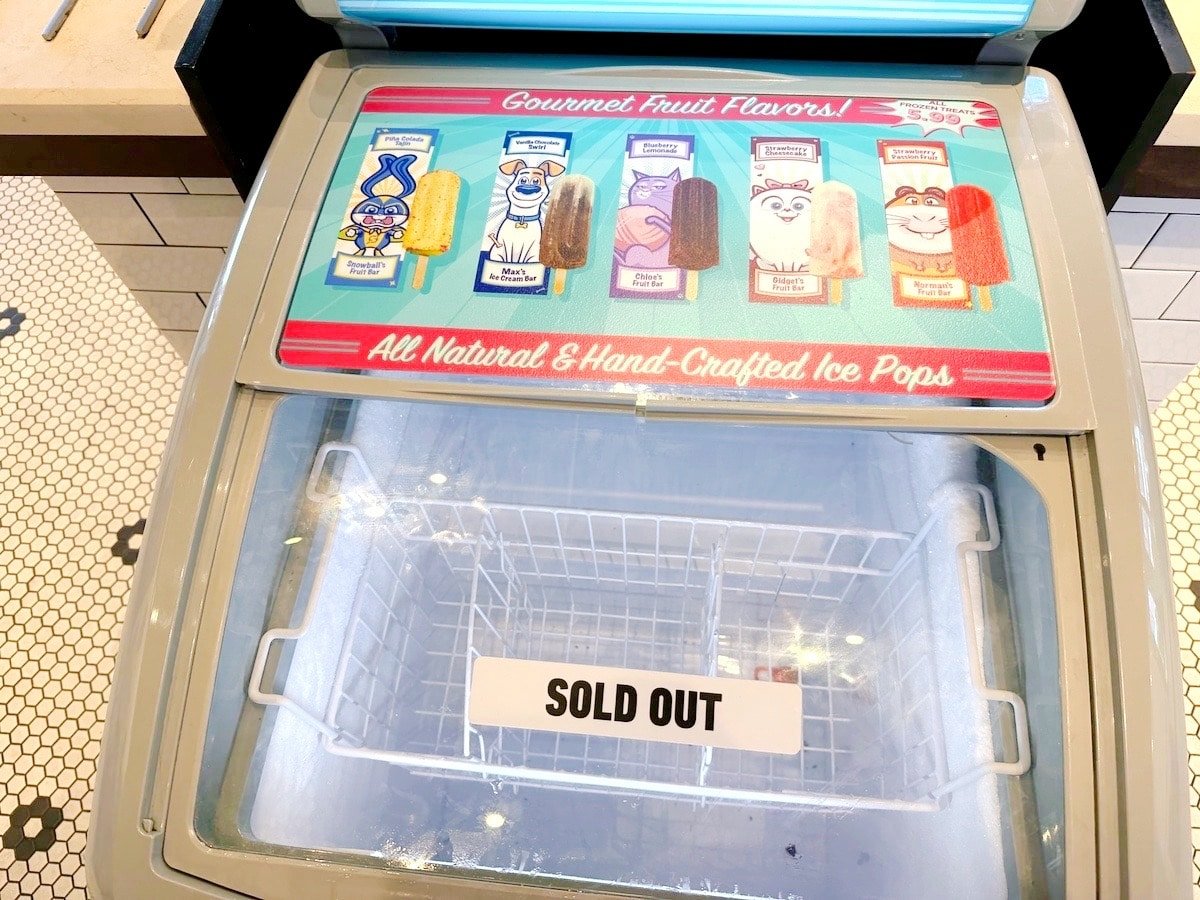 To give you an idea how hot it was, all of the restaurants and concession stands were sold out of ice cream. I tried getting some for my daughter when she was denied entry on a lot of the rides. We finally found some in the back of the Minions store, which is a good little secret.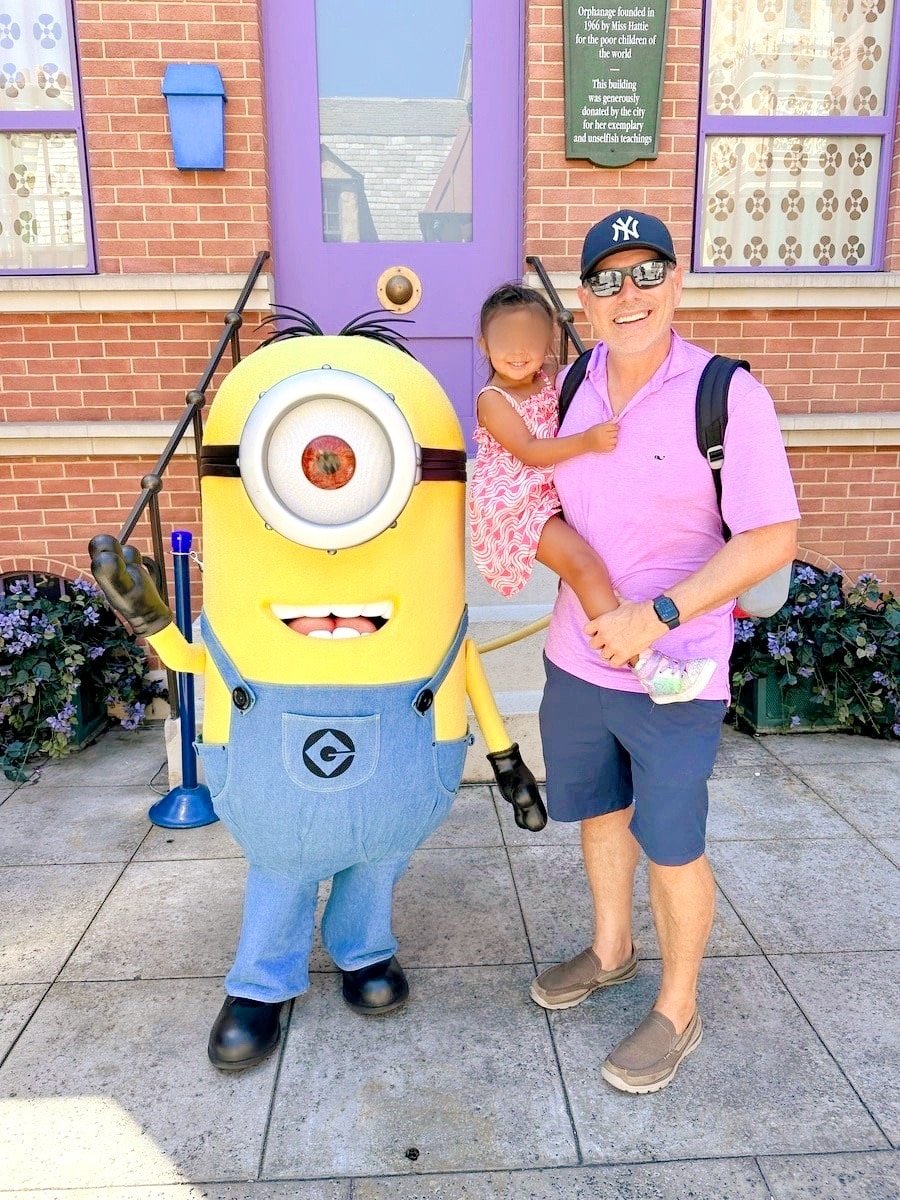 While waiting for her big brother, Olivia did get to meet some characters like a Minion and a Troll. They were all great, including their handler, who took fantastic photos with guests' phones.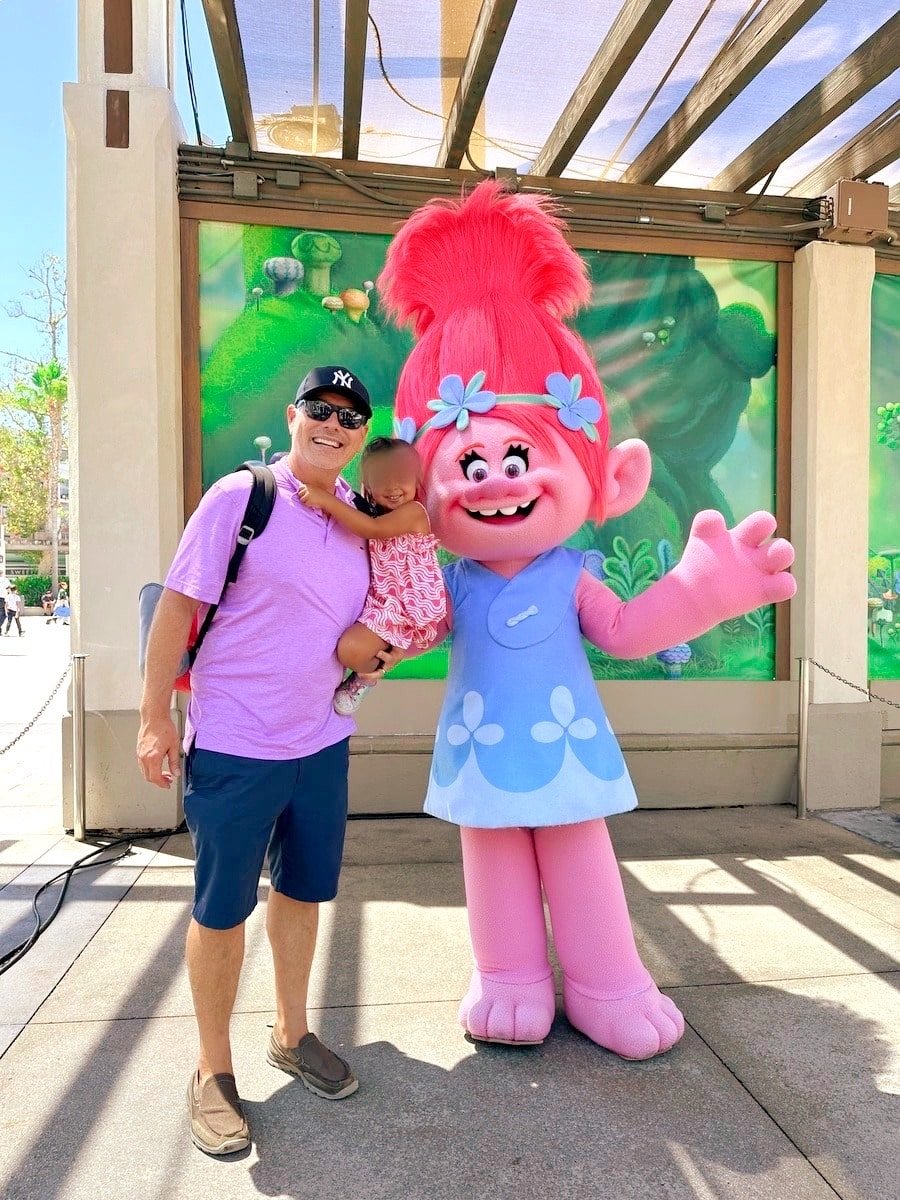 Since it was so hot, we only went for three hours. We were going to go back later that evening (they will stamp your hand with a re-entry stamp or ask to see photos from your phone from earlier in the day) but the kids were just too wiped to go back. Actually, mom and dad were, too! Like with any theme park or large attraction, it's important to manage everyone's expectations to avoid disappointments. We decided to go for a shorter time and leave on a high note rather than wait until the kids got too hot and tired and cranky.
This was our first time at Universal Studios Hollywood but it definitely won't be our last. We hope to go back at Christmas when Whoville is set up since we're all BIG fans of The Grinch.
KEEP READING:
–10 Tips For Your Trip to the Los Angeles Zoo
–Our First Family Trip to Legoland and the Castle Hotel
–Hotel Review: 13 Reasons to Stay at the Westin Carlsbad Resort and Spa
–Hotel Review: The Garland in North Hollywood
–11 Great Travel Shows For Kids
Want more travel news, tips and deals? Sign up to Johnny Jet's free newsletter and check out these popular posts: The Travel Gadget Flight Attendants Never Leave Home Without and 12 Ways to Save Money on Baggage Fees. Follow Johnny Jet on MSN, Facebook, Instagram, Pinterest, and YouTube for all of my travel posts.