A big thanks to the Westin Carlsbad Resort & Spa for hosting our stay so we could provide this detailed review of our experience.
One of my kids' favorite theme parks is LEGOLAND California, which isn't surprising since they're two and five years old and LEGOLAND is a little kid's dream. In the past, we've stayed at the Castle Hotel, which is on LEGOLAND's property. Next door is the Legoland Hotel, another hotel that's part of the theme park.
What I didn't know is that there are a few hotels that are also right next to LEGOLAND but on the other side, at the back of the theme park. I didn't know they were there but a couple of friends have stayed there and raved about them. They told me that those hotels are perfect for people who don't necessarily want the over-the-top experience of LEGOLAND's themed hotels but still want the proximity to the park. The Westin Carlsbad Resort & Spa is right there, just a short walk to the LEGOLAND entrance, although it doesn't feel like it.
Here are 13 things we loved about the Westin Carlsbad Resort & Spa and why you should stay there:
1. Location
The hotel is part of a 50+ acre complex and offers some beautiful SoCal views with the Pacific Ocean in the distance. If you're going to LEGOLAND California and/or the Flower Fields, then this is a great hotel to stay at since it's ideally situated for visiting both. Quaint Carlsbad Village is just a seven-minute drive away the Carlsbad Premium Outlets are within two miles.
It's also just a 90-mile drive from LAX so it's a lot quicker than going to San Diego, which is another 30 miles south, and you won't have to deal with that traffic.
2. Back Door Entrance to LEGOLAND California
If you walk out of the hotel, go down a short set of stairs and then walk along the pathway (about three hundred yards) that will take you to the back entrance of LEGOLAND. The signage isn't great so if you go when there aren't a lot of people to follow, just stay left towards the end and then take another left once you hit the bike path. There, we found a nice lady operating the booth, which requires you to show your pre-paid ticket and your hotel room key. There was no line when we went but she told us that the week before, which was Spring Break, the line was around the corner. But, she said, she proactively scanned everyone's ticket in advance so when the clock struck 10am and the park opened, everyone just filed right in.
What I really like about the Westin's backdoor entrance is that upon arrival, you're at the back of the park. Most people are entering from the front so if you us the back entrance when the park opens, you will have the back half of LEGOLAND to yourself for the first 30 minutes or so. TIP: One of my tips for visiting any attraction like LEGOLAND, Disneyland or the L.A. Zoo is to go straight to the back and then make your way to the front so that you're going against the crowd and when you're done, you're right back at the entrance/exit, making it quicker to leave. FYI: While we were at LEGOLAND, we got a first look at the soon-to-be-opened Ferrari Build and Race at LEGOLAND California. Read all about that here.
3. Lobby Area
The hotel's exterior belies how lovely it is inside. They do a really nice job on a lot of the small things, which you'll notice from the moment you walk in. The first noticeable detail is the Westin's signature fragrance 'White Tea', which fills the lobby with a pleasant scent that's instantly recognizable if you've stayed at a Westin before. (And if you love the fragrance, you can add it to your home using candles, diffusers and scent sticks that can be purchased here.) Inside, guests will be greeted with an expansive and welcoming lobby with plenty of comfortable seating.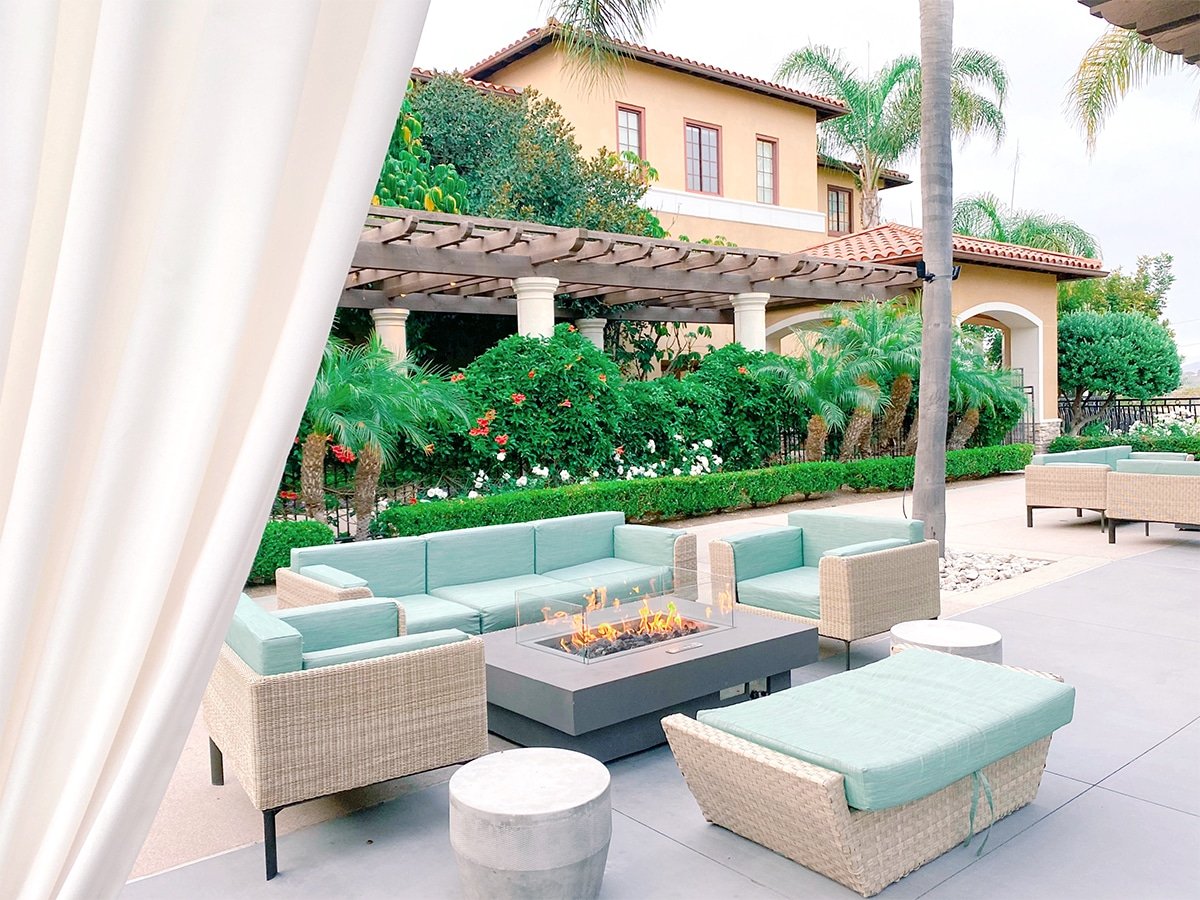 There's also a stylish outdoor area with more comfy seats and fire pits.
4. Friendly Staff
From the valet and the front desk crew to the woman who was working in the Starbucks and our waitress at the hotel restaurant 20|Twenty, every staff member we encountered was extremely personable and friendly. There wasn't anything fake about it, just genuinely friendly service and people who went above and beyond, like the front desk agent who went and got milk for my kids after I inquired about it since the little lobby store didn't have any.

5. Hallways
Rarely do I ever mention hallways as a reason to stay at a hotel but in our building (Building 3), there were exceptionally wide, spacious hallways that made a very welcoming approach to our room. With lots of windows letting in natural light, a nice carpet, modern wall coverings and stylish room doors, the overall effect is really well done without trying too hard.
6. Simple But Stylish Rooms
Our room was simple but stylish. With a soothing coastal-inspired color palette, the room offered all the modern conveniences you would expect but as my wife will tell you, her favorite design element is the hardwood floors, which, she says, feel infinitely cleaner than wall-to-wall broadloom (one of her least favorite things about hotels). The rooms also feature Westin's signature Heavenly beds for a good night's sleep.
Our room was bright and airy and the bathroom was clean and modern with a great shower. There's no tub for soaking or bathing kids but once we got our son in the shower, we couldn't get him out.
7. Rooftops With Turf
Now here's one you're not expecting! This hotel is part of a large complex and some of the taller buildings are overlooking shorter ones. What this means, is that you might look out a window and see the rooftop of another building. Now generally, an ugly cement rooftop  isn't going to look too good but at this hotel, they've actually covered every rooftop with green turf, which I've never seen before but is a brilliant way to make the view look so much more pleasant. It's a solid idea and shows great attention to detail.
8. Pool Area
The Westin pool area is nice but what makes it more special than your average hotel pool is the fact that they have a ping pong table, a billiards table and corn hole so adults and kids alike can have fun even when they're not splashing in the pool. Next door at the Sheraton (part of the 50+ acre complex I mentioned above), is a fun waterslide for kids. It's a five-minute walk from the Westin and Westin guests are welcome.
9. Free Gelato … Among Other Things
Speaking of the Sheraton … Both the Westin and the Sheraton charge a resort fee ($25/night), which sucks, I know. Everyone hates resort fees but at least this one includes a free scoop of locally made gelato for everyone in your party (normally $6 each). It's from EscoGelato from nearby Escondido. They change the flavors often but the double chocolate and the salted caramel were pretty darn tasty.
The Westin Carlsbad resort fee resort fee includes other amenities (there's a Peloton in the gym!), such as:
24-hour heated swimming pool
24-hour Jacuzzi
WestinWORKOUT® Fitness Studio
Private entrance to LEGOLAND® California Resort
In-room Starbucks Coffee
One bottled water in room
Unlimited local/800 calls
Complimentary shuttle service within a five-mile radius
Complimentary beach trolley during the summer months
Beach chair rental
Beach towel rental
Daily bike rental
Enhanced Wi-Fi
Resort events
10. Screen Doors
Every room in the hotel (at least in the new building where we were staying) has a balcony and a screen door. It's so nice to have a screen because you can enjoy the fresh air coming in off the ocean without worrying about bugs flying in. Although the hotel is about two miles from the Pacific, you can still see it and feel the cool ocean breeze. I always love having the balcony door open but it's not always possible without a screen so this was a big bonus.
11. 20|Twenty
The hotel restaurant 20|Twenty has amazing food … and I'm not exaggerating when I say that. Before we got there, I have to admit that my expectations weren't too high and I thought that maybe we should have picked up food in Carlsbad Village. In my experience, hotel restaurants aren't generally that great. But 20|Twenty was a surprising treat. The food was outstanding, as was the service. It looked like a lot of locals were dining there as well, which says a lot. The menu features California cuisine, made with locally sourced, seasonal ingredients.
My wife enjoyed the delicious beet and burrata salad …
… and then the decadent diver scallops. I had the Brussels sprouts with lardons and maple glaze (delicious with a smoky flavor) and the free range chicken with really creamy mashed potatoes and broccoli. It was all so good, we thought about going back the following night to sample more of the menu but then opted to try something else.
We finished our meal off with the pineapple upside down cake with coconut gelato, which did not disappoint.
12. Hotel Shuttle to the Flower Fields
One of the reasons we came to the hotel is because it's near the Carlsbad Flower Fields, which are in bloom this time of year (they bloom from early March to early May).
The Flower Fields are just gorgeous and a great way to spend the morning with our kids. If you don't feel like driving, the hotel's on-demand shuttle will take you, as it's just a five-minute drive.
13. Carlsbad Village and Farmer's Market
Another plus of staying here is that you're just three miles from Carlsbad Village, which is a quaint village right on the water. We just happened to visit on a Wednesday, which is the same day as their farmer's market (they're open 2:30pm to 7pm in the summer and close an hour earlier in the winter). This is a fantastic farmer's market as they have all kinds of local farmers and restaurants. We bought cherries ($5 a cup), incredible lemon ginger green juice ($7 a half liter) and if we hadn't had dinner reservations, we would have grabbed food from any of the amazing looking stands (Thai, Mexican, Chines, Kenyan or Indian).
Overall, our experience at the Westin Carlsbad Resort & Spa exceeded expectations. We were perfectly located to enjoy all the things we wanted to do with our kids and when we were having some downtime at the hotel, it was a pleasure to be there.