When I checked in online for our Hawaiian Airlines flight from Maui (OGG) to Honolulu (HNL), a warning message popped up on HawaiianAirlines.com that said: "Important message about your flight from Maui. Due to long TSA security lines, you should arrive at Kahului (OGG) airport at least 3 hours prior to your flight's scheduled departure." RELATED: Hotel Review: Ka'anapali Beach Hotel in Maui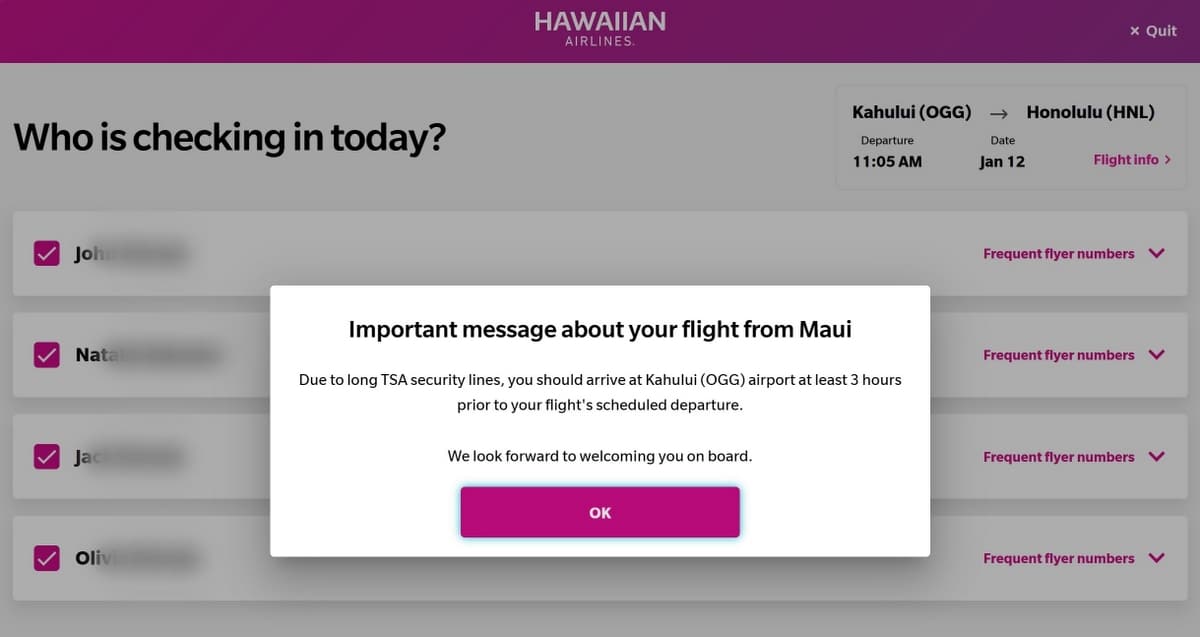 I remembered that the Maui airport was all over the news over the summer because they had ridiculously long lines. I wrote a post about the situation titled: Maui is Paradise But Their Airport Isn't – Here's How to Avoid the Chaos at Kahului Airport
The article resonated with readers so I was eager to check it out myself. I asked three workers at our hotel what time they suggested we leave for an 11:05am flight to Honolulu. They all gave me different times so I went with the middle one.
It turns out that the person who told me I didn't have to worry since I was traveling in the middle of the week, inter-island, and off-season with TSA PreCheck was right. But, it's always better to be safe than sorry.
We checked out of the Wailea Beach Resort at 8:15am and Waze said the drive time was just 25 minutes. On the drive, I passed a Shell gas station so I made a quick pit stop to top off our rental. Regular gas cost $4.85 a gallon and the stop seriously took just three minutes since I had already stopped the day before.
Car Rental Tips I Learned from Renting a Car in Maui
Finding the car rental lot at OGG is easy as they have a whole new car rental center. I wrote all about it, including information on their new tram and my trick to finding the cheapest deal last week here: Car Rental Tips I Learned from Renting a Car in Maui
As I mentioned in the post above, it's been a while since I rented a car at an airport. I usually rent them in the city since it's cheaper and more convenient. But here, it was super easy and it was a good refresher like seeing a warning sign, which read: PLEASE LEAVE THE KEYS IN THE CAR. $250 replacement fee.
FYI: I wrote a tip last week on: How to Save 40% on Hawaiian Airlines Baggage Fees … And It Doesn't Require Getting a Credit Card
Fortunately, I did some research in advance to save some money but I did make a rookie mistake, which I covered in the post. Hopefully, you will learn from it.
There was no line at the TSA PreCheck line and it looked like regular security wasn't busy either. We zipped through except my wife's backpack got flagged since she'd left a bottle of water in there. The officer offered for us to go back through security to drink it, which was pretty lame; I asked if I could just drink it right there but he said sorry, no.
Our next stop was to get something to eat and drink. I filled up our reusable water bottles at Burger King. I didn't fill them at the machine. Instead, I asked for a cup when ordering some French toast sticks and then filled the cup at the machine and transferred it to the bottles. It's obviously a big no-no to put your water bottle to a soda machine.
Speaking of Burger King, in the glass case, they had Peanuts books, which came with the kids meals. When I asked the manager how to get one, she said that the promotion had actually ended and they hadn't yet updated the case with the toy cars. I asked if I could buy the books in the case off and she said, "It's ok, I'll just give them to you." She really made my kids' day. I tried to make hers by tweeting Burger King about an employee had gone a step above but they never acknowledged it. Pretty lame, if you ask me.
Hey @BurgerKing, Shelby at your OGG location made magic happen. My kids saw the @Snoopy kids books in the glass case and when I inquired she said they're sold out and they need to update it with the new toys. She then gave me the two books which made my kids day. ? pic.twitter.com/Z0epzdoRw5

— JohnnyJet (@JohnnyJet) January 12, 2023
Parts of the Maui airport are nice, like the central lobby with stores and a clock tower. But for the most part, it's pretty tired looking and not open-air, which is always one of the best parts of Hawaii airports. While waiting for our plane to board, I did learn something very interesting from the surrounding wall art.
Do you know why Maui Airport's three-letter code is OGG?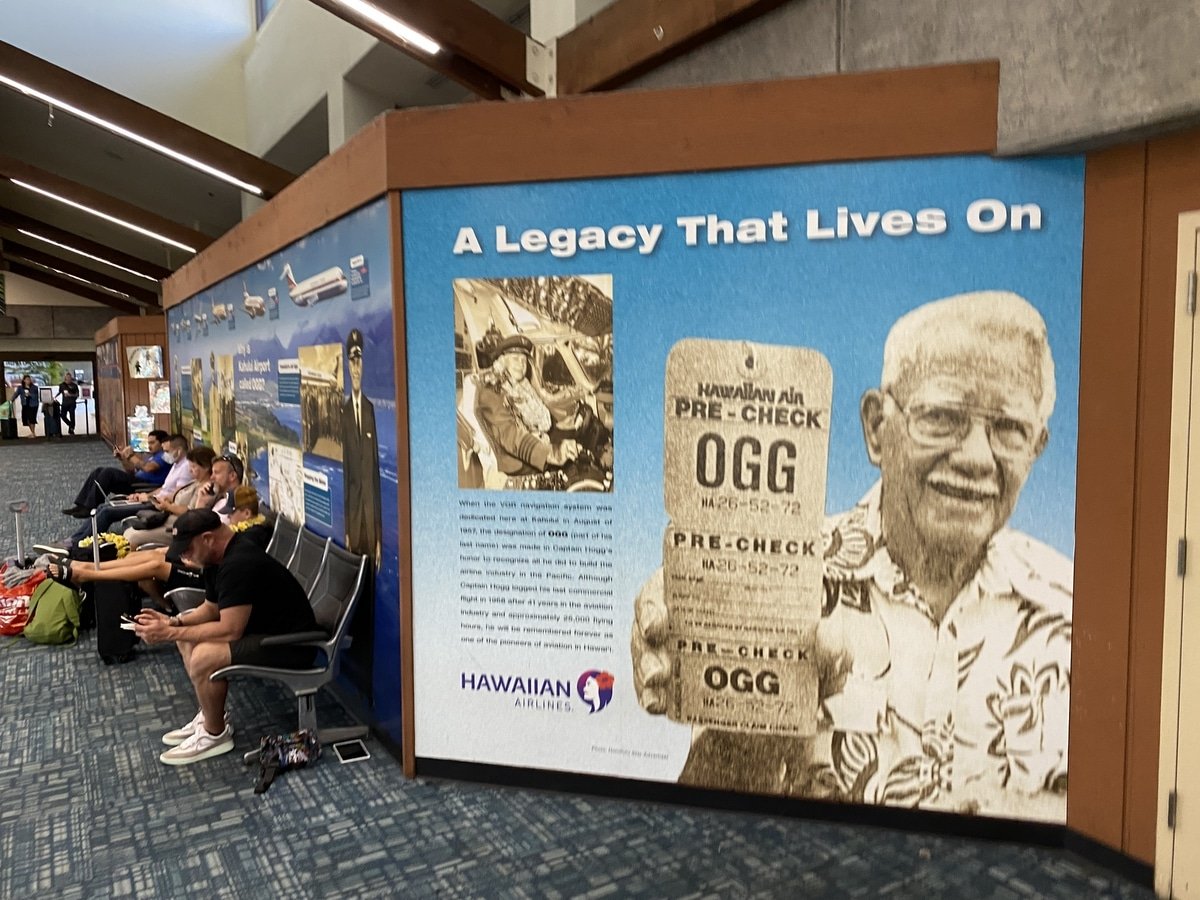 According to the airport literature, "OGG is named after Jim Hogg, a former Hawaiian Airlines pilot. In 1946, Hogg became the Chief Pilot for the airline.  When the VOR was installed at Kahului, Hogg has flown so many of the test flights that it was decided to name the Maui Navigation Facility after him.  He chose OGG rather than HOG."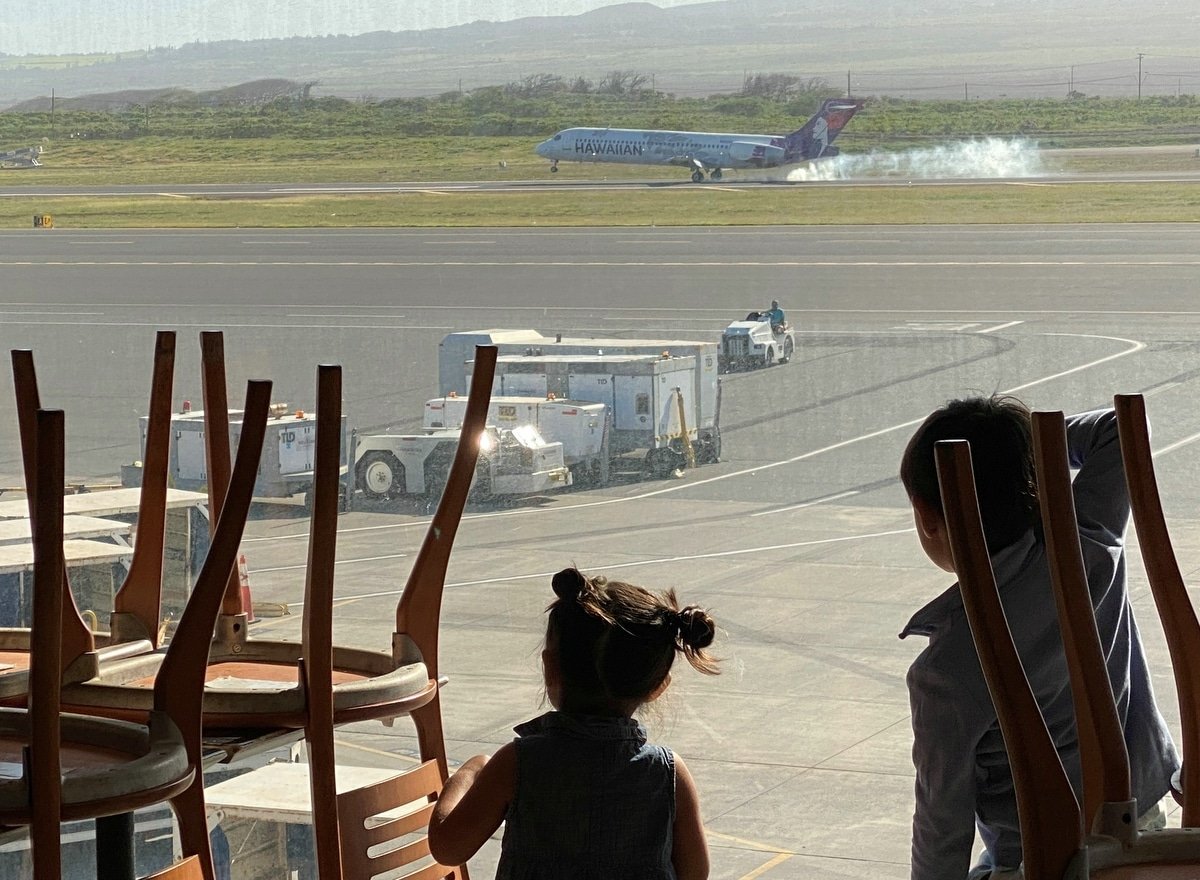 FYI: "Hawaiian Airlines remained the nation's most punctual carrier in 2021, according to the U.S. Department of Transportation, marking the 18th straight year its guests have enjoyed the best on-time performance in the U.S. industry." Source This isn't too surprising thanks to their amazing weather but it's still very much a noteworthy accomplishment.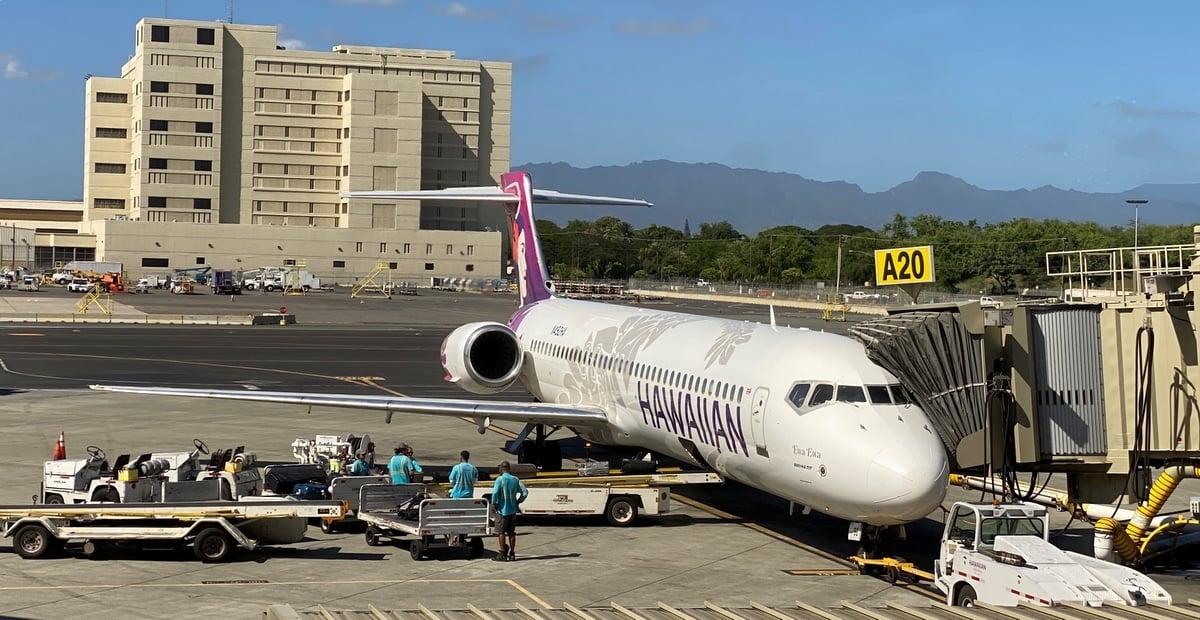 Hawaiian Airlines has six boarding zones and we were in Zone 3. There weren't many people in zones 1 or 2. The airline flies 717s for their inter-island flights, which hold 128 passengers in two classes. First Class has 8 seats and a 2-2 configuration. The seats are 19″H x 18″W x 28″L with 11″ of recline and 37″ of pitch.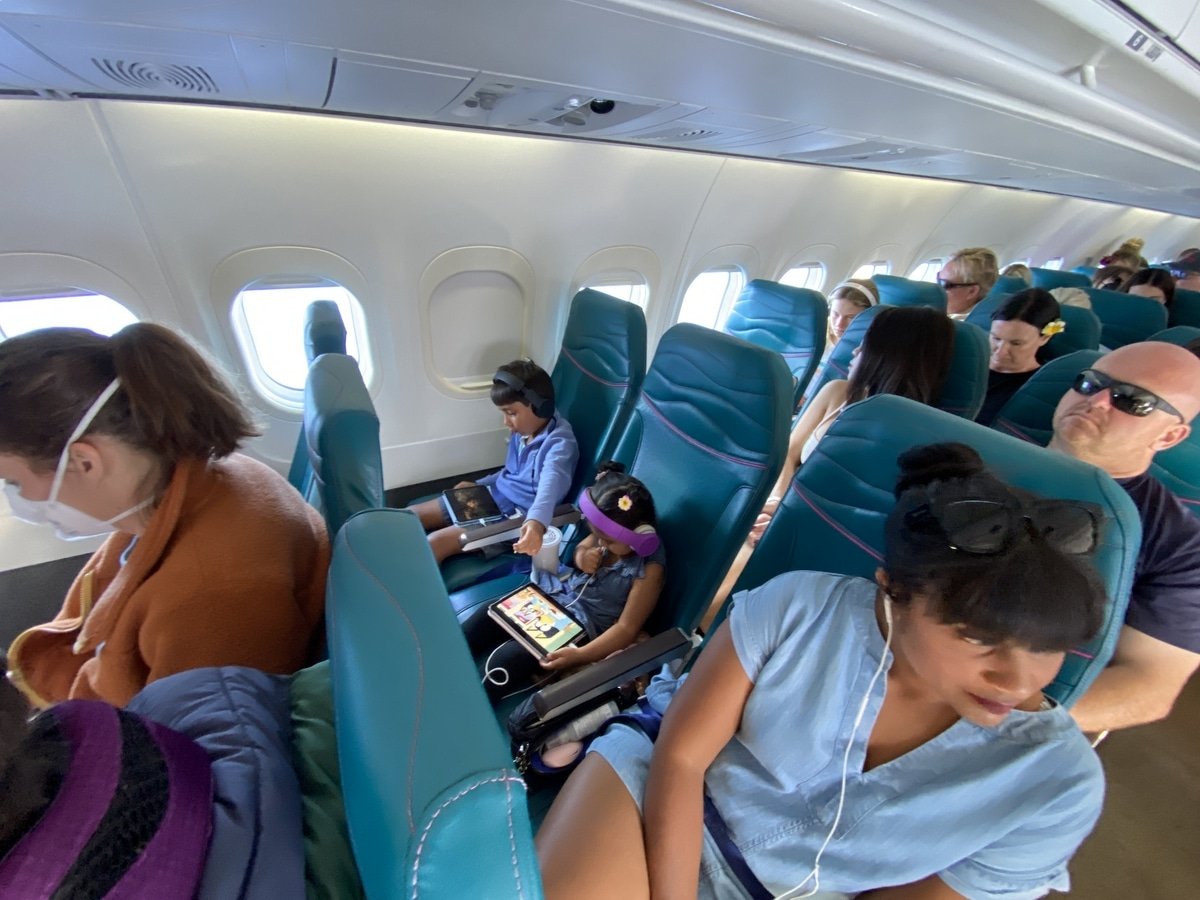 Economy (Main Cabin), which we were in, is configured 2-3.  Seats are: 18″W x 15.7″- 18.5"D x 27.5″-29"H. Our seats didn't have a recline, which is smart on a short flight (24 minutes) and are pre-reclined to 20 degrees. The pitch is: 29″ to 31″ according to their website. FYI: There are no electrical outlets on this plane so make sure you're all charged up before boarding.
Surprisingly, we sat on the tarmac for 11 minutes. The pilot informed passengers that there was construction at HNL so air traffic control implemented flow time for certain parts of the day.
The flight attendants still manage to serve plastic cups of water or juice, even though it's such a short flight. That's how efficient they are. I spoke to our flight attendant and she said she had seven flights that day and worked 9am to 7pm but she got to sleep in her own bed.
The flight was smooth and the right side of the plane had a nice view of Waikiki while the left side gets to see Pearl Harbor from a distance. NOTE: The photo above is an old one and not from our plane or plane type but shows you the spectacular view.
It was great to be back in Honolulu but I did have Maui withdrawals. Our Blacklane driver was waiting for us at baggage claim, which was a big help since we had so many bags and car seats. FYI: If you need a reliable ride to or from an airport, consider Blacklane, which I use. Since I work with them, I have a 15% off promo code for first time JohnnyJet.com readers: JOHNNY15JAN23.
The drive to Waikiki was about 30 minutes and I'll tell you all about our hotel stay soon. Stay tuned!
KEEP READING
–10 Best Budget-Friendly Vacation Destinations For 2023
–Stuck in a Middle Seat on a Plane? Here's How to Get Out of It
–The Top 20 Safest Airlines to Fly in 2023 According to New Airline Safety Ratings Results
–How to Avoid Long Lines When You Travel … And At Home
–This Item in Most Hotel Closets Can Be Used For a Clever Travel Hack
Love to save money when you travel? Sign up to Johnny Jet's free newsletter and check out these popular posts: 10 ways to find cheap flights and 12 ways to save money on baggage fees. Follow Johnny Jet on MSN, Facebook, Instagram, Pinterest, and YouTube for all of my travel posts.