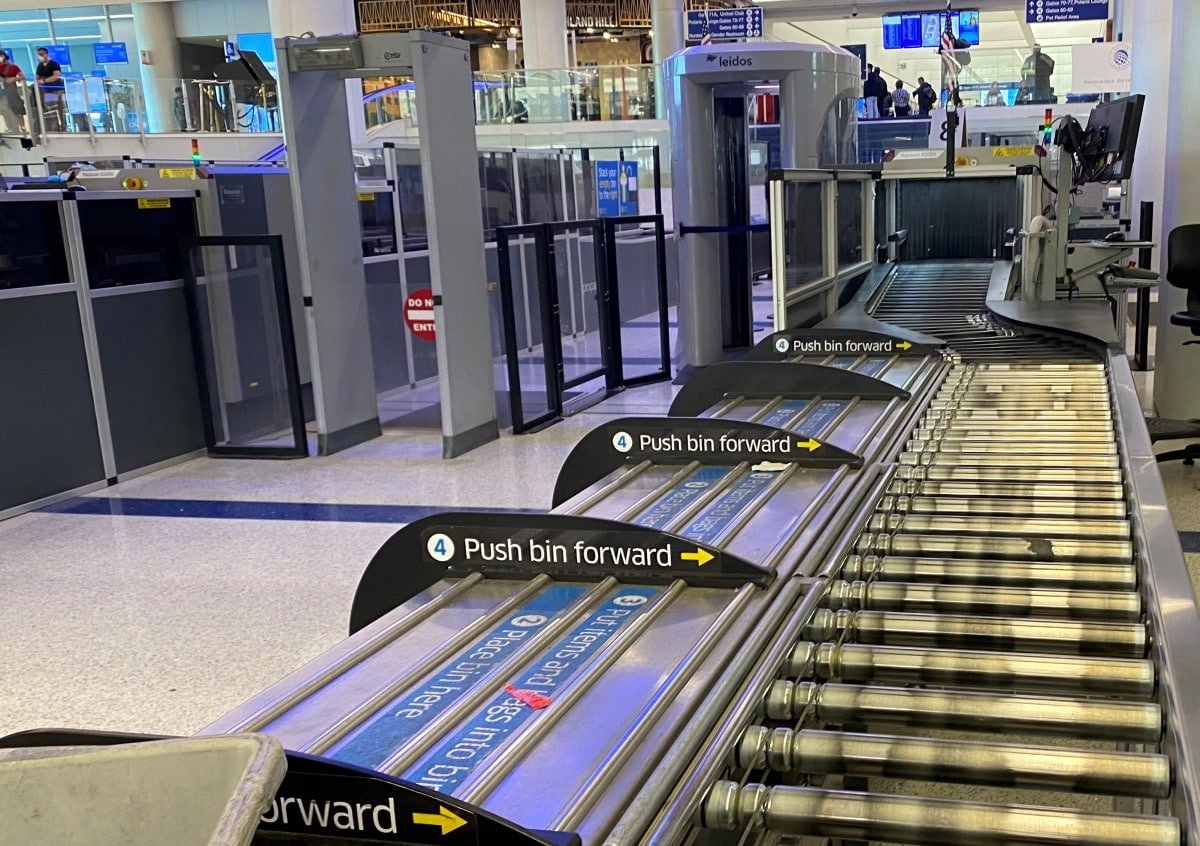 Good news for travelers who want to have one less thing to do when going through U.S. airport security checkpoints. The Transportation Security Administration (TSA) has been slowly rolling out their new Credential Authentication Technology (CAT) and they're now in over a hundred airports, listed below.
According to the TSA: "CAT is a security game changer, ensuring ID authentication, reservation verification and Secure Flight pre-screening status are known in "near" real-time at the airport security checkpoint."
Instead of travelers showing both their boardings pass and photo ID, they can now just provide their ID. You might think that's not a huge deal but how many times have you been stuck behind someone who's using their mobile boarding pass and their phone auto-locks? Or the reader won't scan their QR code? It's happened to me many times and sometimes I was the culprit. It takes time and adds stress.
With a CAT unit, a TSA officer will insert each photo ID into the machine, which will then scan and analyze it. Don't worry, according to the TSA, "Photos captured by CAT units will not be stored or used for any other purpose than identity verification in the security checkpoint."
Note: Passengers still need to check-in with their airline and you will need your boarding pass to board the plane but at least this speeds up the security line.
Acceptable Forms of ID
CAT accepts a whole slew of valid identification and every passenger over 18 years old must have one. CAT can scan the following types of identification:
U.S. passport
U.S. passport card
U.S. Department of Defense (DOD) ID. This includes IDs for active duty and retired military, their dependents, and DOD civilians. Also, the DOD Common Access Card (CAC).
U.S. Merchant Mariner ID
Trusted Traveler card:

Global Entry
Secure Electronic Network for Traveler Rapid Inspection (SENTRI)
Free and Secure Trade (FAST) ID
NEXUS card

Permanent Resident Card/Resident Alien Card (I-551)
Border Crossing Card/nonimmigrant visa (DSP-150)
DHS refugee travel document (I-571)
U.S. Citizenship and Immigration Services (USCIS) Employment Authorization Document (I-766)
Driver's or enhanced driver's license
Identification card issued by or under authority of a state Department of Motor Vehicles or equivalent state office that is intended or commonly accepted for the purpose of identifying individuals
Passports
United Nations laissez-passer
Canadian driver's license
Indian and Northern Affairs Canada (INAC) card
TSA has CAT units at the following airports:
Albuquerque International Sunport (ABQ)
Atlantic City International Airport (ACY)
Albany International Airport (ALB)
Ted Stevens Anchorage International Airport (ANC)
Hartsfield-Jackson Atlanta International Airport (ATL)
Appleton International Airport (ATW)
Austin-Bergstrom International Airport (AUS)
Asheville Regional Airport (AVL)
Bradley International Airport (BDL)
Bangor International Airport (BGR)
Birmingham–Shuttlesworth International Airport (BHM)
Billings Logan International Airport (BIL)
Bismarck Municipal Airport (BIS)
Nashville International Airport (BNA)
Boise Airport (Boise Air Terminal) (Gowen Field) (BOI)
Boston Logan International Airport (BOS)
Baton Rouge Metropolitan Airport (Ryan Field) (BTR)
Burlington International Airport (BTV)
Buffalo Niagara International Airport (BUF)
Hollywood Burbank Airport (was Bob Hope Airport) (BUR)
Baltimore/Washington International Thurgood Marshall Airport (BWI)
Akron–Canton Airport (CAK)
Charleston International Airport / Charleston AFB (CHS)
The Eastern Iowa Airport (CID)
Cleveland Hopkins International Airport (CLE)
Charlotte Douglas International Airport (CLT)
John Glenn Columbus International Airport (CMH)
Yeager Airport (CRW)
Cincinnati/Northern Kentucky International Airport (CVG)
James M. Cox Dayton International Airport (DAY)
Ronald Reagan Washington National Airport (DCA)
Denver International Airport (DEN)
Dallas/Fort Worth International Airport (DFW)
Des Moines International Airport (DSM)
Detroit Metropolitan Wayne County Airport (DTW)
El Paso International Airport (ELP)
Fort Lauderdale-Hollywood International Airport (FLL)
Sioux Falls Regional Airport (Joe Foss Field) (FSD)
Spokane International Airport (Geiger Field) (GEG)
Gulfport–Biloxi International Airport (GPT)
Green Bay–Austin Straubel International Airport (GRB)
Gerald R. Ford International Airport (GRR)
Piedmont Triad International Airport (GSO)
Greenville–Spartanburg International Airport (Roger Milliken Field) (GSP)
Daniel K. Inouye International Airport (HNL)
Houston William P. Hobby International Airport (HOU)
Westchester County Airport (HPN)
Washington-Dulles International Airport (IAD)
Houston George Bush Intercontinental Airport (IAH)
Wichita Dwight D. Eisenhower National Airport (formerly Wichita Mid-Continent Airport) (ICT)
Indianapolis International Airport (IND)
Long Island MacArthur Airport (ISP)
Jackson Hole Airport (JAC)
Jackson–Medgar Wiley Evers International Airport (JAN)
Jacksonville International Airport (JAX)
John F. Kennedy International Airport (JFK)
McCarran International Airport (LAS)
Los Angeles International Airport (LAX)
Lubbock Preston Smith International Airport (LBB)
LaGuardia Airport (LGA)
Clinton National Airport (Adams Field) (was Little Rock National) (LIT)
Kansas City International Airport (MCI)
Orlando International Airport (MCO)
Chicago Midway International Airport (MDW)
Manchester–Boston Regional Airport (MHT)
Miami International Airport (MIA)
Milwaukee Mitchell International Airport (MKE)
Minot International Airport (MOT)
Dane County Regional Airport (Truax Field) (MSN)
Minneapolis-St. Paul International Airport (MSP)
Louis Armstrong New Orleans International Airport (MSY)
Myrtle Beach International Airport (MYR)
Oakland International Airport (OAK)
Eppley Airfield (OMA)
Ontario International Airport (ONT)
Chicago O'Hare International Airport (ORD)
Norfolk International Airport (ORF)
Paine Field Airport (PAE)
Palm Beach International Airport (PBI)
Portland International Airport (PDX)
Punta Gorda Airport (PGD)
Philadelphia International Airport (PHL)
Phoenix Sky Harbor International Airport (PHX)
Pittsburgh International Airport (PIT)
Pensacola International Airport (PNS)
Tri-Cities Airport (PSC)
Palm Springs International Airport (PSP)
Theodore Francis Green State Airport (PVD)
Portland International Jetport (PWM)
Raleigh-Durham International Airport (RDU)
Richmond International Airport (RIC)
Reno/Tahoe International Airport (RNO)
Roanoke–Blacksburg Regional Airport (Woodrum Field) (ROA)
Greater Rochester International Airport (ROC)
Southwest Florida International Airport (RSW)
San Diego International Airport (SAN)
San Antonio International Airport (SAT)
Savannah/Hilton Head International Airport (SAV)
South Bend International Airport (was South Bend Regional) (SBN)
Louisville International Airport (Standiford Field) (SDF)
Seattle-Tacoma International Airport (SEA)
San Francisco International Airport (SFO)
Springfield–Branson National Airport (SGF)
Shreveport Regional Airport (SHV)
San Jose International Airport (SJC)
Luis Muñoz Marín International Airport (San Juan Airport) (SJU)
Salt Lake City International Airport (SLC)
Sacramento International Airport (SMF)
John Wayne Airport (SNA)
Sarasota–Bradenton International Airport (SRQ)
St. Louis Lambert International Airport (STL)
Cyril E. King Airport (STT)
Syracuse Hancock International Airport (SYR)
Tallahassee International Airport (TLH)
Tampa International Airport (TPA)
Tulsa International Airport (TUL
Tucson International Airport (TUS)
McGhee Tyson Airport (TYS)
Northwest Arkansas National Airport (XNA)