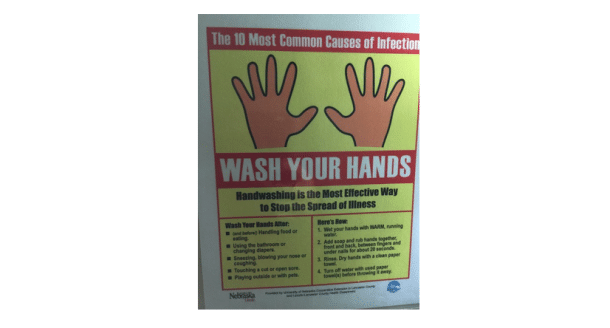 Wash Your Hands!
I've talked about the importance of washing your hands in an airplane bathroom, but I've never advised you flat-out to make sure you always keep your hands clean when you travel (and at home). I was reminded why the other day while traveling—I can't remember where—by a bathroom sign (above), which has some great tips on it (like how you should use warm water and rub for 20 seconds).
Again, it seems like common sense but you'd be shocked to learn how many men I see walk out of airplane restrooms (including stalls) and not wash their hands! It's disgusting and one reason why I prefer to fist-bumping people to shaking hands.
_________________________________________________________________________________
Tried this tip? Let me know in the comments!
Have your own tip? Email it to whitney@johnnyjet.com!
Want to see more tips? Click here for all 386!
Want even more travel tips? Subscribe to the Daily Travel Tip newsletter! All you have to do is sign up for the weekly newsletter by filling in your email address and checking the Daily Travel Tip box in the top-right corner of the homepage.
If you already subscribe to the newsletter, fill in your email and check the Daily Travel Tip box in the same top-right corner of the homepage and you'll receive an email with a link to update your JohnnyJet.com preferences. On that page, just click the Daily Travel Tip box and Update Profile and you'll have Johnny's best tips, straight to your inbox each day. And don't worry—it's easier than it sounds!