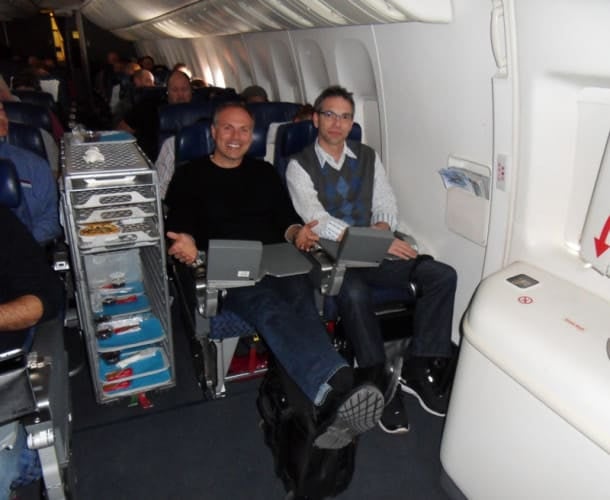 How to Have a First-Class Experience in Coach
No one likes to fly in economy, but it's a reality for most. Even though I travel so much and have elite status on multiple airlines, I still find myself in the back of the plane about half the time. One trick I've learned over the years to make coach feel like first class is to reserve a bulkhead or exit row seat. Then, after takeoff, you take your carry-on bag and turn it into a leg rest. The photo above depicts what I'm talking about. I also usually put a small pillow or sweatshirt on top of the bag to make it nice and cushiony. You have to return the bag to the bin on descent or when the flight attendant asks you to, but I've never been asked since I know when it's time to pack up. It's no first class, obviously, but in the air these days, a little bit of comfort can go a long way.
BTW: A few years ago, I created a not-so-scientific but totally fitting name for the fear of flying in coach: econophobia.
Econophobia [e-con-oh-foh-bee-uh], noun — An abnormal fear of flying in economy on commercial airlines. Origin: Late 20th-century, when U.S. airlines began cutting costs, shrinking legroom and significantly reducing service.
Econophobia usually occurs when one grows up spoiled or becomes an elite member of an airline's frequent flier program. The latter gets used to perks like free or heavily discounted upgrades. Airline executives are like your crack dealers, as they give members a taste of what it's like on the other side of the curtain, knowing they;ll get addicted and come back for more…though it comes at a cost.
Do YOU have econophobia? Still not sure what I'm talking about? Read up here.
____________________________________________________________
Tried this tip? Let me know in the comments!
Have your own tip? Email it to whitney@johnnyjet.com!
Want to see more tips? Click here for all 746!
Want even more travel tips? Subscribe to the Daily Travel Tip newsletter! All you have to do is sign up for the weekly newsletter by filling in your email address and checking the Daily Travel Tip box in the top-right corner of the homepage.
If you already subscribe to the newsletter, fill in your email and check the Daily Travel Tip box in the same top-right corner of the homepage and you'll receive an email with a link to update your JohnnyJet.com preferences. On that page, just click the Daily Travel Tip box and Update Profile and you'll have Johnny's best tips, straight to your inbox each day. And don't worry—it's easier than it sounds!