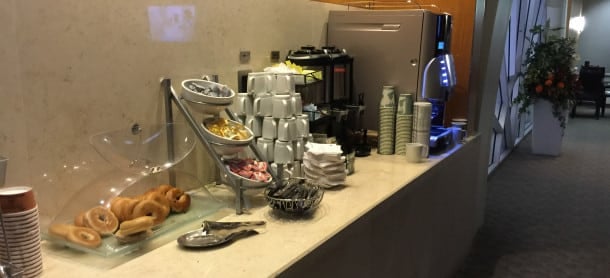 Explore the Lounge Before Ordering Food
Here's a tip for anyone with access to a lounge, like an American Airlines Admirals Club—by way of a club membership, the Citi AAdvantage Executive World EliteTM MasterCard, a guess pass, or simply the day rate ($50): Don't go immediately to their bar or deli and purchase food. Instead, walk around and see what they're offering—especially for breakfast.
Twice now (in Miami & Los Angeles) I've discovered that they conveniently place the better breakfast offerings at the very end of the club or around the corner from where they sell food. So when you walk in you think all they have is some nasty-looking apples, mini muffins and tea and coffee. But if you keep exploring, you'll eventually find the good stuff (kind of), like bagels, oatmeal and yogurt. I learned this the hard way: after I'd purchased a hot sandwich that I didn't really want. Moral of the tip: Always walk around an Admirals Club—or any club—before ordering food.
More: How to behave in airport lounges.
_________________________________________________________________________________
Tried this tip? Let me know in the comments!
Have your own tip? Email it to whitney@johnnyjet.com!
Want to see more tips? Click here for all 383!
Want even more travel tips? Subscribe to the Daily Travel Tip newsletter! All you have to do is sign up for the weekly newsletter by filling in your email address and checking the Daily Travel Tip box in the top-right corner of the homepage.
If you already subscribe to the newsletter, fill in your email and check the Daily Travel Tip box in the same top-right corner of the homepage and you'll receive an email with a link to update your JohnnyJet.com preferences. On that page, just click the Daily Travel Tip box and Update Profile and you'll have Johnny's best tips, straight to your inbox each day. And don't worry—it's easier than it sounds!