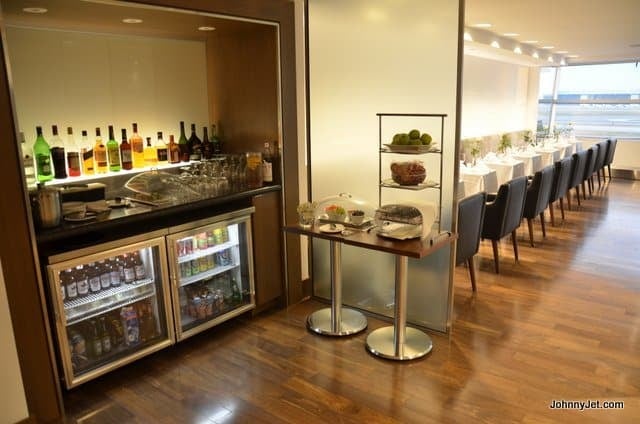 These days, airline club lounges seem to be full of inconsiderate people, but if you follow these 15 rules, you won't be one them.
Who would have thought that an article on the subject of proper behavior in an airline lounge was necessary? You would think that the people in an airline club lounge would be frequent flyers who know how to conduct themselves. But if you've been in an airline club lately, then you know that's far from the truth. Time and time again, I witness poor behavior from privileged people and my last experience was the last straw … hence this post.
There are a few ways to get into an airline's club lounge: Fly on a first or business class international ticket, buy a yearly membership (usually around $400 a year), get a day pass (usually $50 per person) or have a Platinum Card from American Express. There are a few other ways too, but that will have to be a separate story.
The other day, I entered Delta's club lounge at LAX with my AMEX Platinum card. It was 5:30 am and I had just voluntarily given up my economy class middle seat for a $400 travel voucher and a first class seat on a later the 9 am flight since my original flight was oversold.
Inside the lounge, I grabbed some breakfast and a desk so I could work without draining my laptop battery. All was going smoothly until a middle-aged man sitting across the room decided to talk on his cell on speakerphone. Not only could his colleague Mike on the other end of the line hear him clearly, but so could everyone in the lounge. Everyone looked at him in disbelief but their glares went unnoticed. If his conversation had at least been interesting, it might not have been so bad but who wants to hear about drywall before sunrise?
Fortunately, his conversations were short and each time I got up the nerve to tell him to pipe down and show consideration for others, he got off the phone. He left a short time later only to be replaced by an investment banker-type in his late thirties, who walked in talking loudly on his cell. He didn't have the speaker on but he was speaking so loudly that I now know I will never do business with his firm. I'm sure that if his boss had been in the room, he would have been horrified and probably would have fired the guy instantly as those conversations need to take place in private.
When he wouldn't shut up, I decided to have some fun and took my frustrations to Twitter (I'm @JohnnyJet). I thought I would teach him a lesson by transcribing his conversation verbatim but just as I started typing, the boarding of an Atlanta flight was announced and he bolted. The worst part: he was wearing a Yankees cap and a nearly identical button down shirt as mine so we were almost twinsies.
This back-to-back experience was the proverbial last straw so I've created a list of 15 ways to behave in an airline club lounge. The same rules apply to a restaurant or any public place for that matter. For those of you who were raised well or paid attention in kindergarten, you are now welcome to log on to WSJ.com, People.com, ESPN.com, or whatever other websites you get your news fix from. Everyone else, sit down and listen up.
1.  Switch your cell phone ringer to vibrate. If you don't know how to do this, then Google the name of your phone and "how to switch ringer to vibrate". And don't be one of those people who lets their phone ring because they don't want to take the call. At the very least, hit 'end' or the red button on the keypad on the very first ring.
2. Speak softly. If people are giving you the evil eye then you are speaking too loudly. If you can't lower your voice, then walk into a vacant conference room, the bathroom or leave.
3. Don't talk about highly personal or confidential matters. I can pretty much guarantee that if any boss heard their employee speaking loudly about confidential business matters in a public space, they would fire them in a nanosecond.
4. Cover your mouth when you cough or sneeze. You would think this is a no brainer but it happens all the time and it drives me and every other germ conscious traveler who is trying to stay healthy on the road, nuts.  It's even worse to do it on a plane.
5. Use utensils when taking food/snacks from the buffet. Utensils are there for a reason. Don't use your dirty, greasy, grimy hands.
6. Don't chomp on gum/food. People look and sound like idiots when they chew their gum or food like a horse. Please, if you ever see me do it, whack me upside my head.
7. Don't drink (or eat) too much. If you get drunk, the gate agents can deny you boarding. There are other ways to cure your fear of flying, instead of getting hammered.
8. Be cordial. Always smile and say hello to airline workers, your seatmates and anyone else you come across. It's not that difficult to be friendly.
9. Don't put your bags and/or feet on the furniture. These days, it's difficult to find an empty seat in a club room so don't make it more difficult by taking up an extra seat with your feet or bag. Besides, I'm sure Emily Post will tell you it's rude.
10. Don't take your shoes off. You're not at home. Keep your shoes on. This is especially true if you have smelly feet or shoes.
11. Don't tell racist, dirty jokes or use foul language. This is true regardless if you are on the phone or sitting next to your friends, family, or colleagues.
12. Watch videos and play games with headphones. Yes it's great way to pass the time but don't do it unless you use headphones since no one wants the extra noise.  
13. Don't crank the music up. Even if you are listening to music with earbuds, take them off to see if they are emitting too much noise.
14. Control your kids. Make sure your kids aren't running around like hooligans. People get entry into clubs to get away from the craziness of the terminal. Members are there to work, rest and unwind. If your kids are hyper, take them outside.
15. Pick up after yourself. If there are servers coming around often, then it's okay to leave a neat pile of your dishes, but don't make a huge mess and always pick up after your children.
I know this all seems very basic but you would be surprised just how many times I see these unwritten rules broken. Please let me know if I've missed something or better yet, share your recent encounters in our comments section below.