Want to know how to travel in style, just like the pros? We check in with frequent fliers to find out how often they fly, their favorite destinations and what they never leave home without.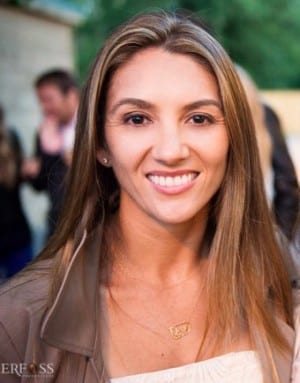 Name: Maite Conway Ross
Occupation: Hospitality Marketing & Public Relations
Hometown: Los Angeles
Residence: Los Angeles
Website: wagstaffworldwide.com
Twitter: @maitec
Facebook: Maite Conway
Short bio: Many people claim they've "traveled the world," but for Maïté it is most certainly true. Growing up as the daughter of a United Nations diplomat, she lived in Africa, Asia, Europe, and Latin America, attending primary school in Zaire, the United Kingdom, Rwanda, Equatorial Guinea, Egypt, and Bangladesh, and secondary school in Jakarta, Indonesia. Along the way she became fluent in French and Spanish and proficient in Italian. Her extensive background in marketing, public relations and sales began even before she joined Wagstaff, working at the Regent Beverly Wilshire Hotel, a Four Seasons property, as well as promoting and marketing a group of highly acclaimed restaurants in Manchester, England. At Wagstaff, Maïté has managed PR and marketing campaigns for a variety of clients and was integral in developing the Destination Marketing arm of the company. Maïté received a B.A. in business economics at the University of California, Santa Barbara. When she is not traveling to a new destination or leading a site-inspection at a property, Maïté enjoys adventure sports, running, golf, and learning even more languages. She is also a new mom and excited to take her 10-week old to Australia on his first international trip (of many).
How often do you fly? 1-3 times per month.
How many countries have you been to? 60+
How many continents have you been to? 6 (all but Antarctica).
Favorite American city: Austin…but I love LA!
Favorite international city: Paris.
Least favorite country: Every country has its own special charm.
Favorite World Heritage Site: Machu Picchu.
Favorite airline: It depends where you are flying to and what carrier services that route. But domestically I try and always fly American Airline. I also enjoy many of the South Pacific carriers.
Favorite aircraft type: A380.
Aisle or window: Always a Window.
Favorite airport lounge: Qantas First Class Lounge in Sydney & Virgin First Class Lounge in London.
Favorite U.S. airport: Burbank (its easy to get in and out, and I love the valet parking).
Favorite international airport: Dubai.
Favorite hotel: Southern Ocean Lodge.
Favorite cruise line: Regent Seven Seas Navigator.
Favorite island: Kangaroo Island.
Favorite fancy restaurant: Central in Lima, Peru.
Favorite hole-in-the-wall: Nu Thai in Adelaide.
Favorite fruit: Mango.
Favorite food: Savory: Peruvian ceviche/Sweet: Chocolate and Ice Cream.
Least favorite food: Anything super spicy.
Drink of choice (In the air and on the ground): Gin & Tonic and Arnold Palmers.
Favorite travel movie(s): Up in the Air.
Favorite travel book(s): "1000 Places to See Before You Die" (I actually check places off that I've been to in the book).
Right now I am reading: "Baby Knows Best"… and anything that will help me figure out how to make our newborn sleep.
5 things you bring on a plane: Water, moisturizer, laptop, book, headphones (and PJs for certain international flights).
What do you always seem to forget? Travel pillow and adaptors/chargers.
What do you want your loved one to buy you from an airport Duty Free store? Guerlain cosmetics and perfume from the Duty Free.
Favorite travel iPhone app(s): I don't have an iPhone, I love my Samsung Galaxy.
Worst travel moment: It's never fun when your luggage gets misplaced by the airlines. I once traveled to Ireland for the holidays and the airlines lost my bags for 6 days! It was like the Grinch stole Christmas. Another time my suitcase didn't arrive to JFK and I was running the NY Marathon the next day…luckily I had my Asics on me, but I had to scramble to get all new gear for the race.
What's your dream destination? Any place I haven't been to yet.
Favorite travel website(s)—besides JohnnyJet.com, of course! Johnny Jet.
Best travel tip: If you ever need immediate assistance, it is always best to send a Twitter message to the airlines. Certain carriers, like AA, are all over their social media and it is the fastest way to get a response/resolution.