Getting to the Southern Ocean Lodge on Kangaroo Island (or KI as locals refer to it) for North Americans is not easy or cheap. You will have to take a couple of flights to Adelaide and then either a short 20 minute flight on REX or a 90 minute ferry ride. But if you are looking for a once in a lifetime, off the hook experience then you will seriously want to consider it for your next big trip because it's one of the most incredible places I've ever been.
Kangaroo Island is Australia's third largest island and it has only 4,500 residents, 400,000 sheep and 70,000 kangaroos. There are nine hotels on Kangaroo Island and without a doubt the nicest hotel, on the island and in all of Australia, is the Southern Ocean Lodge. It's casual, luxurious and exclusive and here are 10 reasons why you would want to stay there.
1. They pick you up at the airport: Every guest gets picked up at the airport by one of the lodge's guides who is assigned to you for the duration of your stay. On the hour drive to the lodge they give you bottled water, chilled towels and a run down of the island. FYI: You don't see many cars (we passed two) but you will see tons of road kill — it averages to 1 every 3.7 kilometers (two miles). There's so much someone on the island actually wrote a road kill cookbook.
2. The views. Everywhere you look you will find mesmerizing views of the Southern Ocean.
3. The rooms. There are twenty-one luxurious suites all named after different Kangaroo Island shipwrecks. I was in room 13 'Amber Star'.  Rooms come with signature design elements such as sandblasted limestone floors and recycled spotted gum (Australian tree species) feature walls, as well as contemporary bespoke furnishings and artworks commissioned from local Kangaroo Island artisans. Note: Most rooms do not have a  TV but they all have a phone and heated bathroom floors.
4. Free mini bar. All rooms come with a stocked mini bar fridge including treats on top. They also welcome you with sweet Aussie 'lamingtons' that are displayed on a net-covered dish.
5. Open bar.  The lodge has an impressive  Great Room which includes an open bar with a wide range of Kangaroo Island and South Australian wines, beers and soft drinks. You can help yourself or ask one of the willing staff members. What's great is that room rates include all food and drink.
6. Good food that's locally produced. Artisan producers of sustainably produced ingredients are featured in each menu, creating a unique experience of South Australian dining. Guests may sample a petite king crab salad, house made gnocchi accented by salty Kangaroo Island 'samphire', local queen snapper or SA rolled pork shoulder. There's also a cheese selection featuring Kangaroo Island sheep's milk manchego and haloumi and dessert is flavored with Kangaroo Island lavender or the intense Ligurian honey.
7. Coastal Clifftop Trek. You don't have to go far to see wildlife. There's a coastal clifftop walk right on the lodge doorstep atop the limestone cliffs of Hanson Bay. This easy walk gives you a bird's eye view of thundering waves crashing along the coastline. There's nothing but ocean between here and Antarctica. On our hour-long walk we saw dolphins, whales, birds, reptiles and an Echidna.
8. Spa. If you want to relax visit the Southern Spa and let the world fall away with a personalised Li'Tya treatment using natural Australian botanicals.
9. Service. It's laid back. No one is in your face but if you want something they are there to make it happen, like when I was trying to find the Yankees playoff game in the TV room. They found it on one of the hundreds satellite channels. Good to know: The TV room also has board games and books but with free wireless internet you probably will find other ways to pass time.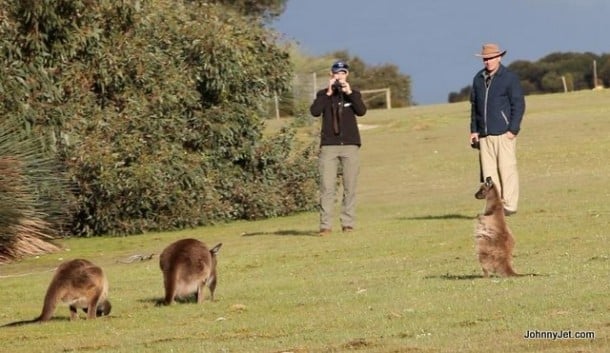 10. Touring Kangaroo Island. Included in your stay is a half day tour of Kangaroo Island. You will come up close to Kangaroo Island's wildlife, learn about their maritime heritage, and view the stunning coastal landscapes. Cape du Couedic Lighthouse, Remarkable Rocks, Admirals Arch, and a unique Fur Seal colony are just some of the trip highlights. Note: Photos from my tour can be found in the photo gallery below.
I spent three nights on Kangaroo Island filming some short videos (above is my video or Southern Ocean Lodge and below is my visit to Seal Bay Conservation Park). But I'm sure happy for the time I spent on KI and I will certainly never forget it.