I'll never forget the time two guys tried to break into our house. It was the early 2000s and I had slept over at my parents' place. My dad was at work and my mom and I were having a cup of tea when the doorbell rang. It was a beautiful, sunny day, around 10am but my mom and I were having a leisurely morning and were still in our pajamas so we didn't answer the door. We weren't expecting anyone, anyway. The doorbell rang again and we ignored it again. My mom went quietly to the front door to look out the peephole and there were two guys, nicely dressed in khakis and tucked in plaid shirts, with clipboards. TIP: Travel door alarms can give you an added sense of security at home and when you travel.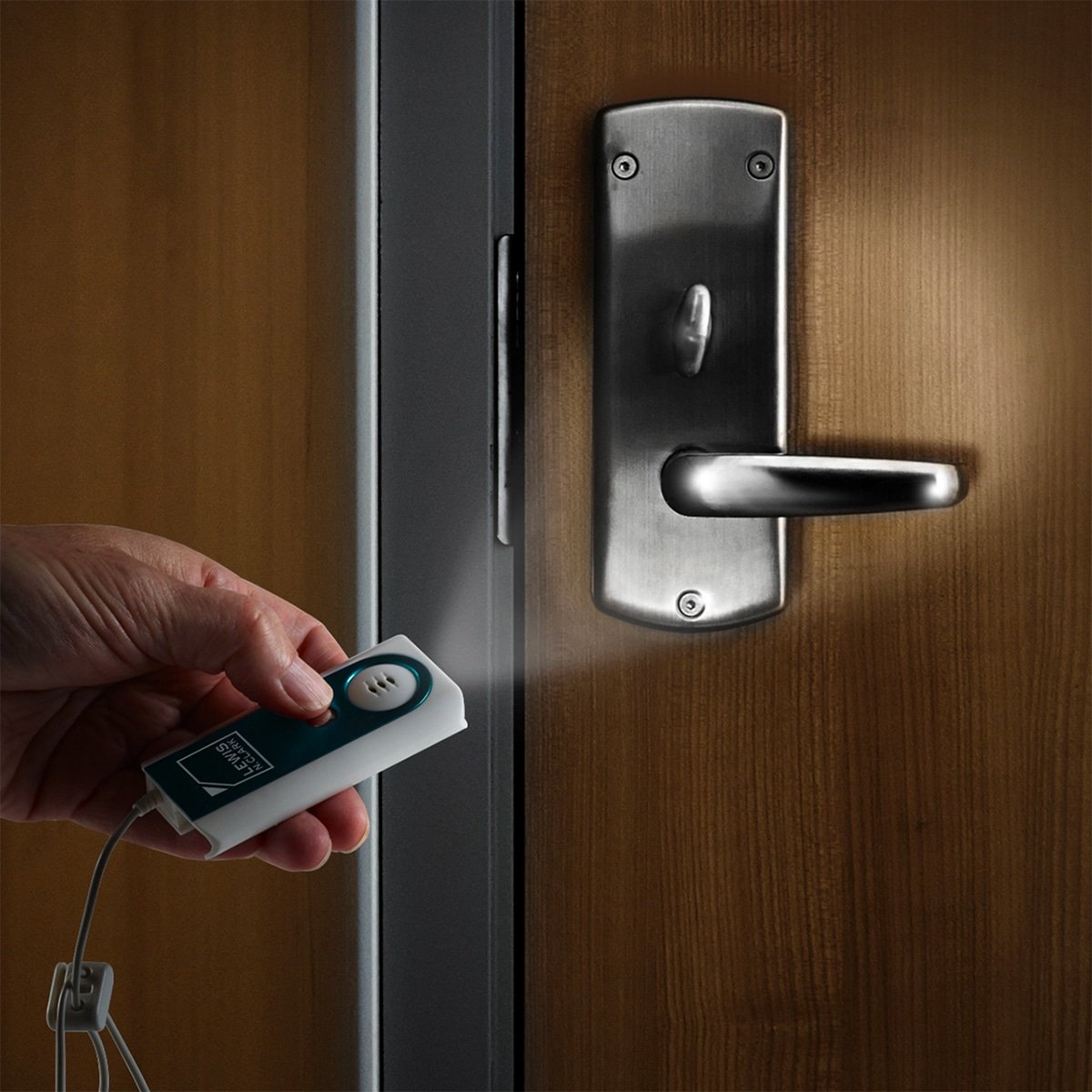 This post contains references to products from one or more of our advertisers. We may receive compensation when you click on links to those products. For an explanation of our Advertising Disclosure, visit this page.
We figured there was nothing to worry about and continued on with our tea. But then I heard the screen door open and one of the guys tried the handle of our front door. That's not right, I thought. But before we had much time to realize what was going on, the guys had jumped the fence into our backyard and had crowbarred the kitchen window open. One guy was halfway into the house through the window when my mother screamed and startled him and he took off.
Needless to say, we were shaken for quite some time. We called the police and my dad rushed home. The one piece of advice I remember the police officer giving us was to get a Beware of Dog sign. He said it was an extremely effective (and inexpensive) deterrent for burglars.
We had never thought something like this could happen on our extremely quiet, suburban street but you just never know. We immediately installed a home security system and ever since then, I've been concerned about security, both at home and when I travel.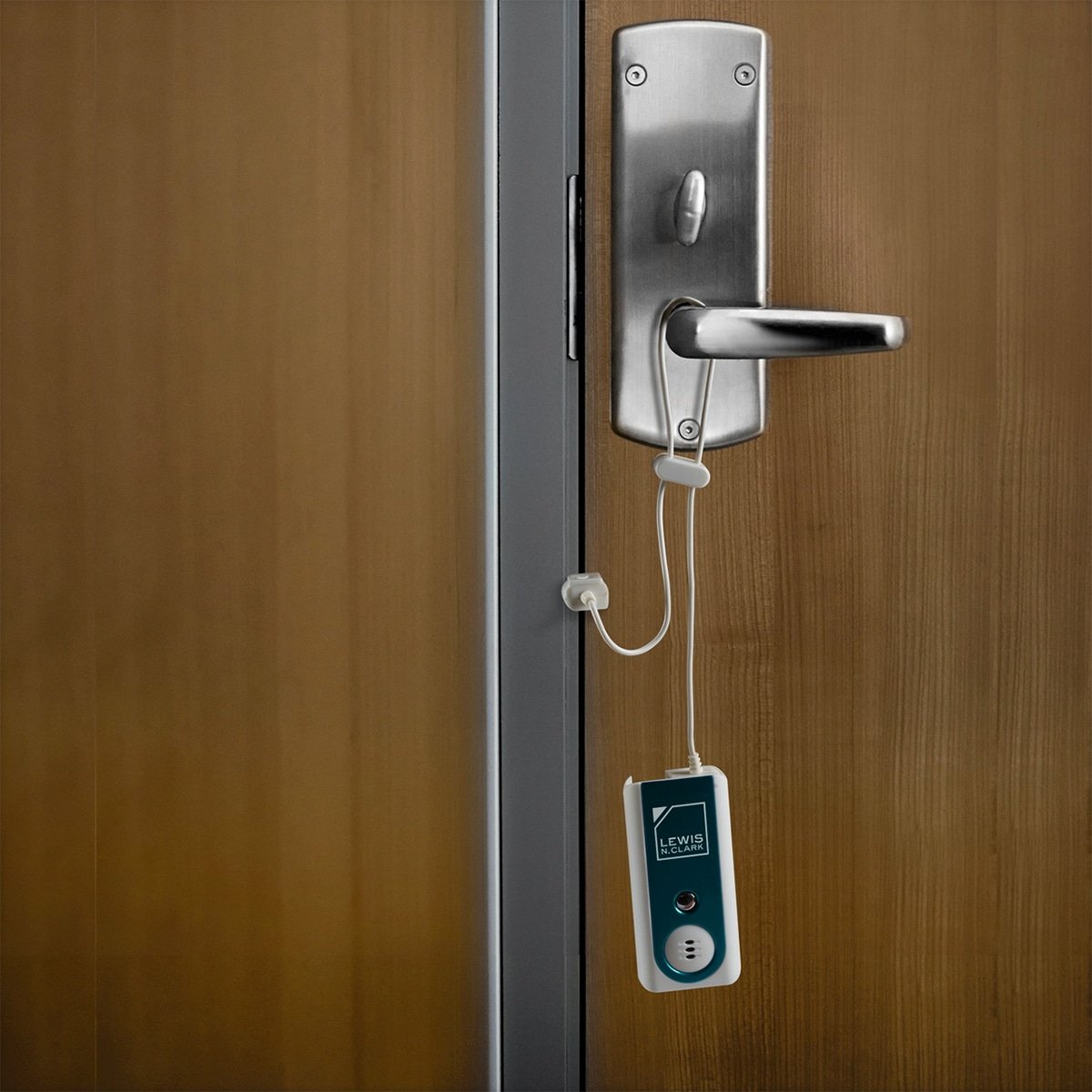 If you'd like an extra layer of protection when you travel, this Lewis N Clark Travel Door Alarm + Window Guard can help you to sleep better at night. It's a compact and portable hotel door alarm, although it can be used at home on your front door or on a home rental, on a bedroom door, apartment door or dorm room. It's small, weighing less than two ounces, which makes it super easy to pack wherever you go. The set-up is easy. You hold the thin blades together and slide them into the crack between the door and the doorframe, loop the cord around the door handle and set the alarm. When the alarm is triggered, it emits a high-pitched 91dB alarm that will alert you and deter would-be thieves.
You might not want to use this everywhere but it's definitely a handy thing to have in your bag in the event that you ever find yourself in a situation where you would feel more comfortable having that extra layer of security. These travel door alarms are portable and inexpensive, making them another handy thing to add to your list of emergency must-haves. Buy the Lewis N Clark Travel Door Alarm + Window Guard here.
KEEP READING
Want more travel news, tips and deals? Sign up to Johnny Jet's free newsletter and check out these popular posts: The Travel Gadget Flight Attendants Never Leave Home Without and 12 Ways to Save Money on Baggage Fees. Follow Johnny Jet on MSN, Facebook, Instagram, Pinterest, and YouTube for all of my travel posts.