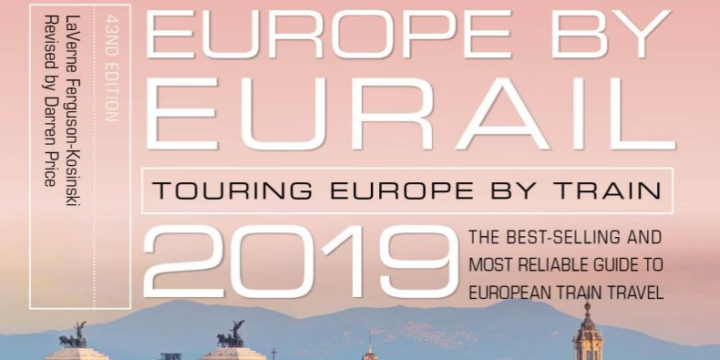 Thinking about traveling around Europe in 2019? You might want a guidebook to help you make your travel plans, and Eurail's own—"Europe by Eurail 2019: Touring Europe by Train"—is a good one. Here's the description via Amazon:
"Europe by Eurail has been the train traveler's one-stop source for visiting Europe's cities and countries by rail for more than forty years. This comprehensive guide provides the latest information on fares, schedules, and pass options, as well as detailed information on more than one hundred specific rail excursions.
"The book contains information readers need to enjoy visits in historic cities, romantic villages, and scenic hamlets on more than ninety rail trips starting from twenty-eight base cities located in twenty countries. Sample rail-tour itineraries combine several base cities and day excursions into fifteen-day rail-tour packages complete with hotel recommendations and sightseeing options. .
"It's loaded with practical information, step-by-step directions, advice on where to go and what to see and do, and complemented by the inclusion of twenty maps, Europe by Eurail takes the puzzle out of European Rail Travel."
Grab it: Grab "Europe by Eurail 2019: Touring Europe by Train" by Laverne Ferguson-Kosinski and edited by Darren Price on Amazon from $13.89.