I've written about this a few times before but I wanted to update it since something new happened to me just this morning. And this one little tip can really make or break your trip. Seriously. RELATED: VIDEO: The Travel Hack Hotels Don't Want Guests to Know About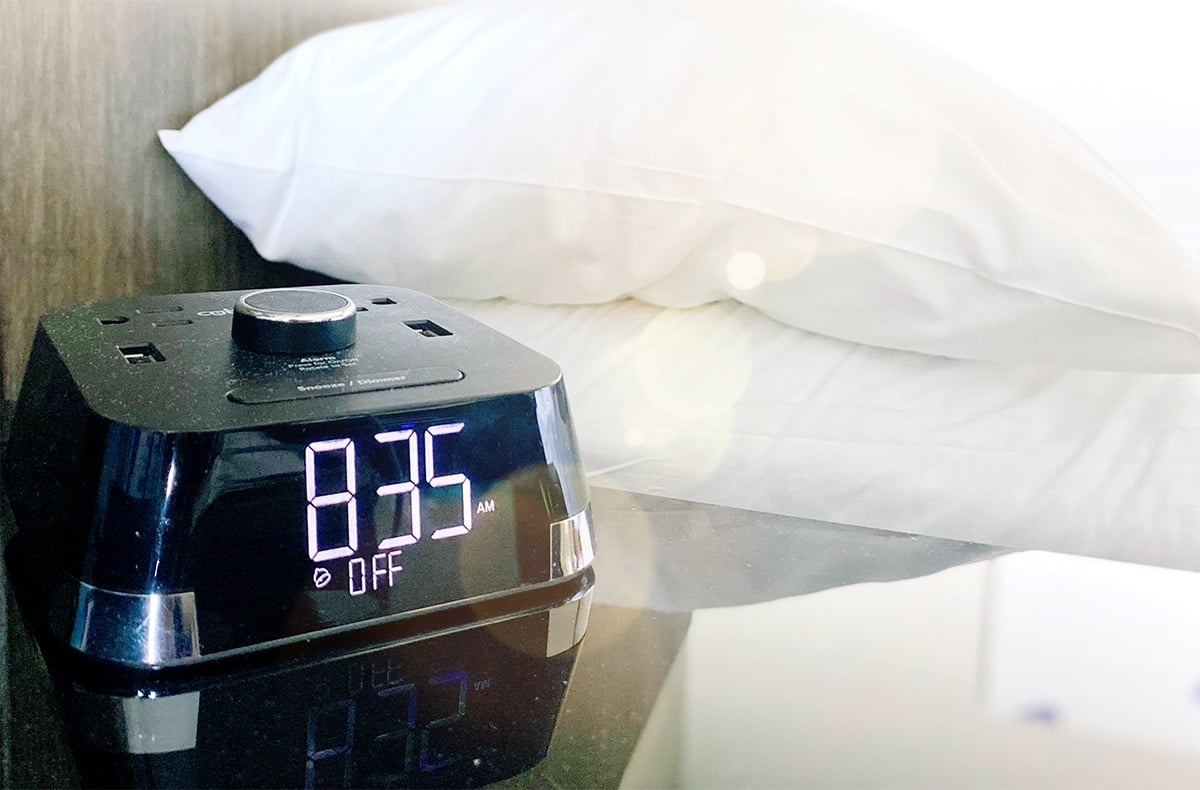 This post contains references to products from one or more of our advertisers. We may receive compensation when you click on links to those products. For an explanation of our Advertising Disclosure, visit this page.
If you travel often, chances are you've been awakened at an obscene hour when your hotel room's alarm clock went off because the last guest checked out and didn't turn it off. When this happens and you're in a sound sleep (and especially if you're jet-lagged), it's so frustrating and disturbing; especially if you have an important meeting, a big speech, or a long day of sightseeing or driving ahead.
RELATED: The Sleep Hack Every Traveler Needs to Know
Getting back to sleep, at least for me, is difficult so when I wake up in the middle of the night, I'm up for the next few hours. I used to just toss and turn in bed but I've finally learned to be productive and work for a few hours before falling back to sleep. But even if I can get back to sleep, I still feel groggy after being so abruptly disturbed. How about you?
So the first thing I do when I check into a hotel is make sure the alarm clock is turned off. And if I can't figure it out or it takes too long, I just unplug it. I almost always unplug it so there's no messing around. And I use my phone as my alarm if I need to set one.
Unfortunately, some alarm clocks can't be unplugged or the plug is so far out of reach it's not worth crawling under the bed or trying to throw your back out moving it.
That's what happened to me where I'm staying right now. This alarm clock was off but it has a really dumb activation button where if you just press the top once it sets it and it doesn't make a noise so you can't really tell unless you look at the bottom of the screen. That must have happened last night because this morning, it went off at 6am. I was up working but my and kids were still sleeping so they had a rude (and loud!) awakening.
If you can't unplug the clock, then at least check it every night as you (or the housekeeper) might have accidentally set it.
Good to know: If you're a deep sleeper or have a difficult time hearing, then consider getting the Sonic Bomb alarm clock. It vibrates so you will never miss an alarm again.
By the way, if you ever stay at an artsy hotel and they try to be cute with one of those round, old-fashioned alarm clocks that you can hear with each second that ticks by, then I immediately bury it under pillows, ask the front desk to remove it or throw it out the window. Okay, I don't do the latter but there have been times when I wanted to.
The only thing worse when it comes to hotel alarm clocks is when the alarm in the room next door goes off and the walls are so thin or there's a connecting room door so it sounds like it's in your room but you can't find it. Ugh! Most of the time, there are no guests in that room so you have to call down to the front desk and have security go in and turn it off, all of which takes time.
Unfortunately, all of the above scenarios have happened to me numerous times and it's not only really frustrating, but it can make or break your trip depending on how important a good night's sleep is for you.
One thing I've learned from all my travels is not to count on the housekeepers to make sure the alarm clocks are switched to the off position so always double check or just unplug it to be entirely sure.
KEEP READING
Love to save money when you travel? Sign up to Johnny Jet's free newsletter and check out these popular posts: 10 ways to find cheap flights and 12 ways to save money on baggage fees. Follow Johnny Jet on MSN, Facebook, Instagram, Pinterest, and YouTube for all of my travel posts.