So the real reason 600 travel bloggers and 150 PR reps were in the Colorado Rockies was to learn and network. TBEX was originally founded by Kim Mance but she sold it to BlogWorld a few months ago which was a smart move. Kim will be the first to admit she was never an event organizer and the conference desperately needed structure and organization.
TBEX was already the largest travel blogger conference but it's now destined to be enormous. Each year the attendees have pretty much doubled including this year and now with BlogWorld at the helm – watch out! As long as they keep the registration fee for bloggers low (it's around $80) and price it right for PR (I think it's $600) it's going to become a must-attend event for everyone in the online travel community.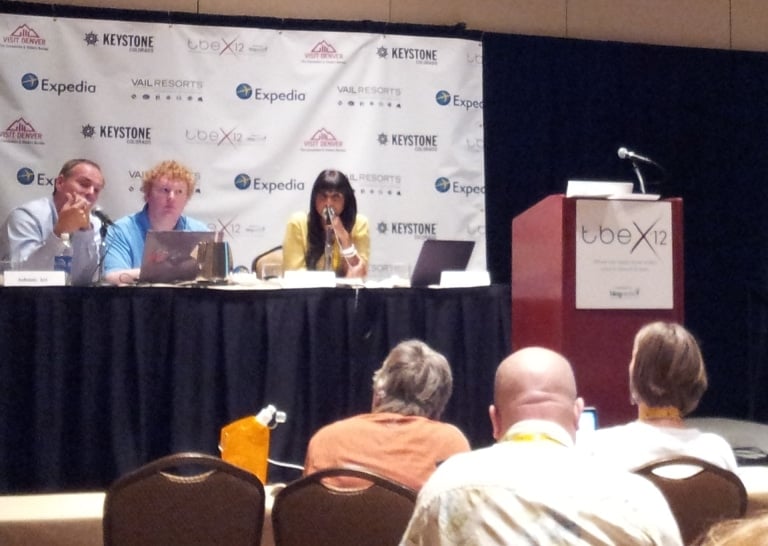 Our Panel
Here's a list of this year's speakers and seminars. I was on a panel with Scott Carmichael and Natalie Bahadur where we taught attendees how they can create a successful email newsletter. Although ours was on Sunday afternoon at 2 pm and most people had taken off or were just spent from the altitude and partying, I think it went well.
What's crazy is that we had to leave at 2:30pm since Natalie had a 5:55pm flight so we did something creative – we did the Q&A from the car by using #TBEXJJ on Twitter. Here's a sample tweet: @flashpackerhq: Can you provide a link for some great, amazing examples of newsletters? My answer was Johnny Jet's Travel Deals, News & Tips and StyleatHome.com.
Here are some of the other presentations and blog posts about this year's TBEX from other bloggers.
A huge thanks to @TBEXevents, @BlogWorld, @KimMance & @KeystoneMtn!
RELATED: Denver | Idaho Springs | Keystone Lodge | Vail Resorts Party | Expedia's Party | United Airlines at Denver Airport
TBEX 2012 Flickr Photos
http://www.flickr.com/groups/tbex2012keystone/pool/with/7382937180/#photo_7382937180
JD Andrews: TBEX area photos http://www.earthxplorer.com/blog/the-beautiful-scenery-of-the-colorado-rockies.html
Katie Coakley:
TBEX TAKEAWAYS
http://katieonthemap.com/2012/06/18/tbex-takeaways/
Britany Robinson: TBEX Wrap-up
Save
Save