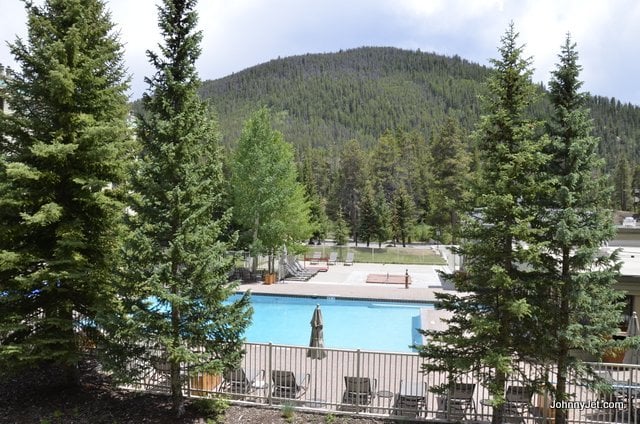 An hour later we were in Keystone, Colorado which is at an elevation of 9,280 feet. Keystone is the largest mountain in Summit County with 3,148 skiable acres (there are 20 lifts and two gondolas). Keystone also has all kinds of lodging options and unit sizes to suit every need and budget. Most conference attendees either rented a condo or stayed at the Keystone Lodge & Spa which has 152 guest rooms. We stayed at the latter as we were hosted for two nights. BTW: I just did a quick search for rates on their website and they begin at around $165 a night.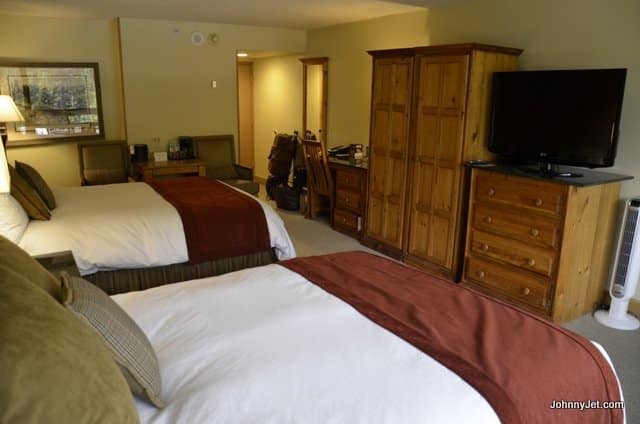 Our room was a lot nicer than I imagined since it was recently remodeled. It was clean, had a comfortable bed with soft sheets, a flat-screen TV, complimentary wireless, plush robes, designer toiletries, and a humidifier.
I read that the Lodge has a 10,000 square foot luxury spa but I didn't see it. That's because I spent most of my time at the conference center which was about a 7-minute walk away. I did see the pool outside my window and spend time in the lodge's bar and Bighorn Restaurant. One thing that's really nice about the hotel is they give everyone delicious cookies when they check in. They also have a kid's basket with crayons and games. There's another basket on the front desk with free granola bars. All the staff I encountered were super friendly and helpful.
RELATED:
United Airlines at Denver Airport