We receive compensation from our advertising partners for links on the blog. Here's our full Advertiser Policy.
Hilton has revamped several areas of their loyalty program in 2017. One change that can benefit just about anybody with a traveling companion is the option of pooling Hilton Honors points. You used to have to pay a small fee to transfer points between accounts. Now it can be done for free and you can earn redeem reward nights quicker. And with the limited time Amex Hilton offers it's easy to earn Hilton points.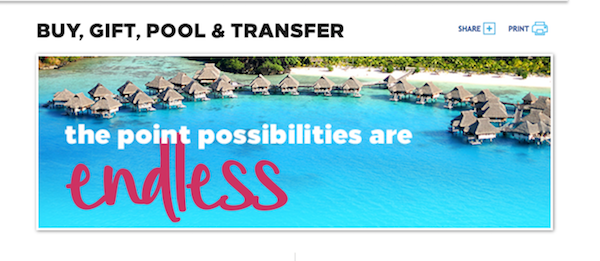 How to Start Pooling Hilton Honors Points
To start pooling, you first have to link to other Hilton Honors accounts. You can pool points between 10 different accounts by inviting other Hilton Honors members to pool points with you. Once they accept your invitation (or they accept yours), you can start transferring points.
All point transfers happen in 1,000 point increments. Each pool, whether it's two members are all 11 members (10 invitees plus you), can pool up to 500,000 Hilton Honors points each calendar year.
There's also no limit to how many point pools you can join. This means you can just have one for your immediate family members, another pool that includes your extended family or friends, and even a third pool to include co-workers. If you do belong to several pools, you can only receive 2 million points per year.
Pooling Hilton Honors points can be really easy and convenient. And, it's more flexible than transferring points.
Redeeming Hilton Honors Points
Another recent change to the Hilton Honors program was adding flexibility to their Points & Cash program. Most hotel loyalty programs have a designated amount of points & cash that must be redeemed for a reward stay (i.e. 5,000 points & $50 or 10,000 points & $20, etc.). Hilton has introduced a sliding Points & Cash scale that lets you redeem 1,000-point increments for reward stays. For example, if a hotel requires 15,000 points you can redeem 2,000 points plus cash instead of 5,000 points or 10,000 points plus cash that are the only two points & cash options that other hotel programs offer.
Pooled Hilton Honors points can be redeemed entirely for rewards stays or a sliding scale of points & cash.
Advantages of Pooling Hilton Honors Points
While you can still buy points and transfer points. Pooling is a great way if more than two people want to split a room and you have the person with the highest Hilton membership status make the reservation.
Pooling Hilton Honors points are free and all transfers occur within 24 hours.
It just became easier to combine your existing point balance and any new points you might receive from Hilton credit card, especially now during the limited time offer.
Disadvantages of Pooling Hilton Honors Points
There are really no glaring disadvantages of pooling your Hilton points with friends and family. It's free and they can always transfer your points back if a travel reservation falls through at the last minute.
Possibly the only limitation is that you can only complete 6 pooling transactions each calendar year. This is in addition to 6 annual member to member transfer allowance.
Summary
Pooling Hilton Honors points is a great addition for many award travelers. So often we find ourselves in the tough predicament of having to pay for an upcoming hotel stay with cash or choosing a cheaper reward night because we didn't have enough points in the bank. Now you can pool points with your spouse or friends to afford that award night. Why not give it a try the next time you plan to stay with Hilton?