Newfoundland & Labrador—the two-part Canadian province—is a fascinating place. As the easternmost point of North America, it's not particularly easy to get to from where I live on the U.S. west coast, and outside of Canadian travelers visiting St. John's (the capital) for the weekend, it doesn't get many visitors—at least compared to neighboring provinces like Nova Scotia and Quebec. And that's exactly why I love the place.
Unspoiled by the hordes of tourists you'll find in most must-visit destinations these days, Newfoundland & Labrador to me is a perfect blend of beautiful coastal views, fascinating history, amazing seafood, and the nicest people you'll ever meet. While internet is widely available province-wide, locals still prefer using the spoken word to spread tall tales, half-truths, and historical fiction on everything from Canadian-American ties to WWII to how KFC was actually started in St. John's (not true, but someone spent a half-hour telling me this story). A Newfoundlander "never lets the truth get in the way of a good story," the saying goes, and that might be the most honest thing I heard while I was there this summer. It's all in good fun, though, and you'll likely be laughing by the end of every conversation with a local.
So what brought me to Newfoundland? That story began in 2018 when I visited The Gathering music and food festival on a press trip (I wrote about it here). I immediately fell in love with the small community of Burlington, Newfoundland & Labrador, and I had to find a way to get back. So one year later, I planned a road trip from St. John's to Burlington for this year's edition of The Gathering (see below) and reached out to some local friends to fill in the blanks along the way. The result was a getaway full of glorious food, scenic tours, and a town called Dildo.
Here's our road trip in Newfoundland & Labrador in four days (we spent one more in St. John's):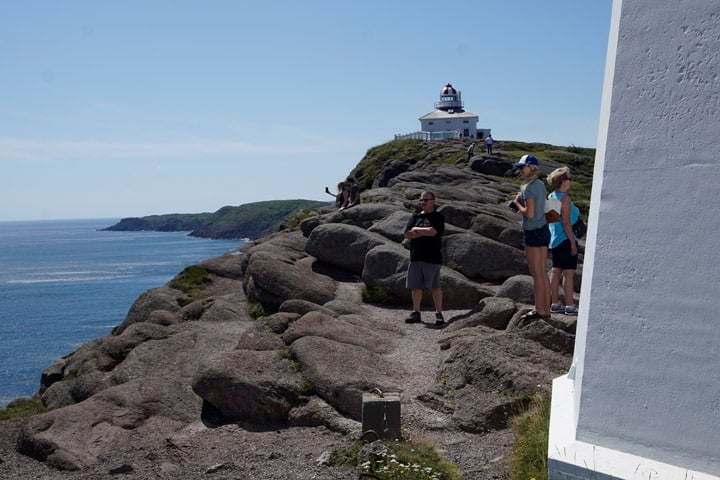 Day 1: St. John's to Gander
My first day, like on many of my trips, was ambitious, full of activities, and…exhausting. My friend Cody and I departed south from St. John's at 8am to check out a few sights on our way toward the town of Gander. Here are the highlights:
Cape Spear Lighthouse National Historic Site
Our first stop was Cape Spear, home to the most easterly point in North America and the Cape Spear Lighthouse, the oldest surviving lighthouse in the province and a symbol of Newfoundland & Labrador's rich maritime history.
Sitting atop a rugged cliff overlooking the Atlantic, the lighthouse offers scenic views and a nice easy path and boardwalk for exploring the site and surrounding area. It's all accompanied by historic plaques sharing the area's long history. Cape Spear is also a great place to see whales, puffins, and icebergs in the spring.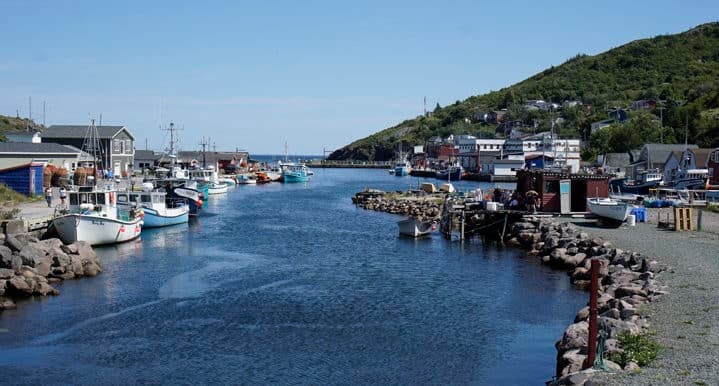 Lunch at Chafe's Landing, Petty Harbour
About fifteen minutes south from Cape Spear lies the picturesque fishing village of Petty Harbour. Home to about 1,000 people, Petty Harbour is a thriving fishing community with operational fisheries processing cod and snow crab. Anthony Bourdain put this place on the map when he featured Chafe's Landing, a seafood restaurant and bar located in the heart of town, in season 11 of Parts Unknown. Yes, we went for lunch and, yes, it was delicious. I had the lobster roll and Cody had the fish & chips, both were amazing and you should definitely stop here.
Beers at Dildo Brewing Co., Dildo
When checking out places to visit on this trip I couldn't help but notice the town of Dildo on Google Maps. Upon discovering that it was in fact a real place, I began looking for an excuse to stop there—and a brewery is a good enough reason for me.
We arrived in Dildo on a glorious sunny afternoon in August, which is only significant because one week earlier Jimmy Kimmel also discovered the city of Dildo and made jokes about it on his late night show. Long story short, Jimmy was now the unofficial mayor of the town and there were tourists everywhere. It honestly felt like we were late to a party that we didn't know was happening; signs were posted on just about every building saying "Jimmy for Mayor," people were selling Dildo t-shirts on the side of the road, and everyone kept telling us that Jimmy was on his way there (he wasn't). The beer wasn't great, but the town was stunning and is definitely worth a visit and a few laughs.
Optional detour: Our original plan had us checking out Cape Bonavista, another famous lighthouse and historic site, but since it was getting late in the day we decided to push through straight to Gander.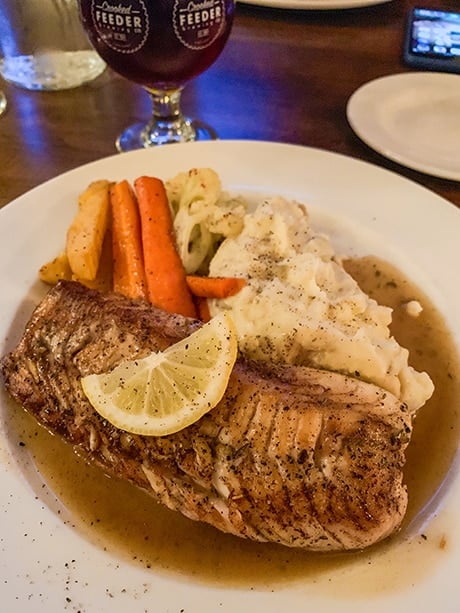 A night in Gander, town from Come From Away
Gander is a trip. It was a necessary stop on our road trip due to its location, but it doesn't have much else going for it in terms of things to explore. That said, it does hold a very important piece in history for all Americans. After 9/11, a number of U.S.-bound flights from Europe were diverted to Gander after all domestic flights were grounded. The locals immediately took in the stranded passengers, opening up their homes, schools, and anywhere else that could take them until planes were allowed to fly again. While tragic, this story speaks to the hospitality of Newfoundlanders. You may have heard of the now-famous Broadway musical Come From Away, which tells the story of what happened in Gander after 9/11. If you haven't seen it, it's amazing.
We arrived in town at 7pm, just in time for our dinner reservation at Newfoundland Tea Co., a small, no-frills restaurant specializing in fresh, local ingredients. Everything was made from scratch and the cod filet I had was one of the best of my life. Located in a strip mall, this unassuming restaurant seems to be easily the best in town. After dinner, we stayed at a Comfort Inn that was actually very nice. With another long drive ahead of us and no nightlife to speak of outside of dive bars, we decided to call it a night.
Day 2: Gander to Triton
The second day of our journey required considerably less driving than the first, which was a nice change of pace. We were able to sleep in, enjoy a mandatory stop for breakfast and coffee at Tim Horton's, and then hit the road for a 2.5-hour drive to Triton where we'd be spending the day and night.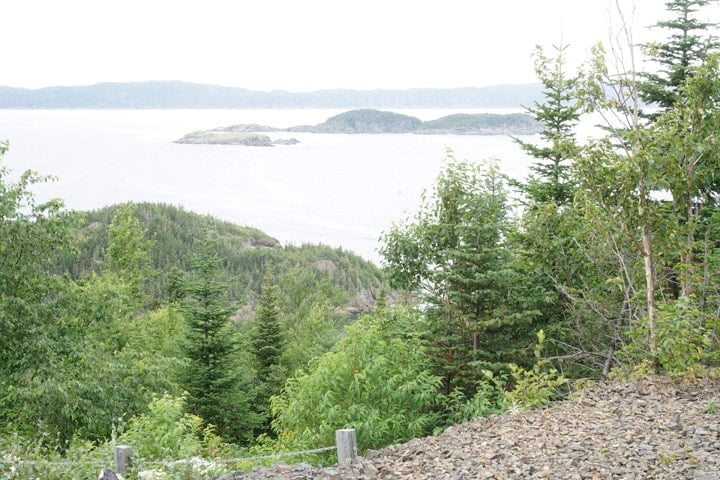 The best day of our trip, Triton
Calling Triton a small town would be an understatement. This tiny fishing village is located on the beautiful Badger Bay and isolated from any major city or highway. The official population is 983 at the time I'm writing this, and that's about 950 more people than we saw during the 24 hours we spent there. What Triton's inhabitants lack in numbers, though, they make up for with quality character, as embodied by the innkeeper at Blue Water Inn (where we spent the night), our server at lunch, and our bartender that evening. But it was our afternoon excursion on the water that ended up being the highlight of our trip.
It all started with lunch at Fudge's, a casual seafood joint specializing in locally caught fare like cod and squid rings (what we call calamari). It's one of the only restaurant choices in town, and the food was good enough and the service was what you'd expect for a place off the beaten path. The server, though, was a firecracker, hilarious and self-deprecating…my kind of entertainment.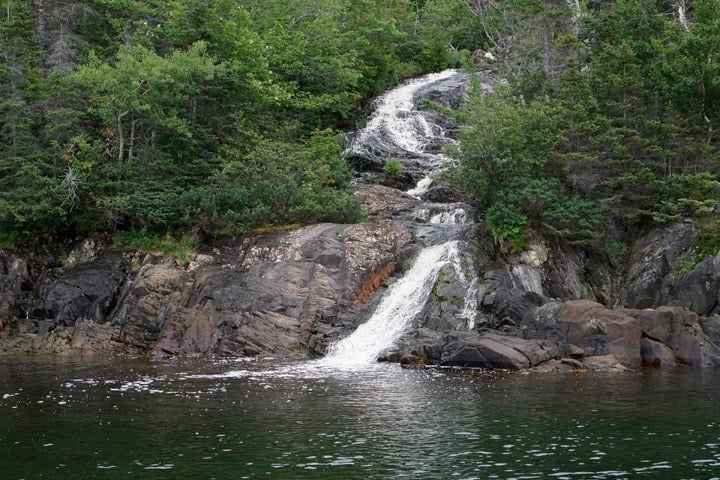 Our guide for the afternoon, Captain Mike from Badger Bay Tours, met us at the restaurant and told us a bit about himself. A hustler to his core, Mike shows travelers like us all the riches of Badger Bay from spring to fall—including icebergs, whales, bald eagles, and other wildlife—and fills his time between tours fishing for cod, crab, and squid. (Business is going well. He's purchased a new tour boat for the 2020 season to increase his tour capacity, and I can't wait to see it!)
We followed Mike down the road to his wharf, a quaint dock and shed overlooking the harbor with his boats at anchor. After loading our supplies (water and beer), we cast off the dock and headed out on the bay. The first stop was Nanny's Hole, a hidden sea cave barely big enough for a small boat to fit inside. Since we were in a small boat, our skilled skipper entered without hesitation, providing us with an incredible perspective and views of the sheer cliffs surrounding us.
From there, we went on around the bay, stopping at points of historical interest, at fishing holes, and for scenic views. We saw something like 12 bald eagles, a black bear, and even a whale's fin before the beast took a dive. We also tried our hand at squid-jigging, but without any luck. Overall the tour was incredible and I highly recommend paying Captain Mike a visit if you're on the island.
After our time on the water, Captain Mike hosted a traditional fisherman's boil up on his wharf, which was also a real treat. We enjoyed fresh crab, cod, and squid cooked over an open fire with the company of some of the finest (and funniest) fisherman in all of Newfoundland. Captain Mike and his good friend Ben even "screeched in" Cody and I, a traditional rite of passage officially declaring us honorary Newfoundlanders. The ceremony was fun, hilarious and something I will never forget.
After a few hours of eating, drinking, laughing, and even singing, we bid farewell to our new fisherman friends and headed back to the Blue Water Inn. I wasn't sure what to expect from our time in Triton, but it turned out to be the best day of the trip.
Day 3: Triton to Burlington for The Gathering
The final stretch of our road trip was a two-hour stretch from Triton to Burlington for The Gathering, the festival that won my heart last summer. The annual event celebrates food, fire, and music and brings Canada's top chefs and musicians to Burlington's tiny corner of the world. The Gathering is hosted by comedian Shaun Majumder, who's famous for his role on CBC's This Hour has 22 Minutes. Shaun grew up in Burlington and wanted to give back to his hometown, so he started a travel company called 'Ome and began hosting the annual festival. We were excited to get there—but first, we had to make a pit stop.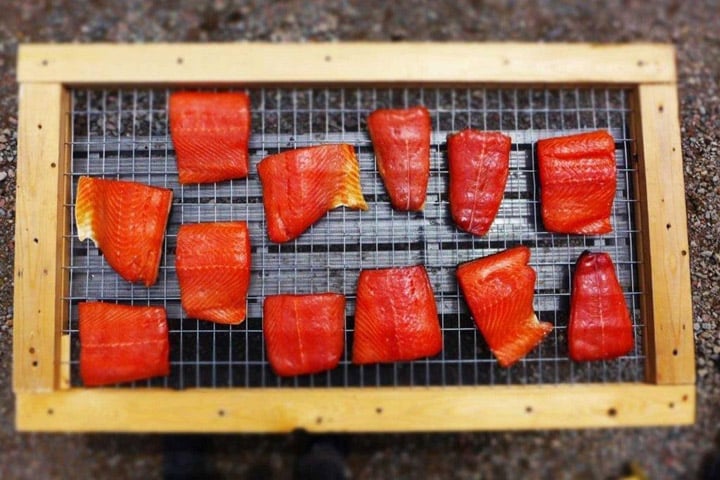 Smoked Salmon Workshop at Indian Falls Chalets, Springdale
My friends at Adventure Central Newfoundland highly recommended we stop by Indian Falls Chalets to check out the "Smoked Salmon Workshop." A lover of all things salmon, I happily obliged and stopped in to watch host Shawn share his time-perfected technique for making the best smoked salmon in the region. Overall, it was a fun experience. The chalets are also a good option if you're looking for a place to spend the night in the area.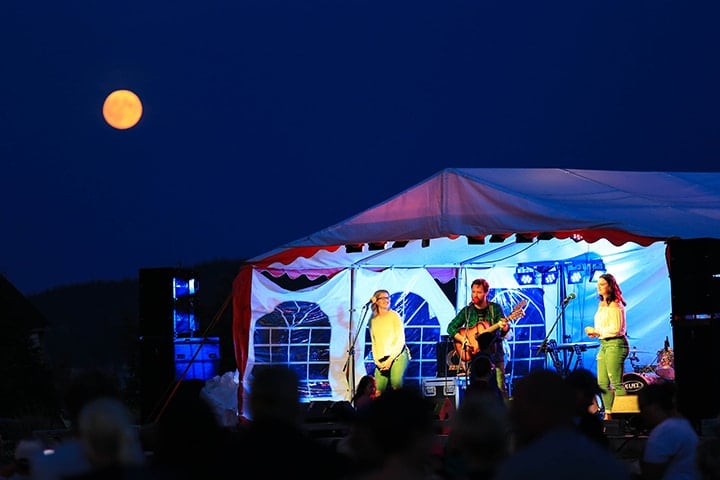 The Gathering, Burlington
After a quick stop for beer, water, and snacks after leaving Indian Falls we arrived in Burlington, picked up our festival passes, and set up camp in a field known as Tent City. The music didn't start until later in the afternoon, so we decided to check out the Brook Picnic, where local celebrity chef Mark McCrowe prepared a feast of fresh seafood grilled, boiled and seared over an open flame. We had our fill of incredible cuisine and live music while enjoying the surrounding views and sounds of the nearby river. It was surreal.
After lunch, we headed back to camp for a couple of beers before dinner. And that's where our trip hit a snag. Rain was in the forecast, and we were prepared with tarps and jackets…or so we thought. Being Californians, we think of summer rains as quick sprinkles or rain showers accompanied by warmer weather—and man, were we wrong on this day. The sky opened up, the temperature dropped, and we were left ducking for cover in our tent as it poured buckets for well over an hour. By the time we had a chance to take inventory of what had gotten wet, all of our shoes, hiking boots, and even some of our clothes were soaked.
We refused to let this put a damper on our festival experience, so went off to the Jiggs Dinner, a traditional Canadian feast comprised of boiled vegetables and meats topped with gravy, and then the annual comedy show. We had a good time, but our wet clothes began to literally and figuratively weigh us down, so we thought it best to head back to camp after the show. The rain continued all night, further soaking the clothes we had laid out to dry before going to bed. When morning came, we decided to cut our losses and leave a day early from the festival for St. John's. While we were definitely bummed, it was our only choice since we didn't have any dry footwear or clothing.
Day 4: Burlington to St. John's
We made the six-hour drive back to St. John's because it was still the quickest way home to San Francisco. While there are airports in Gander and Deer Lake nearby, it would've taken us 20 hours to fly home due to the multiple connections required (compared to just one, in Toronto, between St. John's and SF).
Even though our trip was cut short a day, Newfoundland & Labrador showed us its eccentric character and provided us with unique experiences, adventures, and stories to share for a lifetime. Newfoundland & Labrador, I'll be back!