In a 33-second video posted to TikTok by UK property investor Samuel Leeds, he waves goodbye to his kids in coach while saying, "See you later." He then walks through the three-class cabin of a British Airways Airbus A380-800 (the world's largest commercial aircraft) while the voiceover advises, "Rich people don't spoil your kids." RELATED: Should Airlines Offer Kid-Free Flights?
As he walks through the galley and Club World, the voiceover says, "Walking past business class. Because I earned it." He's in BA's luxurious First, which has 14 suites with 22-inch-wide seats and 78 inches of pitch (legroom).
He walks by his seat, 3A, which shows his food on fine China and the voiceover says, "My dinner is ready." He walks a few more feet to the seat in front of him, where his wife is just finishing up her meal and they cheers wine glasses. The video says: "My wife, who helps build the business with me."
The caption of the post reads, "Don't worry, they were sat with their nanny❤️ dint spoil your children #samuelleeds #richpeopleproblems #spoiledchild" Watch the video below:

Not surprisingly, the internet is divided over this.
One commenter named Laci wrote, "As a Nanny, I see no problem. It's not like you left your wife sitting with the kids and your Nanny."
While Shabba wrote, "I fail to see what lesson this will teach them."
Listen, I understand that traveling with kids is hard and often stressful and sometimes you want nothing more than to leave them in coach while you have a civilized meal up front. But I do have a problem with it on a number of levels.

Number one: One of his kids looks like they're about two years old. I don't know about you but every two-year-old I've ever been around, especially on a plane, always wants to be next to their mama and if they're not, they let the world know. Perhaps the child is closer to the nanny than the mother, which is just sad. 
Number two: If you're rich, why would you want the world to know you're rich? You're just making you, your family and your (vacant) home a target. It's also a huge turnoff to state it so bluntly.
Number three: I'd much rather be seated with or beside my kids and the amount of money he spent on two first class seats would have purchased four business class seats or seven in premium economy.
For example, British Airways has 12 A380s, I'm not sure where they were flying to but I do know they fly the A380 on their London to Boston and London to Johannesburg routes. So let's just use these as an example as they're similarly priced even though South Africa is almost twice the distance.
To fly to Johannesburg, BA charges, £903 for Economy, £1,003 for Premium Economy, £4,130 for Business and £7,699 for First.
To fly to Boston, BA charges, £411 for Economy, £778 for Premium Economy, £3,599 for Business and £8,072 for First.

Note: All prices are in Pounds and the current exchange rate is £1 Pound sterling equals $1.24 United States Dollar. So that £8,072 price tag is $10,048 USD.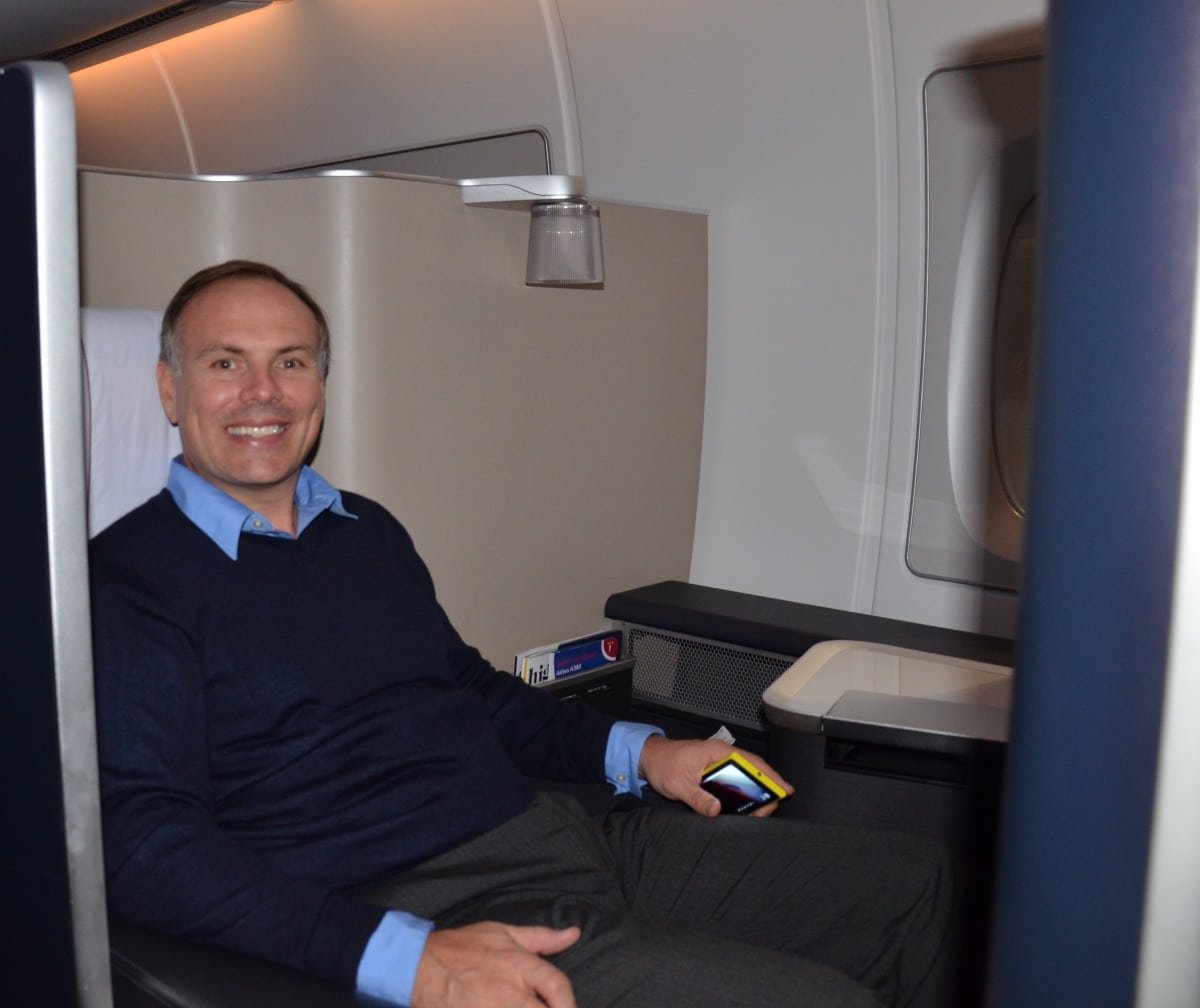 And if you're going to leave a comment stating that the author is just jealous that Leeds is flying first class and he's not, I assure you, I'm really not. In fact, I've flown in the very seat his wife is sitting in as I was invited by British Airways on their inaugural Los Angeles to London A380 service.
No, my kids weren't on that flight; I didn't have kids back then. But thanks to me having econophobia, my kids have flown in premium cabins dozens of times. I'm not spoiling them since they're only three and six years old so they won't even remember and in all of these examples below, I either cashed in my miles or found cheap business class tickets and wrote posts about them to teach other families how they can do the same.
-Trip Report: Los Angeles to Honolulu in United Polaris
–How To Fly First Class for Cheap Between Los Angeles and New York.
-Trip Report: LAX-JFK on American Airlines Flagship Business
-Our last trip was two weeks ago when we flew Newark to Los Angeles in Premium Plus on United Airlines 777-200.
If you want to learn how you can fly up front with or without your kids, sign up for my free newsletter.