This post contains references to products from one or more of our advertisers. We may receive compensation when you click on links to those products. For an explanation of our Advertising Disclosure, visit this page.
The US Open is one of the hottest events around. That's why I got excited when I heard there was going to be an American Express Centurion Lounge at this year's 2018 US Open Tennis Championships.
Just like with the American Express Centurion lounges in airports, Amex Platinum and Centurion cardholders receive complimentary access. As a member of the media, I was invited to have a chat with Josh Mckay, the VP & GM of Global Benefits and Services at American Express about this year's Centurion "pop up" and the ongoing focus of American Express and its Centurion lounges.
Exclusively for Platinum Card and Centurion Members, American Express opened a Centurion Suite located within the new Louis Armstrong Stadium, inside the UTSA Billie Jean King National Tennis Center in Queens, NY. As expected, it was well designed with windows that provided great natural lighting that helped to open the space even more.
There was an outdoor patio that didn't receive much traffic since it was extremely hot and humid.
Here's a view of the Amex Centurion lounge from the outside. As you can see, attendees didn't have to worry about missing anything thanks to the giant screen that was projecting the match.
I admit I was worried about the lounge being too crowded because of the heat. While there were definitely a lot of people in the lounge, it still felt relaxing to be inside. This is likely due to the open layout of the lounge and the large windows that made the environment inviting. Plus, American Express was regulating the number of visitors inside at one time.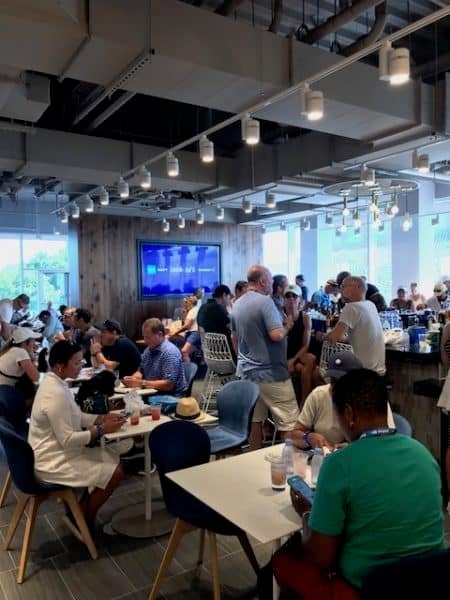 There was, of course, a full bar. I enjoyed a refreshing Honey Deuce drink.
Further Details of the American Express Centurion Lounge
The Centurion Suite is inspired by American Express' signature Centurion Lounges and broader Global Lounge Collection. As a new addition this year, it quickly became evident that the Centurion Suite is the ultimate place to relax and recharge while enjoying a day at the US Open. Guests enjoy the tastes of some of the signature Centurion Lounge amenities and offerings, as well as special experiences designed to further enhance card members and fans US Open experience. This included:
Complimentary premium snacks, small bites and water, in addition to one complimentary drink (beer, wine or cocktail – must be 21+). Additional selection of finely crafted cocktails, beer and wine will be available for purchase.
A special dish, Strawberry Gazpacho, created by Cédric Vongerichten, Executive Chef of The Centurion Lounge at LaGuardia Airport, as well as wine pairings curated by The Centurion Lounge Wine Director Anthony Giglio
A unique, sharable photo moment to share their US Open experience at the Centurion Suite
Flat-screen TVs
Phone charging stations
Dedicated WiFi network and restrooms
Takeaways From the American Express Centurion Lounge
American Express continues to focus on events where their premium cardholders will be in attendance. I think it's a great strategy as it shows that they want to know their consumers.
Although it can lead to crowded lounges, the benefits of being able to cool down, get a drink, charge your phone, and grab a snack at an event like the US Open is definitely a huge perk.
American Express will also be expanding the Centurion lounges to Denver, JFK, and LAX. Stay tuned for more information on those openings.