This post contains references to products from one or more of our advertisers. We may receive compensation when you click on links to those products. For an explanation of our Advertising Disclosure, visit this page.
If you're heading to the 2018 US Open Tennis Championships later this month, don't forget to visit the American Express Centurion Suite. This on-site oasis is open to all American Express Platinum and Centurion card members. You can visit the lounge to relax, enjoy fine cuisine, and have unique guest experiences.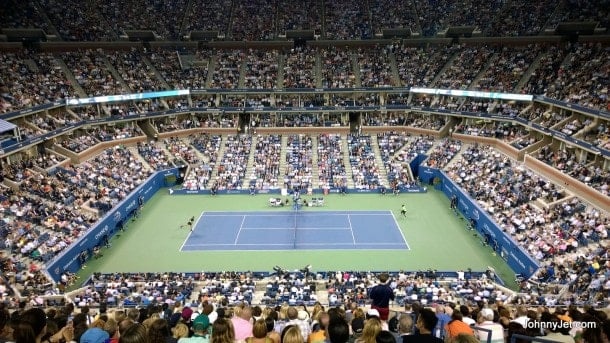 How to Access the American Express Centurion Suite
The 2018 US Open is being hosted in Queens, New York from August 27 to September 9, 2018. The Centurion Suite is located inside Louis Armstrong Stadium and is open during the following hours:
August 27 to September 5: 12:00 to 8:00 pm
September 6 to September 9: 12:00 to 5:00 pm
If you own The Platinum Card® from American Express, you can get access to the suite.
What to Expect Inside the Centurion Suite
The Centurion Suite has a similar appearance to The Centurion Lounges and International American Express airport lounges that you enjoy complimentary access to in the airport.
Once you enter the Centurion Suite, you can enjoy the following perks:
Complimentary premium snacks, small bites, and water
One complimentary drink (beer, wine, cocktail–must be 21+ to enjoy)
Unique photo moment
Flat screen TVs
Phone charging stations
Dedicated WiFi and restrooms
You can also enjoy a special dish created by Cédric Vongerichten who is the Executive Chef of The Centurion Lounge at La Guardia Airport. Wine pairings curated by Anthony Giglio will also be available.
Additional American Express Perks
Although the Centurion Suite is the main attraction if you own the Platinum Card or Centurion Card, all American Express card members can enjoy additional US Open benefits.
American Express Card Member Club
All Amex cardholders can access this exclusive club located on the second floor of the US Open American Express Fan Experience. Complimentary services include mobile phone chargers and a bar.
American Express Super Rally
If you want to have fun, Super Rally is an interactive game to play tennis in the physical and digital world using augmented reality technology. You will first receive a video tutorial from Venus Williams. You will then use a 3D printed racket to hit as many virtual balls as possible to score as many points as possible.
American Express Radio Live at the Open
American Express has four satellite locations at the tournament where you can get a portable radio to listen to live ESPN commentary. All four locations will be at the USTA Billie Jean King National Tennis Center.
Amex Band Contactless Payment Wristband
With the tap of the Amex Band, you can make purchases at the US Open without swiping your card. Your Amex Band also gives you access to exclusive offers and purchase discounts. For example, you have the opportunity to purchase a customized Ralph Lauren Polo, water bottle, and tote bag.
Get $20 Back on US Open Purchases
When you spend $100 at participating US Open merchants on one or more transactions, you will get $20 back. You don't need to have an Amex Band to qualify for this bonus.
Visit the American Express Centurion Suite
If you're an American Express cardholder, keep the Centurion Suite and Card Member Lounge in mind when you need to relax at this year's US Open. The additional member-only benefits can help make for a memorable and enjoyable tournament too!