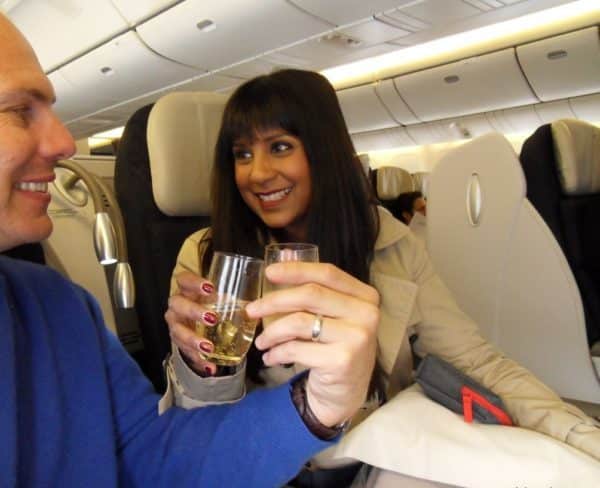 Bonjour! Natalie and I spent three romantic nights each in Monaco and Paris. On the way over, we flew Air France from Toronto (YYZ) to Paris (CDG) to Nice (NCE) in economy. Here's my review. On the way back, I was able to pull some strings and get upgraded thanks to a connection I met at last year's behind-the-scenes-tour of Charles de Gaulle Airport.
Instead of saving money and taking the RER (train) to CDG, Natalie and I took a taxi. It took just 35 minutes and cost €53 ($69) from our hotel near the Champs-Élysées to CDG's Terminal 2E. TIP: Make sure you know which terminal you are flying out of before getting into the taxi. Also, ask in advance if the driver accepts credit cards. Mine didn't so I was happy I'd hit the ATM the day before and had some cash on me.
Our driver was a Parisian (which is rare these days) and he complained while we were in traffic at the airport that France is not organized like Germany or Switzerland. We arrived two hours before the flight and there were long lines — the airport was packed and our driver told us it was because France was starting their annual 15-day Easter vacation. Is it just me or does it seem like the French are always on vacation or on strike?
Normally, Natalie and I can cruise through airports because we pack light, don't check bags and print our boarding passes in advance. It also helps that I have elite status on at least one carrier from each airline alliance. I'm a Silver Elite member (the lowest level) with Delta Air Lines' SkyMiles program and since they are SkyTeam partners with Air France, my privileges usually carry over. Well, I learned the difficult way that lowly Silver members are treated like regular passengers and have absolutely no pull when flying Air France (you need to have Gold status or higher). I got denied by multiple people to enter the SkyTeam elite lines. And while we stood in the fairly long security line, Natalie got flagged for her carry-on.
They made her try and fit them in the already too small luggage sizers and although they both fit in separately like most airlines require, they denied her since they didn't fit in at the same time. They also said they were over the 12kg (26lbs) weight limit (It was over by one kilo). So we went back to check her bags and the lines were really long for economy but short for SkyTeam Elite members. But since Silver doesn't count for anything, we sat patiently looking at our watches to make sure we didn't miss our flight. I checked my bag too since I wasn't going to risk getting flagged like Natalie.
The long line for passport control moved quickly. The French agents didn't ask any questions and just quickly stamped our passports. We then took a tram to  the M gates (second stop). Tip: Get on the second to last car to be closest to the escalator if you are in a hurry. We went through security there in their new, swank terminal. It was well staffed so there wasn't a wait.
The new terminal is beautiful but it's confusing to get there. It's located in Terminal 2E but in the S4 building and the gates are all labeled M. What?!
The bad news is that because of the check-in fiasco, we didn't have time to explore much of the new terminal. We just flew by the  restaurants and shops … which really wasn't a bad thing because on the taxi ride to CDG, Natalie kept talking about how she wanted to buy a new handbag (like she needs another one!) as research for her new blog Oh Travelissima. Ha!
We popped into the lounge since my Air France connection put us on the list, as well as on the standby-upgrade list. As we patiently and nervously waited to see if our upgrades had cleared, I downloaded my email (they have free Wi-Fi in airport) and walked around part of the lounge. There's lots of good-looking food including rice pilaf, shell pasta, meats, and cheeses. There's also unlimited booze, soft drinks and bottled Evian. One of the coolest things is the slew of bolted down iPads for guests to use, complete with antibacterial wipes to keep things clean. FYI: They don't accept Silver elite, AMEX credit card or Priority Pass holders. To get in to the lounge, you need to be on a business class ticket or be a SkyTeam Elite member with a status of gold or higher.  I think I'm going to rip up my Silver Elite card and start flying the One World or Star Alliances more often.
The agent cleared our upgrade at 1pm for our 1:55 departure so Natalie and I headed to the gate and a few minutes later, we were sitting in seats 1L and 1K, sipping champagne! Suddenly, all of our hassles at the airport melted away. Here's what it's like to fly from Paris to Toronto in Air France's Business Class. Don't forget to check out the photos below!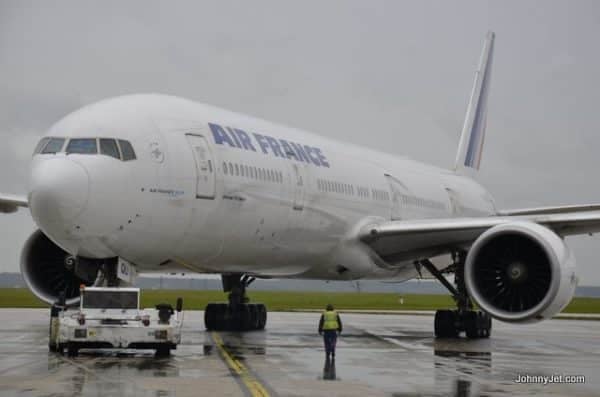 -The configuration of Air France's business class on a 777-200 is 2-3-2. That's not ideal like some other airlines, which configure theirs 2-2-2. Tip: If you are traveling alone, be sure not to get stuck in the middle by reserving your seat well in advance.
-The flight crew was friendly, attractive, and attentive.
-Flight service began and ended with hot towels.
-Before takeoff, amenity kits, menus, and drinks (Champagne, or banana and orange juice) were all offered.
-Right after takeoff, they served drinks again with delicious cheese crackers I could easily become addicted to!
-Then came the dinner tray. Main entrees were either pan-seared tenderloin of beef with béarnaise sauce, Maxime potatoes and buttered French green beans (this is what I had). Other choices included flilet of guinea hen; calamari and shrimp or grilled vegetable lasagna. A copy of the menu is in the photo gallery below.
-The bathrooms were kept clean throughout the flight, which always makes for a more pleasant flying experience.
-The entertainment system has more than adequate choices of movies, TV shows and music to keep you busy. I just left mine on the flight path for the duration of the flight.
-The seats are not lie-flat so it's tough to sleep – I kept sliding down.
-There's a snack bar set up in the galley with fruit, sweets and drinks.
-The flight attendants began serving a light meal one hour and 30 minutes before landing, just as we crossed over mainland Canada.
-The light meal consisted of creamed cauliflower, chicken loaf with tomato and basil (it was like a muffin) and Boursin cheese roulade with cucumber. The tray also came with plain organic yogurt (I don't know how people eat this stuff) and a tropical fruit compote.
-The seat belt sign only went on once (besides takeoff and landing, of course) and it wasn't rough. Overall, the flight was very smooth!
-When we landed, the crew blocked economy class passengers until all of business class had deplaned. That's always nice except when you are in economy – especially the first row. The crew told us to have our passports open and immigration forms in hand and they weren't lying. It was the first time that I've seen border agents quickly interviewing arriving passengers before the long walk to the real immigration for a second round of questioning.
-There was no line at passport control (Natalie and I have Global Entry) and our bags came out five minutes later at 4:26pm. Nice work, Air France! I hate having to wait for ages for luggage to appear on the carousel.
-Not that we needed one but I noticed YYZ charges $2 for luggage carts. That's reasonable compared to most U.S. airports ($5) but I think they still should be free for international travelers.
Kudos to Air France for an amazing trip over the Atlantic. I just wished they would give Silver Elite members more advantages for being loyal customers. Otherwise, what's the point?
FLIGHT DETAILS
Trip: CDG-YYZ
Airline: Air France
Aircraft: 777-200
Scheduled Departure Time: 1:55pm
Push Back from Gate: 2:03pm
Actual Departure Time: 2:26pm
Scheduled Arrival Time: 4:10pm
Actual Arrival Time: 4pm
Announced Flight time: 7:30
Miles: 3,740
Seat: 1L
Cost: Paid by Monte Carlo SMB