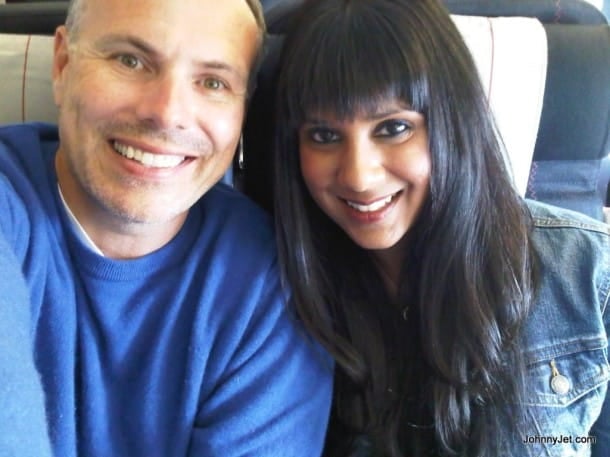 Flight AF351
Natalie and I just flew from Toronto's Pearson International Airport (YYZ) to Paris' Charles De Gaulle International Airport (CDG). We took Air France's flight 351, which is scheduled to depart YYZ at 6:40pm and arrive at CDG at 8am the following day. We flew coach and I found a great economy seat, other than the exit row or bulkhead, which can make your flight that much more pleasurable when flying on one of Air France's Boeing 777-200s.
777-200
Air France's 777-200s are configured 3-4-3 in coach. To reserve the good seats (exit rows and bulkheads) in advance you have to pay €50 per seat for flights under nine hours; €70 per seat for flights over nine hours. Note: It's free for Air France's frequent fliers, Flying Blue Gold and Platinum members.
Check-in 30 Hours in Advance
If you don't want to spend the money and don't mind gambling that the seats will go unsold, then the trick is to check-in as soon as they allow you to, which is 30 hours before your departure time. Note: For some airports to and from the U.S., they open up check-in 24 hours before departure.
SeatGuru
Before check-in, make sure you scout out the best seats – the best site to check is Seatguru.com but there's also SeatExpert.com. They both highlight the best seats on every type of aircraft.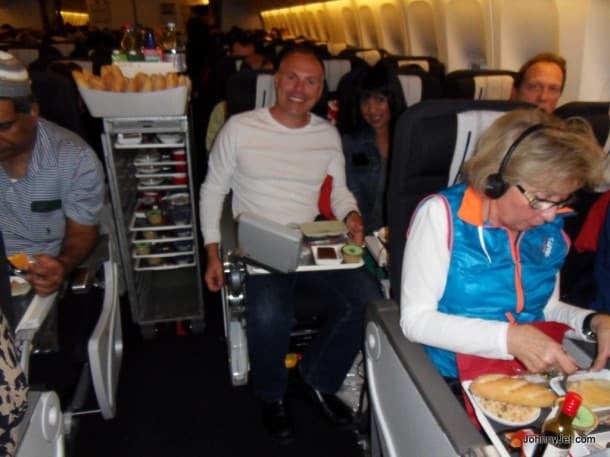 Secret Seats
On Air France's 777-200, the best seats are obviously the exit rows and bulkheads since they have the most legroom but there are two secret seats you may not know about: 20C and 20J. They are the second row in economy behind the bulkhead. What makes these special is that the bulkhead is configured 2-4-2 making 20C and 20 J free of a seat in front ofthem. We checked-in online and snatched one of them up. Natalie sat next to me in the middle and was reasonably comfortable.
Toronto's Pearson International Airport
Since we didn't have bags to check, we showed up to Pearson 90 minutes before departure. Security took about twenty minutes so we didn't have to wait long to board. Air France boards those who need extra time first and frequent fliers, including their SkyTeam partner Delta SkyMile Elites; I'm one of them since I fly Delta a good amount.
Push Back
We pushed back from the gate three minutes early — passengers were still standing in the aisles! You would never see this happen on a U.S. carrier. We were airborne about ten minutes later.
Flight Attendants
The stylish and attractive flight attendants came by with postcard-sized menus and a plastic package with earphones, refreshing towel and an eye mask.
Seats
Each seat had a blanket, pillow and an individual entertainment system loaded with a good amount of music, games and movies, including sixteen new releases.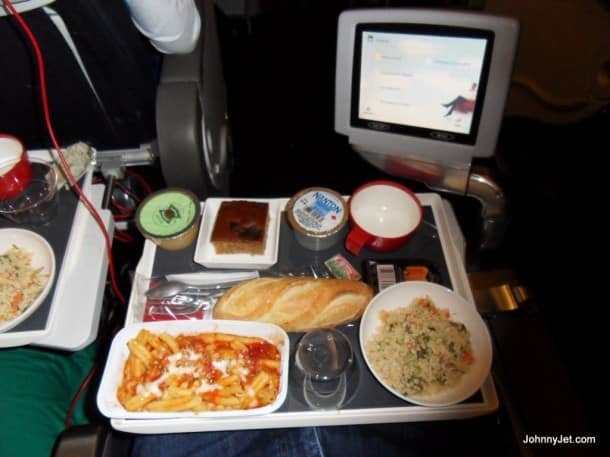 Dinner is Served
Dinner and drinks were served about an hour after takeoff and the choice for dinner was shepherd's pie (beef) or gemelli pasta. I had the latter and it was above average for airplane food. So was the fresh baguette. The food tray also came with applesauce, couscous, cheese, water, banana chocolate cake and a cup for either tea or coffee. They also offer free alcohol. 
Good To Know: If you want your food before everyone else, pre-order a vegetarian or other type of special meal.
Hello, Anyone Home (or Working?)
The flight attendants were great until the meal service ended. They turned off the cabin lights and were then non-existent. I rang the call button twice because Natalie needed some water and I was testing them. They never came. I turned it off after 15 minutes and got the water myself at the self-serve bar in the galley.
FYI: We had some interesting passengers on our flight.  One was a Chinese woman who was doing some sort of exercise in her seat that includedclapping her hands every hour, I suppose to increase circulation … or annoy all the surrounding passengers! The other was a Muslim man who was doing a lot of bending and bowing throughout the flight. I told his worried seatmate that he was just praying.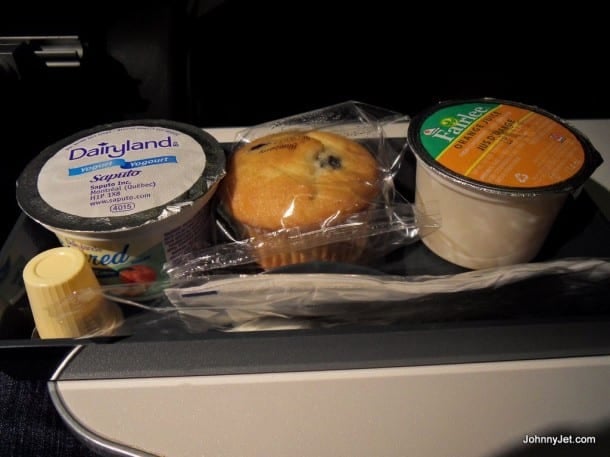 Breakfast
An hour before landing, just as the sunset began to rise over the U.K., the lights came on in the cabin and the flight attendants reappeared. They passed out mini breakfast trays, which had orange juice, a blueberry muffin and fruit yogurt. They also served coffee, tea and hot chocolate.
Flight Time
The best part of the flight was that flight time was just 6 hours and 10 minutes. Due to strong tail winds, we landed almost an hour early.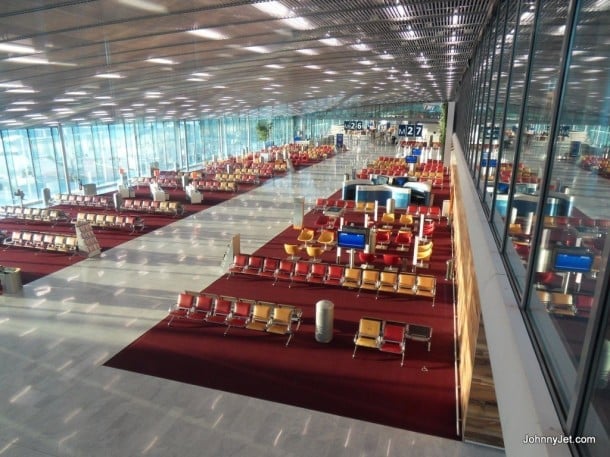 Arrival
We arrived in Charles de Gaulle's new Terminal E,which is sleek but we didn't get to spend any time in there since our next flight was out of the F Terminal. Not sure why CDG makes it confusing by putting the number 2 in front of the terminals – 2F. To get there, we jumped on the tram, went through security (took five minutes) and then cleared passport control. That took one minute as the agent looked like he had less sleep than me. What's awesome is there are no forms to fill out. Just show your passport.
Terminal F
While waiting for our connection, Natalie and I grabbedthe seats at the end of Terminal F by gate 31. They don't have the comfy loungers like they used to when it first opened but it's the brightest and quietest part of the terminal.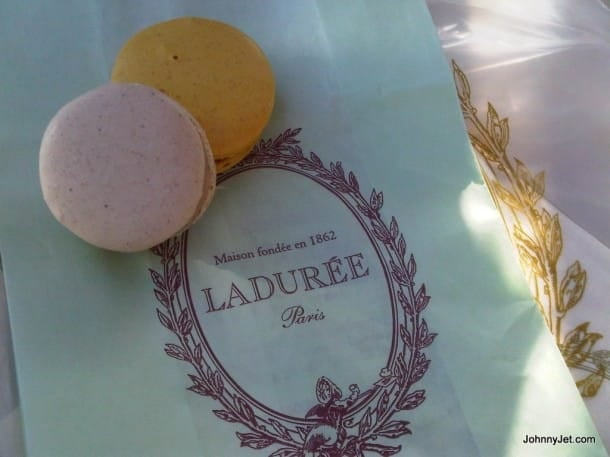 Laduree in CDG
The highlight was Natalie buying macarons (1.85 each) from Laduree. The lemon one was okay but the vanilla was out of this world.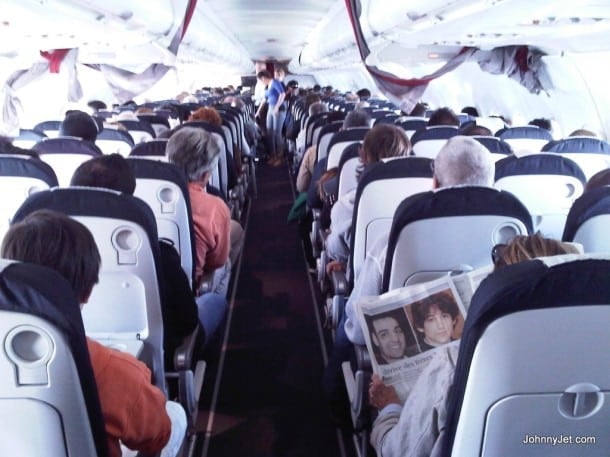 Paris – Nice
Our flight to Nice was a quick one hour and 10 minutes. Flight attendants came by with drinks and a choice of cookies or crackers. When Natalie and I landed, we transferred to Monaco via helicopter, which is when the real fun began.
Stay tuned!