Six years after it was announced, Pandora: The World of Avatar finally opened at Disney's Animal Kingdom in Orlando, Florida. This completely immersive land, a collaboration with James Cameron of Avatar fame, is the biggest expansion at Walt Disney World since the extension of Fantasyland at the Magic Kingdom.
Here's how I found it on my first look:
Port of entry: The Valley of Mo'ara
Captivating flora greets guests as soon as they cross the bridge into the Valley of Mo'ara. Real and man-made plants intermingle perfectly throughout the land, as do the valley's rock formations, creeks, signs, and even street lamps. After a short walk, the valley opens up, providing an amazing view of the floating mountains of Pandora. Water pumped upwards and through the structures creates a special effect as waterfalls pour out of mountains that seem to float in midair.
After a short walk, the valley opens up, providing an amazing view of the floating mountains of Pandora. Water pumped upwards and through the structures creates a special effect as waterfalls pour out of mountains that seem to float in midair.
Inside the two marquee attractions
1. Na'vi River Journey
The entire family will enjoy the Na'vi River Journey boat ride. As guests travel on a sacred river, they discover Pandora's rainforest—complete with its animals and glowing plants.
Towards the end of the four-minute ride, as creatures of the night scurry through the forest, the Na'vi Shaman of Songs comes into view, enchanting anyone who crosses her path. She is the most amazing animatronic I have ever seen. It is impossible not to fall under her spell.
One has to experience this attraction several times to appreciate all the intricate details that went into its creation, including the queue that features examples of the Na'vi's weaving skills.
2. Avatar Flight of Passage
The queue to Avatar Flight of Passage, a simulated ride over Pandora, takes guests through caves covered with petroglyphs and paintings, nocturnal jungle scenes, and the Alpha Centauri Expedition (ACE) research center. The laboratory displays experiments and studies about the planet's wildlife. Nothing, however, is as mesmerizing as the sight of the sleeping Na'vi floating inside a huge water-filled tube. The avatar moves only so slightly, never awakening, yet it is difficult to take your eyes away from him.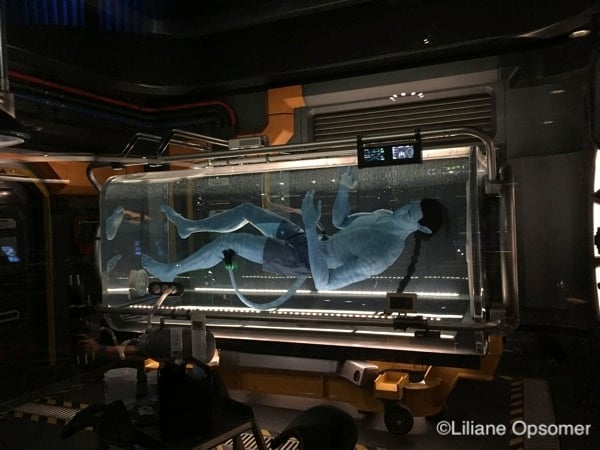 At the end of the queue, guests are taken, 16 at a time, into a room where they are "decontaminated" in preparation for their flight. A video is shown, and then they are off into yet another room. Did I mention the queue is very long? In the next room, guests are handed 3-D glasses and mount what look like bicycles to connect with their banshee for a simulated flight over Pandora. The ride is just a tad wilder than Epcot's Soarin', and most guests will tolerate the movements and special effects.
Two caveats worth mentioning: The bikes do not accommodate riders of all body shapes, as in their current configuration they are not suitable for larger riders. Keep in mind the length of the beautiful queue, as it can swallow five to six hours of waiting guests. You do not want to be stuck in that queue, so be prepared and reserve a Fastpass+.
Food of Pandora
Hungry visitors can enjoy Satu'li Canteen, a fast-casual restaurant serving "Cheeseburger…" or "Vegetable Steamed Curry Pods – Bao Buns" served with a side of root vegetable chips and crunchy vegetable slaw; beef, chicken and fish bowls; and a "Chili-Spiced Crispy Fried Tofu Bowl."
For dessert, go for the Pandora-inspired "Blueberry Cream Cheese Mousse." Satu'li Canteen is the first quick-service restaurant to offer Mobile Order. Guests using the My Disney Experience app can pre-order and pre-pay for their meals. Once they are at the restaurant, they can tap the "I'm here" button in the app, and the kitchen will proceed with preparing the meal. Once ready, the app will alert guests to pick up their meals at a designated window.
Pongu Pongu offers a selection of exotic drinks, including Mo'ara High Country Ale and Hawkes' Grog Ale, two beers especially crafted for the new land.
Souvenirs of Pandora
Amidst the mandatory T-shirts, cups, and mechanical banshee pets, Windtraders offers merchandise that will turn the avid Avatar fan into a Na'vi, with shirts resembling the natives' skin, Pandora native necklaces, a shaman stick, a long blue tail, and more. For a complete look, consider face painting.
Setting you back about $70 but absolutely fascinating is your own 10″ custom Na'vi action figure, made to order from a facial scan and accessorized with features and accessories that match your personality.
Pandora at night: spellbinding
At night, the bioluminescent scenery of Pandora is awe-inspiring. I recommend you experience it first thing in the morning, and after enjoying the rest of the Animal Kingdom, return to Pandora after dark.
By nightfall, Pandora has undergone a complete transformation and is bathed in various shades of blue, purple and green. Flower pods emit smoke and react to touch, and even the path glows beneath visitors' feet.
Beyond Pandora: More nighttime fun at Animal Kingdom
Pandora is not the only land changing at night. In the Africa section of the park, the nighttime version of Kilimanjaro Safaris allows guests to explore the savanna and its inhabitants, as special technology creates additional hours of twilight, making this attraction very beautiful after dark.
In Asia, make sure to see Rivers of Light, a new nighttime sound-and-light show along the lagoon formed by the Discovery River.
And when the sun sets, the park's 14-story-tall iconic symbol, The Tree of Life, awakens and comes alive as a sound and light show is projected onto its branches.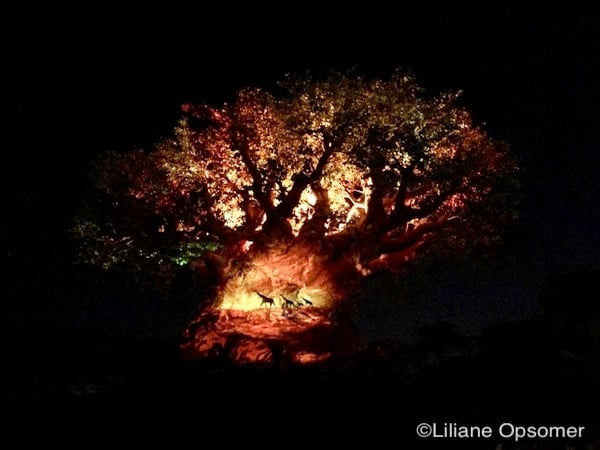 The party goes on…
Each night Harambe hosts a lively street party dubbed the Harambe Wildlife Parti. At Discovery Island, enjoy dancers, stilt walkers, and musicians as you are invited to join the Discovery Island Carnivale.
At 500 acres, Disney's Animal Kingdom is five-times larger than the Magic Kingdom. It is a beautiful theme park with lush flora, more than 1,700 animals, great shows, and thrilling rides. With the opening of Pandora, plan a full-day visit, which will barely let you scratch the surface of all there is to see and do.
---
For more on Pandora: The World of Avatar, visit Disney's page here.