I love underdog destinations…and, who knew that Wilmington, DE, was a music festival town? A driving force in Wilmington's return to being a dandy place to visit is the continuing resurrection of its scenic Christina River-front, which hosts several music festivals every year. I just dove into its tasty-Americana Big Noise Festival and have already put it on next year's calendar. Created and hosted by local veteran musician David Bromberg, the ultra-accessible, uncorralled live music odyssey maxes out at 3,500 guests, which makes you feel as if you're at a private—or even provincial—celebration.
The two-day festival kicked off at Constitution Yards Beer Garden and featured Delaware-local band Universal Funk Order, a horn band where the sax player, Reid, is also a social studies teacher at Cab Calloway High School, which specializes in the arts and is known for the high quality of its staff and productions. Being able to discover things like this is proof of the festival's ease of access. Friday night's dazzling closer was Dumpstaphunk, who got the crowd on their feet and dancing. Ivan Neville, the band's leader and keyboardist, is the son of a member of the New Orleans famed band The Neville Brothers.
Note: The Wilmington Riverfront pedestrian walkway's terminus is the Dupont Environmental Education Center, an old I-95 dumping ground that was excavated and resurrected back into the pond it once was as part of a wider urban wildlife refuge project.
Beginning at noon on Saturday, Tubman-Garrett Park, where the band's backstage is Wilmington's Riverwalk, provided a comfortable ambience for intimate stage-viewing and making new friends. Amy Helm, daughter of former The Band member Levon Helm (this tribute concert at Izod Center was a testament to his legacy), stole the show with her soulful vocal power. Later, Los Lobos knocked it out of the park playing their hits as well as covers of The Who and Neil Young songs.
It takes a village to make a festival successful. Focused on hospitality, the festival marries top-notch music acts and a multi-hued lineup of award-winning food vendor/trucks from Wilmington's Rolling Revolution. Add a beer garden and hand-selected artisan vendors from across America and you've got the ultimate melody jubilee campus.
In all, 12 bands performed. Patient but rocking was the continuing theme of the two-day weekend gala. For authentic music lovers, this truly is bullet-proof fun. During breaks between the nine main stage acts, three captivating local bands performed a hundred yards from the main stage. Unintentionally playing in-the-round on the lawn (a crowd gathered behind them, too), these local acoustic bands—Earth Radio Band and Apache Trails—were individually worth the price of admission.
And you can ditch the car. The Westin Wilmington sits in heart of Wilmington's revitalized riverfront. The staff there was so friendly that I thought I might be experiencing some kind of reality show spoof! The ten-minute waterfront stroll between the hotel and the festival grounds passes several merry eating and drinking establishments.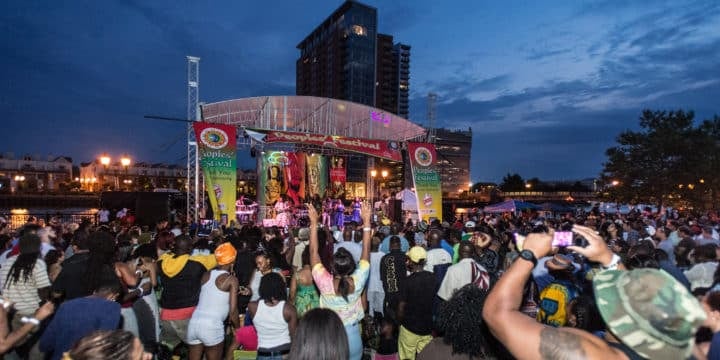 More music
Here's what's coming up on Wilmington's music festival calendar:
Ladybug Music Festival (July 20–21) — Largest female-fronted music festival in the country features 75 acts over two days on Market Street in Downtown Wilmington (free)
24th Annual People's Festival Tribute to Bob Marley (July 28) — For the very first time, the festival will be held at The Queen, formerly World Café Live at the Queen, on Market Street thanks to a collaboration with Live Nation and the festival will be (free)
August Quarterly Festival (August 26) — The nation's oldest African-American festival celebrating freedom of religion and speech and the right to assemble is held in Tubman-Garrett Riverfront Park
---
For more on travel to Wilmington, visit visitwilmingtonde.com