We receive compensation from our advertising partners for links on the blog. Here's our full Advertiser Policy.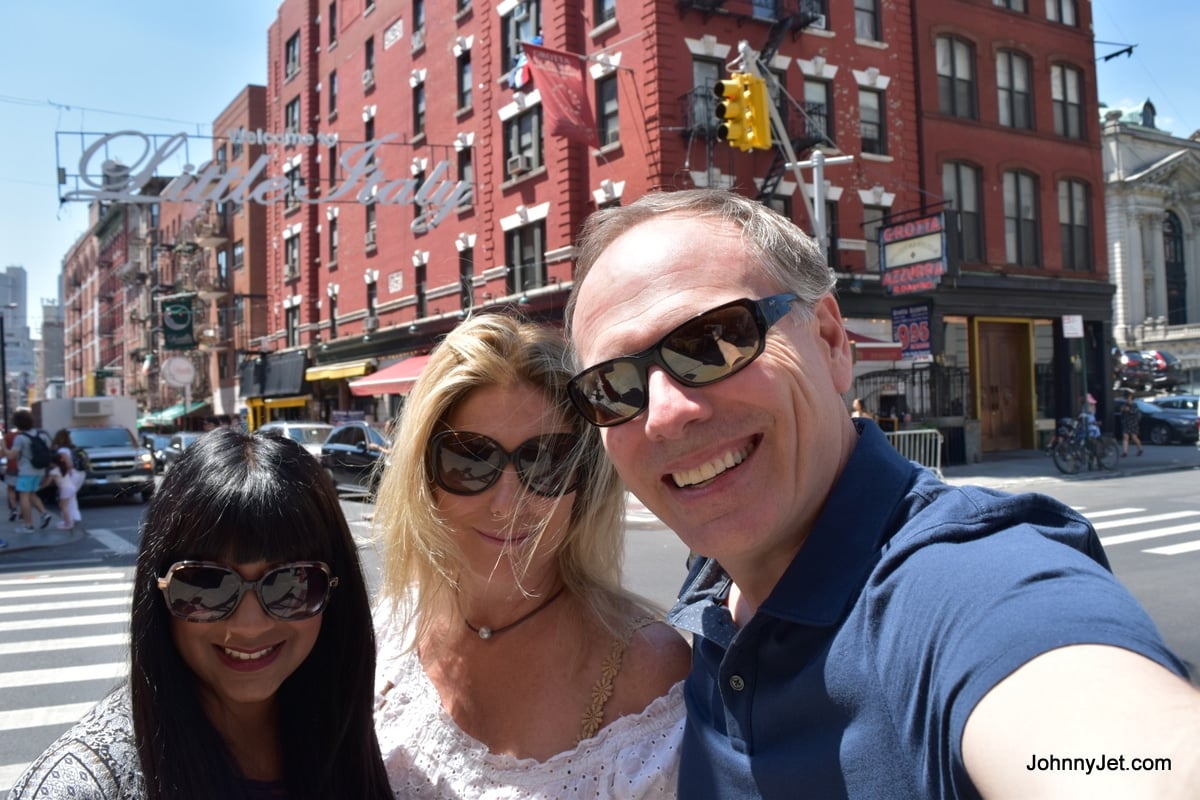 Full disclosure: This experience was in conjunction with the SPG Amex Stars program I'm participating in, courtesy of the Starwood Preferred Guest® Credit Card from American Express. They covered the cost of roundtrip flights and a two night stay at the hotel.
Last month I asked my friends and followers this question: "If you could go to any Starwood hotel in the USA, where would you go?" The comments on my site, Twitter and Facebook feeds ranged from the Caribbean to Hawaii. I was leaning towards the Pacific myself but ended up doing a complete 180-degree turn.
Starwood Preferred Guest Credit Card from American Express
In case you haven't noticed by now, I'm a big user and supporter of the Starwood Preferred Guest Credit Card from American Express (SPG Amex). I'm not alone; it's usually the favorite credit card cited by most frequent travelers and points collectors. Since I'm such a fan and a travel blogger, Amex has invited me to be part of their SPG Amex Stars program for the past few years to help communicate the benefits of the card to travelers.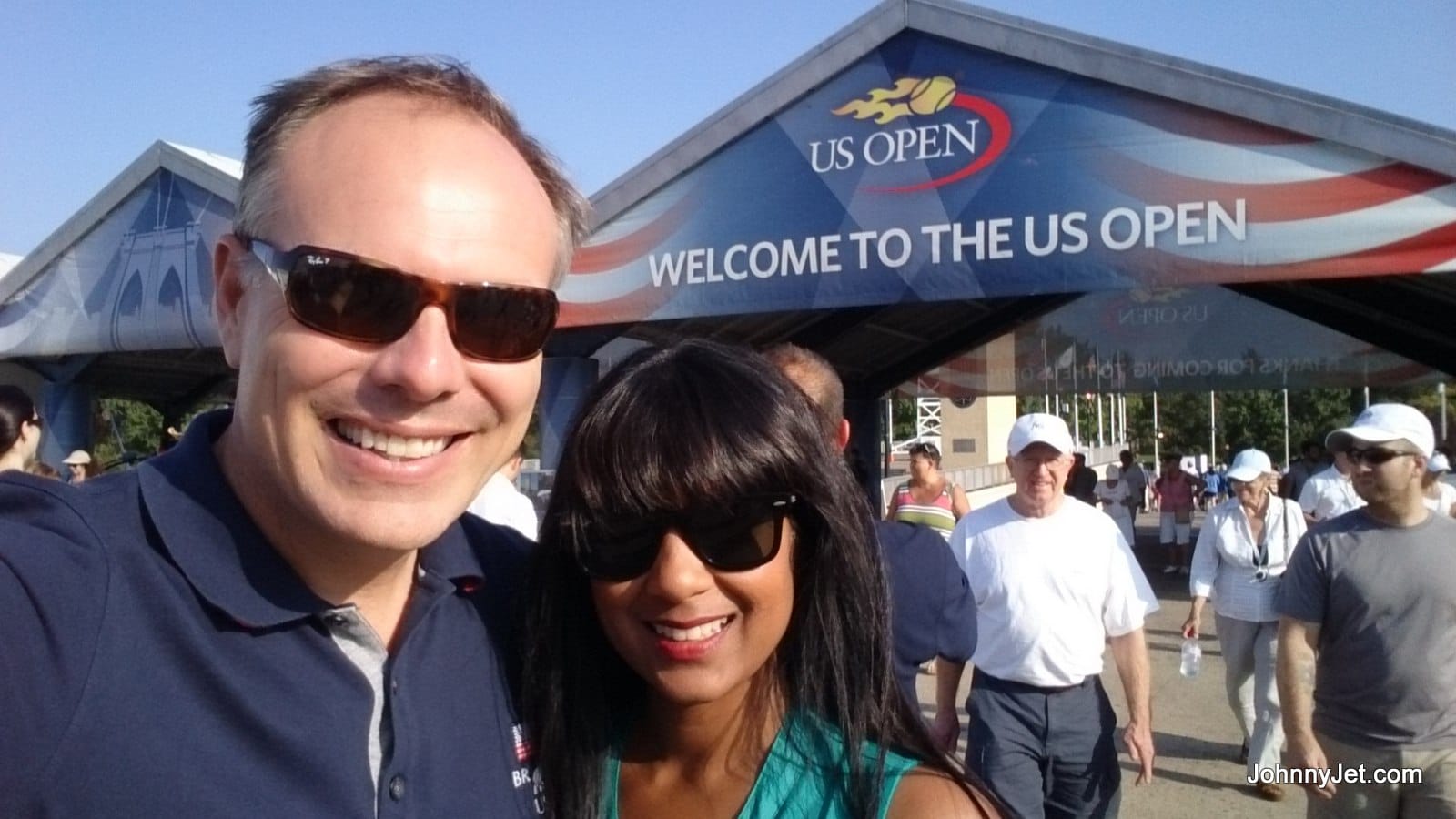 US Opens with tennis legends
In years past, I have been invited to some really cool, exclusive Card Members only, behind-the-scenes events like attending the past four US Opens and having a meet-and-greet with tennis legends Monica Seles, Lindsay Davenport, Billie Jean King, and Andre Agassi (my sister and her friend attended the last one for me).
New Year's in Hawaii
Other past 'assignments' included using 70,000 Starwood points just like regular Card Members would, during prime travel season—the holidays. My job was to book a room using my points and write about my experience. The last few years, I've gone to Hawaii (Kauai in 2013, Kona in 2014 and Honolulu in 2015) with my wife, during the week between Christmas and New Year's.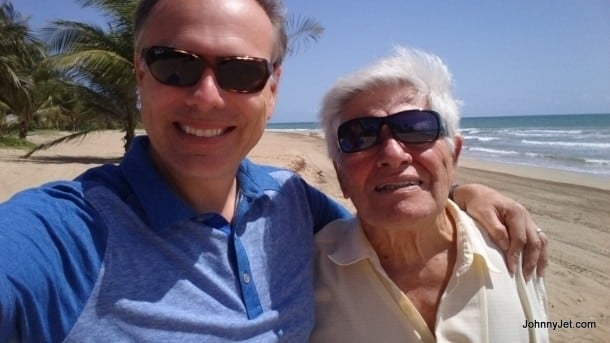 St. Regis Puerto Rico with my dad
Two summers ago, I took my dad to the St. Regis Puerto Rico, and last summer, I asked my friends and readers to help me pick a Starwood hotel to go to that was outside the United States!
The reason? Starwood Preferred Guest and American Express had just announced that their card was finally going to have NO foreign transaction fees! That was huge because in the past, when I'd traveled internationally, I'd always left the card at home so I didn't mistakenly use it and get socked with those 3% fees. They've also added a number of other benefits as well, which you can read all about here. I ended up going on an epic trip around the world. My wife Natalie and I traveled to multiple countries and the highlight was spending four nights at the St. Regis Bali. Not too shabby, eh?
This summer I could have flown anywhere in the US where there's a Starwood hotel (St. Regis, The Luxury Collection, W, Westin, Le Méridien, Sheraton, Four Points by Sheraton, Aloft, and Element) and spent two nights there in July or August. I came very close to choosing the Westin in Guam since it's the furthest US hotel, I've never been and I could have used some more American Airlines AAdvantage miles to ensure I retain my Executive Platinum status (all kinds of perks, including free upgrades). However, I couldn't get there on American unless I flew through Asia and that was against the rules of this campaign. I had no desire to fly United Airlines there (they fly an old plane on that route) and I would have loved to have flown Hawaiian, but then I wouldn't get those coveted AA miles.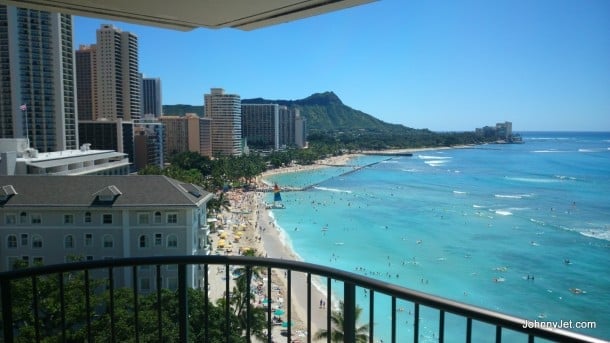 Hawaii
I then thought about heading to St. John in the US Virgin Islands but the Zika virus is there and I couldn't take the chance since my wife is pregnant and we are just starting our family. Since airfare for two was included, my wife suggested I take my dad to Hawaii and stay at one of our favorite hotels like The Royal Hawaiian or The Moana Surfrider, A Westin Resort & Spa!
This is obviously the best problem in the world to have and it was so much fun to dream about all the possibilities (here's the link to all of Starwood properties worldwide) but in the end, Natalie and I ended up going to New York City on a spur-of-the-moment trip. Our hotel was booked the day before!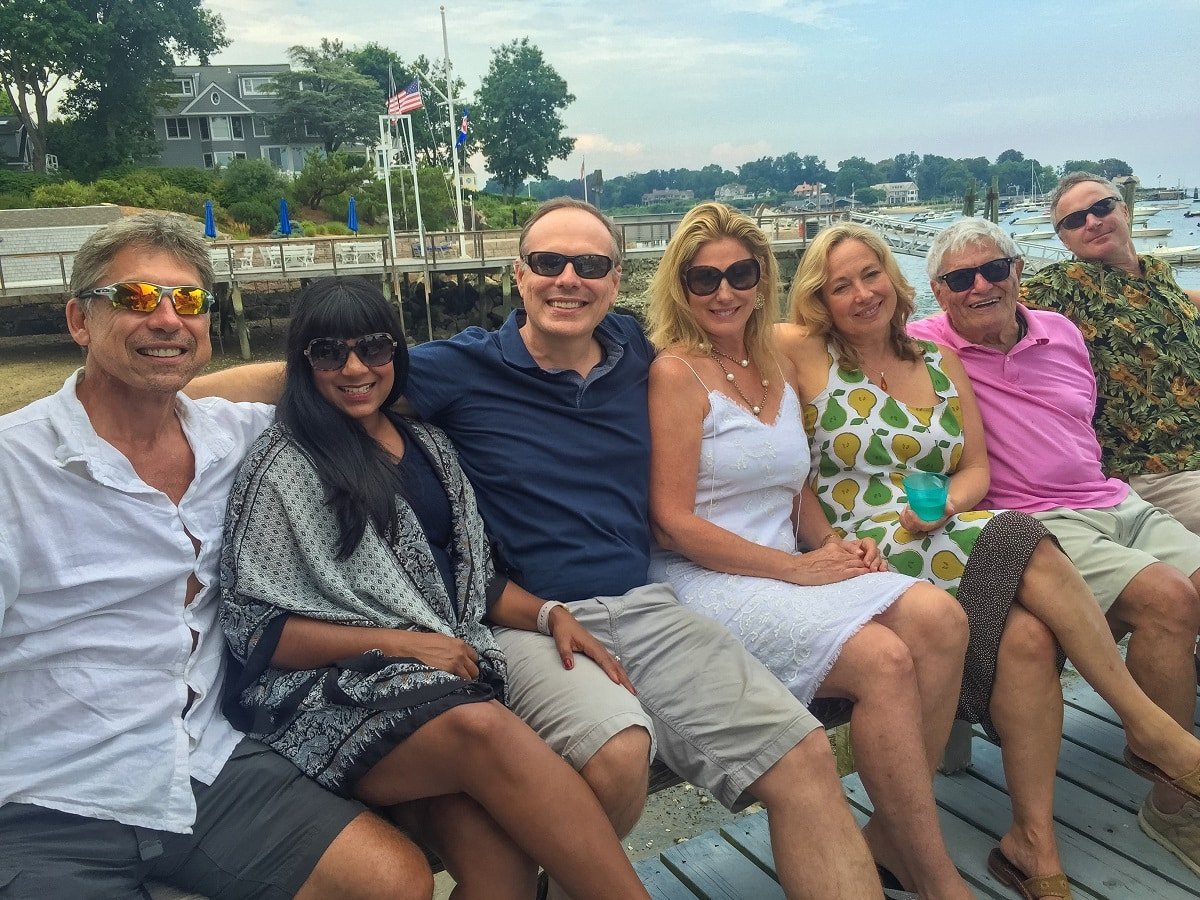 NYC—and a baby shower in Connecticut
Natalie and I had already had a trip to the area planned. These were going to be her last flights before the baby came (he's due in early October). Our plan was to fly from Toronto (where Natalie grew up and where her sister threw her a baby shower) to LGA airport. From there, we were going to go straight to my home town of South Norwalk, Connecticut (40 miles away) for four days.
We were going to Connecticut since my sisters were throwing a baby shower for us on the last day. But Natalie and I both love New York City (even in the hot summer months!) and with the baby coming, we knew it was going to be a while before she got back to the city that never sleeps. So we decided to choose a Starwood hotel in one of our favorite cities…New York! We spent two nights in New York and two nights in Connecticut.
25 Starwood hotels in NYC
Starwood has 25 hotels in Manhattan and our top three choices were: The St. Regis (we stayed there in 2012), The Chatwal and 11 Howard. We ended up at 11 Howard, which is located on 11 Howard Street (212-235-1111) in the heart of SoHo. It cost $1,129.26 for two nights but you can find cheaper rates starting at $279 a night. This hotel just opened in March and is a member of Design Hotels. Interestingly, the Starwood confirmation email warns: "This is a partner hotel with limited participation in the SPG Program. All SPG Members will receive Starpoints on eligible spend, elite nights credit, and on-property benefits of internet access and bottled water in room. In addition, Gold Preferred Guests and Platinum Preferred Guests will automatically receive Starpoints as their Welcome Gift. Any other SPG member benefits will not be available at this hotel."
We rolled up in our Uber from LGA after midnight on a hot humid summer Tuesday night. The young, friendly staff greeted us around a casual round check-in table. The lobby is similar to the hotel's 221 rooms and suites with a cool Scandinavian minimalist vibe.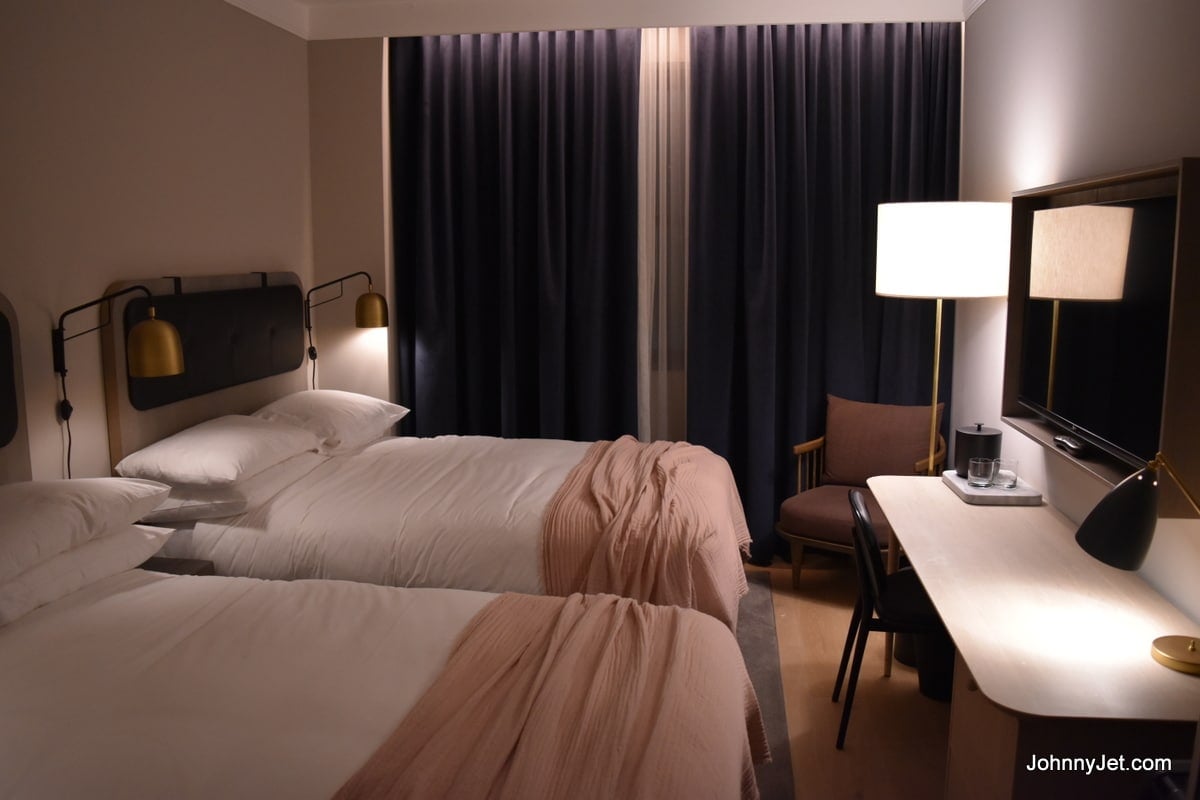 Standard room
The standard rooms are small (they range from 17 to 30 square meters) but they have high ceilings. They contain custom furniture and lighting by Danish brands Mads Raaschou and Gubi, and the floors feature oak planks combined with soft natural bamboo area rugs. I thought the rooms were quiet until I heard our neighbor's hair dryer at 8 am. It turns out we had a connected door so if you want privacy, I recommend you not get a room that has one of these thin doors. We didn't spend much time in the hotel but we really liked it—especially Natalie who went gaga over its design. That's her thing, as you can see on her Pinterest and Instagram accounts.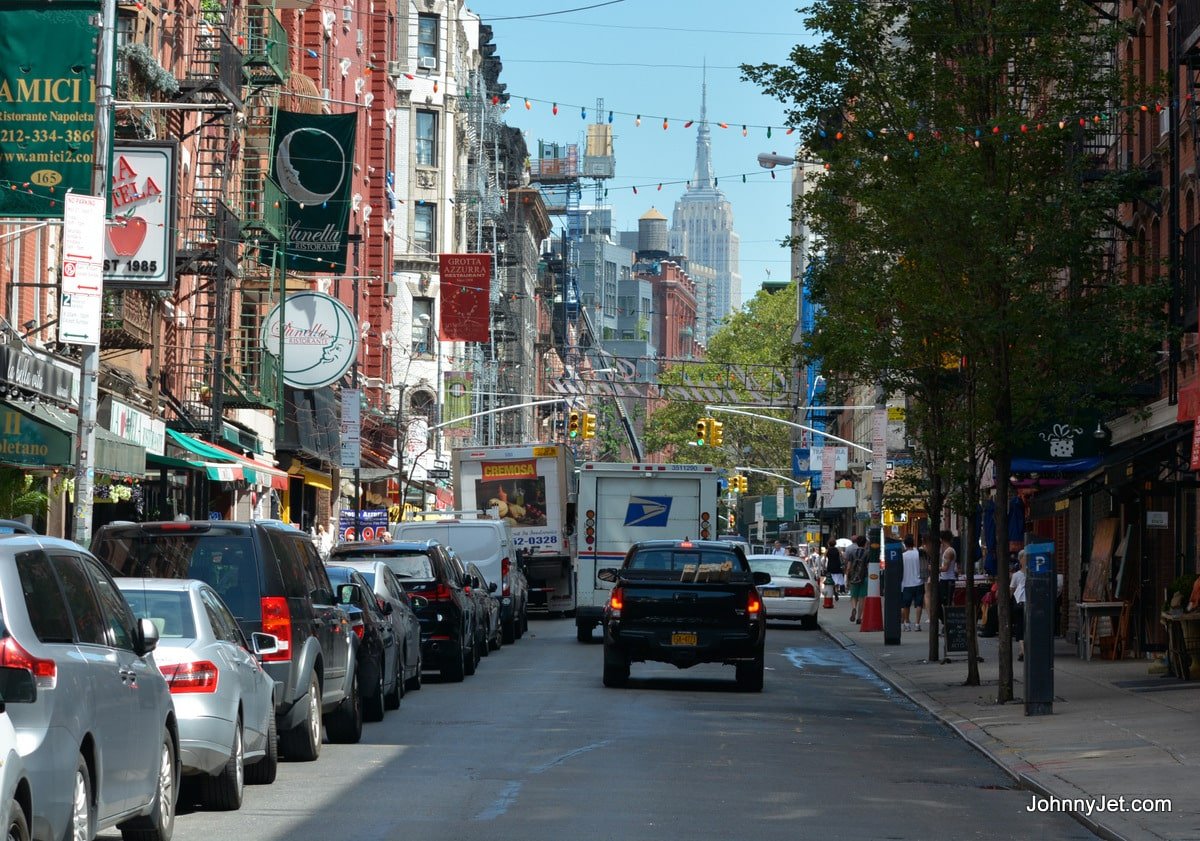 Little Italy
I loved the location (two blocks away from Little Italy; eat at La Mela) and the fact that I keep earning valuable Starpoints by paying for most purchases with my SPG Amex card; when winter rolls around, I should have earned enough points for me, my wife and our new baby to get away and go somewhere fun!
Note: The hotel has two French restaurants on property but we didn't have a chance to try either one. Maybe next time I'm in New York City, which will be in September when I return with SPG Amex to attend this year's US Open. Stay tuned!
Save 15%: Save up to 15% off your next stay. Plan your next vacation and save up to 15% on our best rates at Starwood hotels and resorts across the US, Canada and Latin America.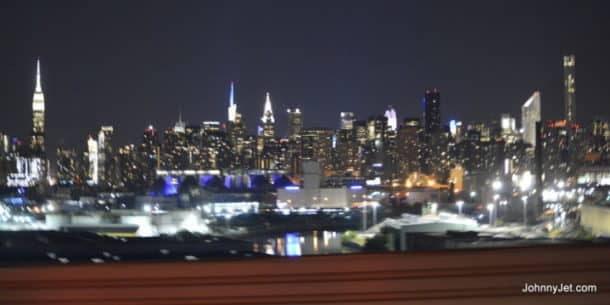 Save
Save