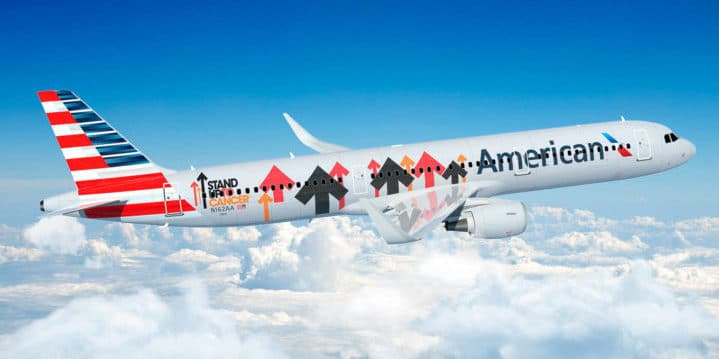 It's hard to believe that it's been almost 19 years since I lost my mom to cancer. My mom was my world and it took me years to get over her death. The fact is I'll never truly be over it but I know that life goes on, and I'm living a life that would make her proud. It still gives me pangs just writing about her in the past tense.
Fortunately, I know my mom isn't gone for a number of reasons but the main one is thanks to a medium I visited in 2004. She connected me with my mom and told me things that no one on Earth knew but just the two of us.
There's not a day that goes by that I don't think of my mom or that I don't pray for her. So when American Airlines promoted a partnership with Stand Up To Cancer, in which you could donate as little as $25 for a chance to get your loved one's name listed on a specially wrapped A321 Stand Up To Cancer plane, I jumped on it. It was also a no-brainer because donors get 10 AAdvantage miles for every dollar they donate when going through the American Airlines website. Note: You can still donate and earn miles but the plane promotion is over.
Although the plane's wrap features more than 22,000 names of people whose lives have been affected by cancer, I wasn't expecting my mom's to make the cut. I was half asleep when I pulled up the dedicated webpage (thanks Ben, for the reminder to check) where you can see if your loved one's name made it, and if it did, where exactly it's located. You just need to input your first and last name and your email address.
My eyes almost popped out of my head—and I quickly woke up—when I saw my mother's beautiful name appear with an arrow indicating where her name is listed.
According to the American Airlines website, "It is anticipated that an honoree's name will be on the plane for approximately 18 months, which is the lifespan of the decal. However, American Airlines reserves the right to remove the plane wrap or take the airplane out of commission at any time, in its sole discretion."
Obviously, I would love to book a flight on this plane (tail number: N162AA) but it won't be easy given the ever-changing schedules of aircrafts. American even says that it's unable to provide information on how to book a flight on the official Stand Up To Cancer plane.
The Stand Up To Cancer plane in miniature
However, donors can buy a model Stand Up To Cancer plane for $53.50 that's got a 11.5″ x 9.5″ wingspan. According to the website, if you'd like to purchase a plane with a customized plaque, you'll have to wait until that option becomes available (estimated to be in early October). So I'm waiting, but you can bet that when the planes ship in early November, there will be one sitting on my desk with my mom's name on it.
I know that I occasionally like to give American Airlines grief, like last week when the airline promoted that it's a five-star airline, but AA should be commended for this amazing partnership with Stand Up To Cancer. I'd like to thank the team for giving my mom's name a chance to live on and soar through the skies. And hopefully, her baby will be fortunate enough to be on one of the plane's countless flights.