Those tourists seeking "authentic" Mexican experiences – I use the quotations to connote both irony and self-recognition – will do well to check out tours to Puerta de Canoas (city of canoes in homage to its canoe building history) and El Quelite, both about one hour from Mazatlan.
I recognize that for many authenticity seekers, taking a tour is anathema. I am not such a person, having long ago recognized that having a guide with encyclopedic knowledge to navigate (both literally and figuratively) unfamiliar territory is well worth the uncool experience of being seen in a brightly colored minivan. And so it was I set out to these two genuinely authentic Sinaloan villages with the best guide and driver in Mazatlan, Jesus Benitez. (My opinion, yes, but one shared by many.)
Tiny Puerta de Canoas centers around a concrete plaza bordered by its Catholic church, an outdoor billiard hall and, opposite these, a covered dining area with a small kitchen in one corner. In this corner I fulfilled my long held desire to make and cook my own corn tortillas, guided by a fierce taskmistress who did not hesitate to correct my fledging efforts. We also made our own roasted tomato "molacajete" salsa that we enjoyed, along with a Mexican cheese called jocoque and a mixture of avocado and cactus, on fresh corn tortillas prepared partially by moi! Full in spirit and belly, I nevertheless chowed down on the beef asado, a regional specialty of slow-cooked beef and potatoes. Thankfully we were allowed to walk around the town before returning to the van. Gracias, Dona Rosa and daughter Monica, for a wonderful meal and "authentic" experience.
Bigger than Puerta de Canoas, El Quelite has a main drag lined by colorful colonial-style adobe buildings. Save for the cars and trucks, I might have believed myself transported back a century. Catty-cornered from one another are the town's two landmarks: the ubiquitous Catholic church and El Meson de los Laureanos, a restaurant about which words fail me. Rather, my words and pictures will not do justice to the dining experience.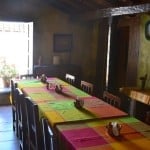 First, there is the building. Beyond the broad shaded porch one enters into the first of many warmly colored adobe-style rooms with festively set tables. I meandered from room to room looking at murals of conquistadors and all manner of treasures. After weaving through the maze of rooms, I came to a large patio shaded by a giant tree where my group was to dine on traditional Sinaloan breakfast dishes. Why, I asked, were there umbrellas when the tree created such shade? Our hostess pointed up to the giant iguana lounging on a branch above us. We also met a cheeky parrot who lives on the patio.
We started with large glasses of fresh fruit juices and the fresh Mexican fruit I have come to love so much, followed by an assortment of savory and sweet breakfast items including locally made cheeses, gorditas, chips and salsas. My favorite was pancakies, large, thin pancakes rolled up and ready for butter and jam. I dug right in, thinking this to be the whole of the meal only to be presented with a menu from which to order my main course. Ay, yay, yay!! The more adventurous ordered a traditional tongue dish and pig's feet. Though I had eaten fried grasshopper the evening before, I ordered chiliquiles, a safer and equally delicious alternative. Our plates had barely been removed before an assortment of traditional puddings, fruit leather, a sweet bread and dessert tamales arrived.
Great locale, great food. That is reason enough to visit El Meson de los Laureanos. My favorite part of our visit, however, came after the meal when I met the restaurant's owner, Dr. Marcos Gabriel Osuna. The restaurant was once the family home where he grew up. A medical doctor who often got produce instead of cash from his farming patients, he turned his home into a restaurant featuring the traditional dishes he loves so much. A gracious man, he has enthusiastically promoted El Quelite and the other rural destinations around Mazatlan. El Meson de los Laureanos has expanded as its popularity has grown, and Dr. Osuna showed us a new room and patio currently under construction.
Then he took us into the alley behind the restaurant to see his chickens, all sizes and breeds. Watching the good doctor lovingly feed his chickens capped off a wonderful trip to El Quelite.
Here are links to my other posts about my trip to Mazatlan:  Amazing Mazatlan, Hotels in Mazatlan, Spirits of Mazatlan, Sweet Sinaloa, Fun Facts About Mazatlan, and Mazatlan:  Seafood and Eat It.