If you've been following along with my trip to the east coast, here's a quick review of the only hotel we stayed in for the eight-day trip. But first, a quick recap: We flew three routes on three different airlines. First, we flew Los Angeles (LAX) to Toronto (YYZ) in Air Canada's Premium Economy on a 787 to spend Easter with my in-laws. Then we flew YYZ to New York's LaGuardia Airport on American. We then drove an hour to Connecticut to attend my father's funeral (it's still difficult to even write those words). We stayed in a relatively new hotel, the Residence Inn in South Norwalk, just three blocks from the church. Here's my review.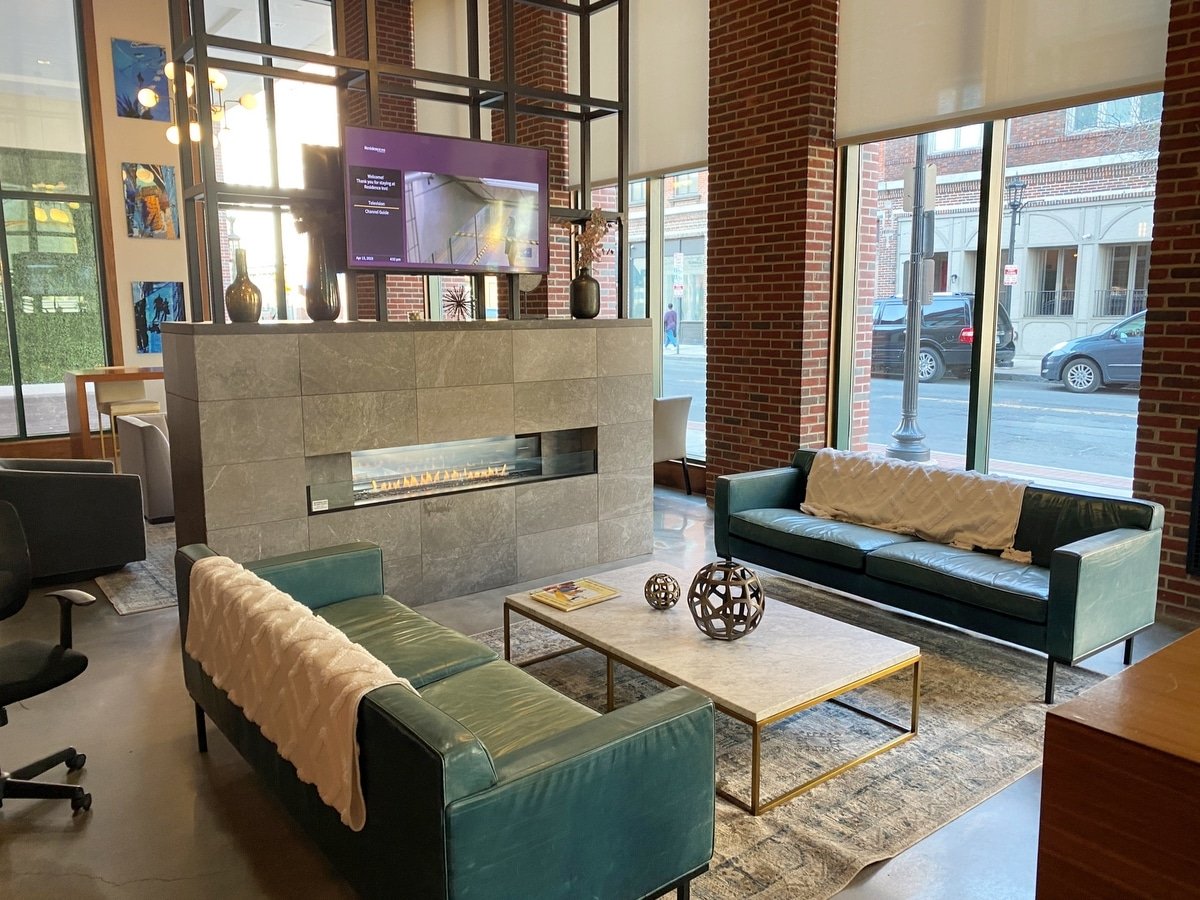 This post contains references to products from one or more of our advertisers. We may receive compensation when you click on links to those products. For an explanation of our Advertising Disclosure, visit this page.
The Residence Inn Norwalk opened in May 2019. I was excited that the town I'd lived in for the first 21 years of my life had finally gotten a solid hotel. Room rates begin around $225 a night; I paid $293. You can book the Residence Inn Norwalk here on Expedia, Booking.com and Hotels.com.
The hotel is located in South Norwalk (SONO) and is just a block off popular and happening Washington Street. This street is lined with trendy restaurants and to give you a hint how good they are, I once saw Martha Stewart exiting one of them.
The city also has a fantastic Maritime Museum, which is just three or four blocks from the hotel. The Residence Inn Norwalk has 102 rooms. They're all suites and this makes all the difference when traveling with little ones (we have a six-year-old and a three-year-old.)
Our kids are always hungry, they're picky and one of them has food allergies so it's not always easy to dine out. Having a kitchen can make or break our trip. Actually, all we really need is a mini fridge and a microwave but having the other amenities is an added bonus that we put to good use.
The hotel is 8 stories. On the top floor is SONO Sky, a rooftop bar I didn't have time to visit.
I did manage to check out the second floor, which has a gaming area with a billiards table that overlooks the lobby.
I also stumbled upon the gym on the third floor since one of my friends was staying on that level and I needed to get something from his room.


Also on that floor was guest laundry, which is always appreciated, especially when traveling with kids or long term.
To access all the room floors, you do need to use your room key to activate the elevators.
The lobby was well designed and has a mini market selling frozen foods you can heat up in your room's microwave, drinks and snacks.
The only time the lobby was busy was in the mornings as they offer a free breakfast buffet (6am to 9am on weekdays and 6am to 10am on weekends).


They have hot and cold food, including individually wrapped ham and egg croissant sandwiches.
There's also have a coffee station that's kept stocked until 8pm.
I also appreciated that the lobby had a computer and a free printer to use since I needed to print up my dad's eulogy.
One downside I encountered was that the walls were a little thin. We had a quiet neighbors so I couldn't tell but my buddy said he could hear the kids screaming in the room next to him.
If you're on one of the higher floors (6 or 7), you have a great view. I imagine those below us not so much, so request a high floor.
One other negative is that they charge $20 for parking while parking at most hotels in the area is free. But parking is at a premium in SONO.
If you're looking for places to eat, there's a great Mexican restaurant directly across the street called Los Portales.
If you're looking for some fine seafood at someplace that's on the water, drive to Rowayton Seafood (3.2 miles away) and if you want to stock up your kitchen go to Stew Leonard's — the World's Largest Dairy Story (2.8 miles). Book the Residence Inn Norwalk here on Expedia, Booking.com and Hotels.com.
KEEP READING
Love to save money when you travel? Sign up to Johnny Jet's free newsletter and check out these popular posts: 10 ways to find cheap flights and 12 ways to save money on baggage fees. Follow Johnny Jet on MSN, Facebook, Instagram, Pinterest, and YouTube for all of my travel posts.