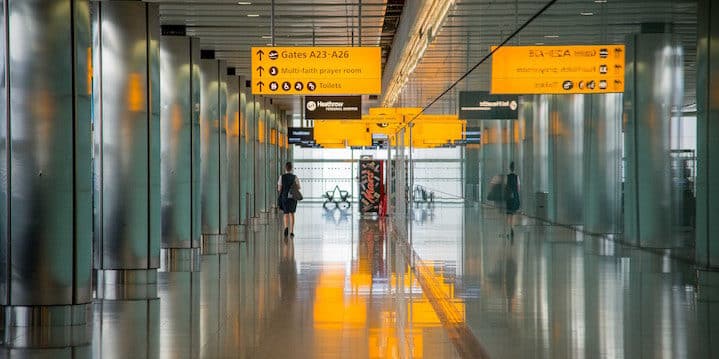 Global Entry and TSA PreCheck are among the best tools at the U.S. traveler's disposal (here's a good way to get them). But like much of life right now, the process of applying to be and getting approved for Global Entry (which comes with TSA PreCheck) has been affected by the COVID-19 pandemic. The latest: As announced yesterday, "U.S. Customs and Border Protection [CBP] has extended the temporary closure of Trusted Traveler Program enrollment centers until at least July 6, 2020." That means that if you had a Global Entry (or NEXUS, SENTRI or FAST) appointment scheduled at an enrollment center between now and midnight on July 6, you're going to have to reschedule. From the CBP announcement:
"The temporary closure applies to all public access Global Entry enrollment centers, NEXUS enrollment centers, SENTRI enrollment centers and FAST enrollment locations. Global Entry mobile enrollment events are also paused until further notice.
"Conditionally-approved Trusted Traveler Program applicants who seek an interview at an enrollment center will need to reschedule their appointment using the online scheduling tool after July 6. These applicants are encouraged to check their e-mail and Trusted Traveler Program accounts for further information. CBP will continue to monitor the situation in order to resume enrollment center interviews as soon as possible."
This is going to be an unfortunate development for some, but it's hard to blame CBP for wanting to keep agents and applicants safe. And if you really want to get approved immediately, all Enrollment on Arrival locations are still operational. If you're conditionally approved for Global Entry and you arrive at an airport with an Enrollment on Arrival office, you can simply pop into the office before baggage claim/exiting arrivals. You don't need an appointment. Here's what you will need, from the CBP page (which also lists the airports offering Enrollment on Arrival):
A valid passport. If you travel using more than one passport, please bring them all to the interview so that the information can be added to your file. This provides you with the ability to use multiple passports at the Global Entry kiosk.
Documents providing evidence of residency. Examples are: driver's license (if the address is current), mortgage statement, rental payment statement, utility bill, etc. This is not required for minors.
A permanent resident card (if applicable).
Global Entry members and applicants now have more time
Keep in mind that along with these other changes, CBP is extending its application and expiration windows. From the page: "In response to the COVID-19 pandemic, CBP extended the period of time that Trusted Traveler Program applications remain active. Each applicant now has 485 days from the date that CBP conditionally approves his or her application to complete the enrollment process. In addition, CBP will extend for up to 18 months the Trusted Traveler Program benefits of members who apply for renewal before their current membership expires."
---
Have your own tip? Email it to whitney@johnnyjet.com!
Want to see more tips? Click here for all 1,716!
Want even more travel tips? Sign up here for the Daily Travel Tip newsletter! Enter your email address and check "Daily Travel Tip" to receive Johnny's best tips in your inbox each day!
If you already subscribe to our weekly newsletter, you can sign up on the same page. Just fill in your email and check "Daily Travel Tip" on the same page. You'll receive an email with a link to update your JohnnyJet.com preferences. On that page, just click the Daily Travel Tip box and Update Profile.