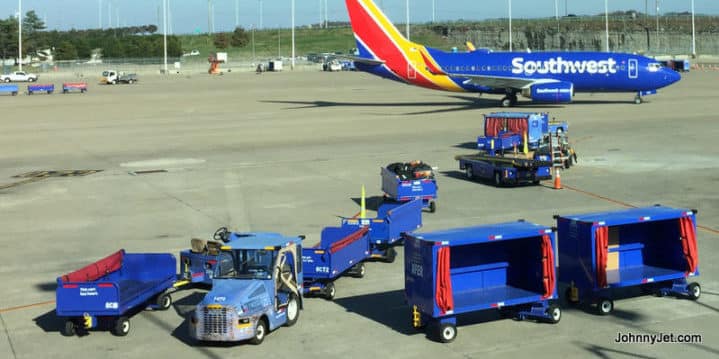 About four hours before a recent flight from Nashville to Tampa, I remembered that Southwest is one of the few airlines that still serves peanuts…and my son has a peanut allergy. As any parent would do, I went into panic mode and so did my wife. Suddenly, the issue really hit close to home and we found ourselves wondering why an airline would still serve this snack even though there are so many people with peanut allergies for whom the reaction can sometimes be fatal.
I used to love Southwest's honey-roasted peanuts but when I discovered my son had a peanut allergy, I stopped eating them and gave up my favorite peanut butter at home. I've been on flights in the past where flight attendants have made an announcement letting people know that a fellow passenger has a peanut allergy and asking them to please not open or eat anything that contains peanuts. In one instance, someone across the aisle from me started eating a Snickers bar and I asked him if he'd heard the announcement. "There's someone onboard with a peanut allergy," I said, in shock. He obviously couldn't have cared less. "It's my Snickers bar," he said and kept eating it. I could not believe that someone could so easily put another person's life at risk…over a chocolate bar!
Back to my son's flight: Since it was so close to departure time, I wasn't sure what to do. I thought about buying tickets on another airline but Southwest is the only airline that flies non-stop between the two cities. Buying new tickets would not only have been prohibitively expensive but we would have also had to connect, which isn't ideal with a 13-month-old toddler. I also thought about driving but when I saw it was 700 miles and an 11-hour drive, I nixed that idea.
I Googled "Southwest Airlines peanut allergy." The first thing that came up was "Customers with Disabilities – Southwest Airlines." I clicked it and then hit the "Allergies" tab on the left-hand sidebar and here's what I learned:
Southwest Airlines is unable to guarantee a peanut-free or allergen-free flight.
When booking a new reservation, Customers may use the "Add/Edit Disability Options" on the Enter Traveler Info page to indicate that they have a peanut dust allergy.
If a reservation has already been created, simply click on the "FLIGHT | HOTEL | CAR" link located on the top of the home page. Then, select "Manage Reservations" from the "Flights" column, input the required information, and select "Continue." From that page, click on the "Add/Edit" Disability Options link.. Once a Customer has added his/her option(s), the Customer should click "Continue" and the information will be saved to the Customer's reservation.
Customers may also advise Southwest of a peanut dust allergy at the time of booking by telephone or, if a reservation has already been made, by calling 1-800-I-FLY-SWA (1-800-435-9792) prior to travel.
Instead of wasting time on their website, I decided to call and the agent said she'd made a note on our reservation but urged me to tell the agents at check-in and then again at the gate.
We did as instructed and the agent at check-in at BNA was great. First of all, she told us not to worry because we would be able to pre-board the plane so we could wipe down the seats. And she told us that the flight attendants wouldn't serve peanuts, which was a huge relief. The agent asked if we had an EpiPen and we said yes. She told us that her child is allergic to bee stings but couldn't get insurance to pay for an EpiPen because of some lame reason the insurance company made up. I felt like giving her ours but couldn't.
Worth noting: Southwest gives each person two free checked bags of up to 50lbs. One of our bags was two pounds over and she didn't make us pull anything out or charge us the $75 excess weight fee.
She handed us our tickets and gave us a card to hand to the flight attendants, which had the information about Jack's peanut allergy.
The short one-hour-and-23-minute flight was a pleasant experience. The flight attendants didn't make an announcement that someone was onboard with a peanut allergy, which was fine by us since he's not allergic to peanut dust and we didn't want to deprive anyone of their Snickers bar! No one seemed to notice or care that the flight attendants served pretzels instead of peanuts. And come to think of it, the last few times I've flown Southwest, they've served pretzels, so someone onboard must have had a peanut allergy.
After doing some further research, here's what I learned Southwest Airlines suggests for passengers flying with peanut dust allergies:
Passengers should travel on early morning flights as their aircrafts only undergo a thorough cleaning at the end of the day.
Customer with the allergy need to check in at the departure gate one hour prior to departure and speak with the Customer Service Agent.
Southwest does not make an announcement advising customers that they cannot or should not consume any peanut products during their flight.
Southwest cannot give assurances that remnants of peanuts and/or peanut dust/oil will not remain on the aircraft floor, seats, or tray tables from earlier in the aircraft's routing.
Keep in mind Southwest cannot prevent other customers from bringing peanuts or products containing peanuts onboard. Ahem, Snickers bars…
Bottom line: If you or a loved one has a severe peanut allergy it's probably best you don't fly Southwest. However, if it's mild like Jack's, and you take the necessary precautions like alerting the airline and wiping down the seats, tray tables, armrests, seatbelts, windows/shades, then you should be okay. But bring a couple of EpiPens just in case. FYI: We bought our EpiPens in Canada as they were half the price ($175) of the cost in the U.S. with insurance.
Other flight observations:

The flight attendant put lids on Natalie's and Jack's drinks, which no airline has ever done before for us. It's a simple touch but was very thoughtful. She said she knew what it's like traveling with little ones and the lid was to help prevent spills.
Wi-Fi on board was $8 but they had 16 channels of live TV from DISH for free. Channels included ABC, CBS, CNN, FOX News, ESPN, NFL Network, NBC 4 NYC and Disney. Just open your browser and it should automatically log on to getconnected.southwestwifi.com/live-tv.
What do you think: Should airlines still serve peanuts? Or should they just serve a snack that isn't likely to cause passengers any harm? Leave a comment below with your thoughts!