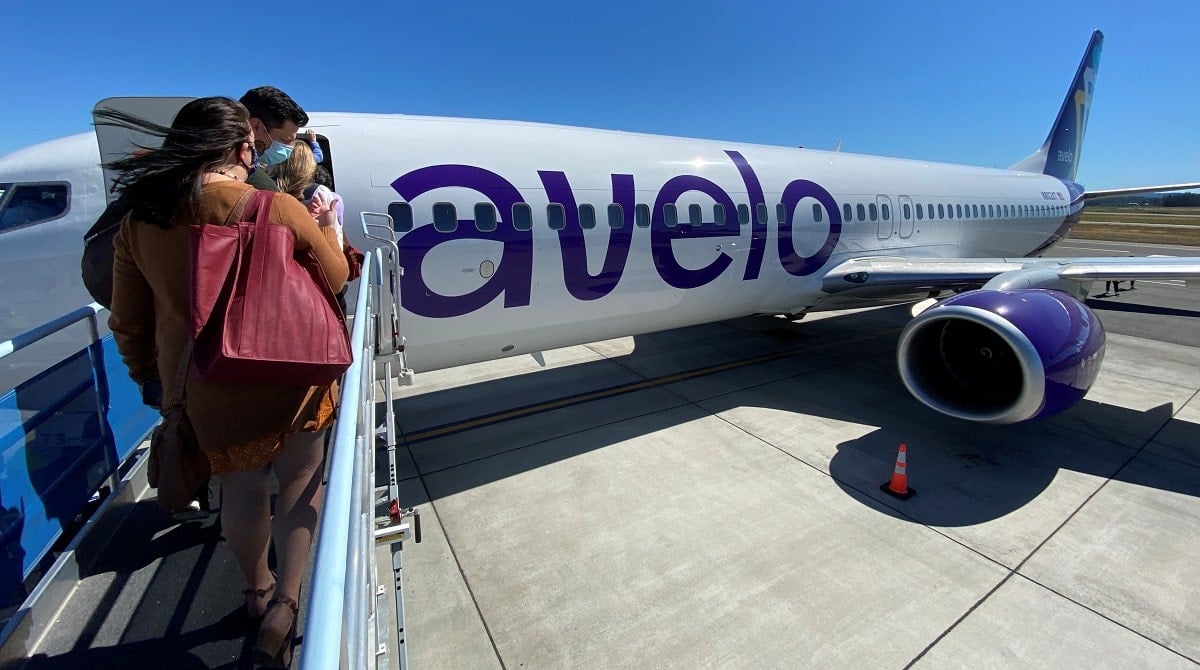 In late April, Avelo Airlines took their very first flight and I was on it. The hour-long flight on one of their three 737s was from Burbank to Santa Rosa (Sonoma). Here's my trip report.
There are a lot of good things about Avelo, all of which you can read in the post above, but none greater than the fact that they offer really low fares … and they're even lower right now because they have a fare sale until August 31 between Burbank and these nine destinations.
-Redding, California: $29 (51% off)
-Santa Rosa / Sonoma County, California: $29 (51% off)
-Arcata–Eureka, California: $39 (43% off)
-Eugene, Oregon: $39 (43% off)
-Medford, Oregon: $39 (43% off)
-Redmond / Bend, Oregon: $44 (36% off)
-Salt Lake City / Ogden, Utah: $44 (36% off)
-Pasco / Tri-Cities, Washington: $49 (34% off)
-Bozeman, Montana: $59 (25% off)
Today, Avelo is about to have a press conference announcing the plans for their second base, this time on the east coast and in New Haven, Connecticut (HVN). Coincidentally, both airports they fly out of are 40 minutes from either where I live or where I grew up so I know the areas well, though I've never flown out of New Haven.
I don't know many people who have but I think that's all about to change as Avelo's routes from HVN have just been announced and they're going to be popular with my fellow New Englanders.
Starting on November 3, Avelo will operate nonstop flights from HVN to Fort Lauderdale-Hollywood International Airport (FLL), Fort Myers' Southwest Florida International Airport (RSW), Orlando International Airport (MCO) and Tampa International Airport (TPA). And the best part is that one-way introductory fares start at just $59. You need to book them at AveloAir.com.
Avelo will operate single-class, Boeing 737-700 Next Gen aircraft, which will be way more comfortable than the small regional jets that historically served the airport. The 147-seat aircraft will provide customers with a large, spacious cabin with more room and seating options.
Below are all the details of the new service, including the frequency of flights.
Start Date
City Pair
Departs
Arrives
Frequency
Inaugural First Flight
November 3
HVN-MCO
11:00 a.m.
1:55 p.m.
One-time ceremonial flight
November 3
MCO-HVN
2:35 p.m.
5:15 p.m.
Orlando
November 4
HVN-MCO
7:30 a.m.
10:25 a.m.
Mondays, Thursdays, Fridays, Saturdays, Sundays
November 4
MCO-HVN
11:05 a.m.
1:45 p.m.
Mondays, Thursdays, Fridays, Saturdays, Sundays
Fort Lauderdale
November 5
HVN-FLL
9:00 a.m.
12:10 p.m.
Mondays, Thursdays, Fridays, Saturdays, Sundays
November 5
FLL-HVN
12:50 p.m.
3:40 p.m.
Mondays, Thursdays, Fridays, Saturdays, Sundays
Tampa Bay
November 8
HVN-TPA
2:30 p.m.
5:35 p.m.
Mondays, Fridays, Saturdays
November 8
TPA-HVN
6:15 p.m.
9:00 p.m.
Mondays, Fridays, Saturdays
Fort Myers
November 11
HVN-RSW
2:30 p.m.
5:50 p.m.
Thursdays, Sundays
November 11
RSW-HVN
6:30 p.m.
9:25 p.m.
Thursdays, Sundays