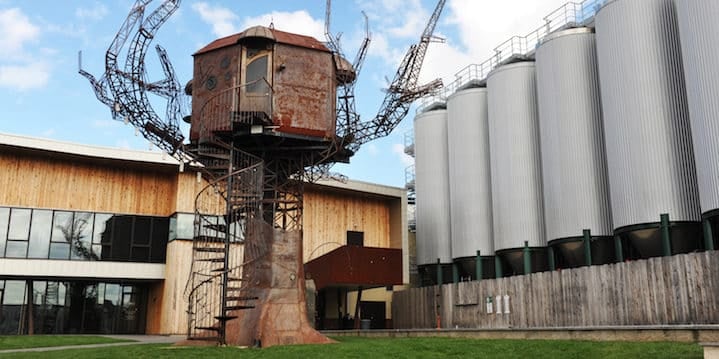 The Dogfish Head beer experience is truly a rite of passage for the American beer aficionado.
While upstate New York as a kid, my dad drank Utica Club beer—the PBR of the Adirondacks. We once ventured to Utica, NY, to go on their bare-bones brewery tour (where they now brew and bottle Brooklyn beer). I recently toured the state-of-the-art Dogfish Head Brewery on the Delaware coast, and knew I was in for something different when the hop-scented metropolis was fronted by a retro, 40-foot, space-age treehouse/sculpture that was originally rooted at Burning Man. I left this brewery equally impressed and enlightened, and then caught a buzz in its steely treehouse.
Delaware's historic town of Lewes (first town in the first state) and its epic, wild beaches have long been worthy of celebration. But there's something else brewing in southeast Delaware that's making three of its towns worthy as year-round attractions—Lewes, Rehoboth and Milton—and not just for the amazing beer. This is a story of wildly expanding entrepreneurship in the spirit of where you stay, eat and drink, and a club for in-the-know beer drinkers. Add: great timing for anyone preferring "offseason duets," i.e. visiting attractions during slow season and not on weekends.
This cleverly packaged experience first reminded me how much I miss the setup of old-fashioned motels, where—as opposed to being in a vacuum-sealed cube peering down upon life below—your front door opens right into fresh air and chances to hobnob with neighbors. The Dogfish Inn, a refreshing addition to mega-historic Lewes, is a completely resurrected fishermen's motel that's now finely appointed and downright fun. The lobby, a freestanding former home's first floor, takes its time revealing its coolness. A turntable amped by Sonos speakers plays stacks of classic rock albums while a fireplace and a City Lights Bookstore/curated library further set the tone. This groovy foyer merges a hostel hangout room with designer chic on fire. Outside, a fire pit awaits.
The success of the Dogfish Head Brewery spawned two restaurants in neighboring Rehoboth, an established beach destination. Chesapeake & Maine's raw bar chef concocts unthinkable oyster inventions from Maryland, Maine and Virginia. The upscale roadhouse has an always-changing menu, a highly informed staff, innovative cocktail flights, and of course, fine brews. Sourcing the best dishes from both Maine and Chesapeake Bay waters, options include the "Crab Scotch Egg" (poached egg, crab cake, mustard mayo, pickled vegetables), "Mussels & Frites" (Maine blue hill mussels, key lime, SeaQuench Ale, pancetta, peppers), and "Seared Scallop" (atop spaghetti squash, caramelized onion, golden raisin, honey brown butter beurre blanc). Along with the entire Dogfish beer arsenal, this very likable meeting place has a neighbor across the street you won't want to miss. Dogfish Head Brewings & Eats comfort food menu includes gourmet pizzas named after Hemingway short stories. This spacious, high-ceiling mega-pub has an impressive stage that also makes it a divine live music venue.
What makes this beer vacation story even more interesting is the guy who built this euphoric empire. Owner and guy's guy Sam Calagione likes to say "Every beer has a story." Sam's off-the-hook mixology skills launched the brewery's patented 60-Minute and 90-Minute IPAs that are already famous in 41 states. You're only licking the tip of the iceberg when you debut with Flesh & Blood IPA, brewed with a bevy of real citrus including orange peel, lemon flesh and blood orange juice. There seems to be no end to the options of sud sensations. The exultant employees are more like Dogfish evangelists who specialize in off-centered bliss, which is one of their trippy maxims.
The handsome Dogfish Head Brewery is in Milton, DE, a small town not far from Lewes. This converted and resized 1880s vegetable cannery has become America's fastest growing craft brewery. It all started with Sam brewing a batch of beer in his NYC apartment in the nineties. His beer revolution really took flight when he invented continual hopping, a process allowing hops to be added to the brewing process over an extended period—60 and 90 minutes in this case, hence their two bestsellers. The risk-taking beer pioneer also breaks retro boundaries by wood-aging beer in tanks designed by a friend who constructs custom NYC apartment-rooftop water tanks.
A cannery once again—this time high-end beer cans crafted by America's leading beer celebrity—this brewery tour, restaurant and motel stay package is a vacation/pilgrimage must for any beer fan. The brewery's inspiring tasting room is the place to sample 20+ brews that include year-rounders, seasonals and tasting room exclusives. It's all further proof of how this tucked-away universe keeps ripping the envelope. Just remember, you've got a trippy treehouse to climb.
Watch out Nantucket, stand down Southampton, and take that, San Francisco: Artsy and sudsy southeast Delaware is on your tail. Find a Dogfish near you, here.
---
For more on Dogfish Head in person, visit dogfish.com.