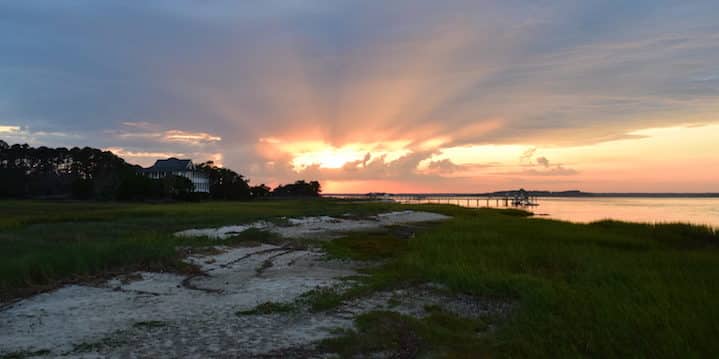 Daufuskie Island is located just off the coast of South Carolina, between Hilton Head Island (SC) and Savannah, (Georgia) along the Intercoastal Waterway and the Atlantic. The tiny 10-mile island is uber-private as it doesn't have a bridge connecting it to the mainland. Only ferry boats can cart locals and guests back and forth to this unique slice of South Carolina.
Some say Daufuskie has the vibe that Hilton Head had back in the day, before the bridge connected it and massive amounts of people flocked. (Even though Hilton Head is beautiful today, it has changed through many years of development.) With just 100 or so full-time residents, it's truly a place where everybody knows your name. On Daufuskie, everyone waves to you when you drive past them in your golf cart. A retreat here is a welcome breath of fresh air, a harmony of old and new.
Here's a quick guide to Haig Point, where I spent my weekend on Daufuskie Island:
What is Haig Point?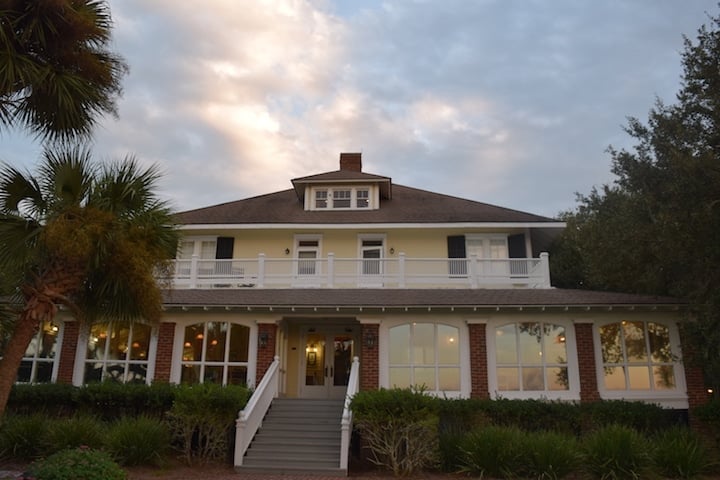 Since the island has not been developed by big-name hotels and resorts, travelers to Daufuskie wanting to spend the night will find several rental properties and villas to choose from. But my choice is Haig Point, which I found especially welcoming when I visited for a weekend this summer. While the other side of the island is more rustic, you'll find this members-only gated community of barefoot luxury a truly high-end hideaway spot.
In Haig Point, you can stay in the beautiful Strachan Mansion or in an 1873-era lighthouse. Inside both, the rooms are decorated with period furniture and located oceanfront for gorgeous water views of the Calibogue Sound. If you're like me, you'll never want to leave the porch and those calming views.
How do non-members stay here? I'll share the secret below. But first:
Slowing down
Imagine going for a leisurely walk among moss-draped oak trees or taking a private golf cart to a members-only sandy beach for some sunshine. You can curl up on your porch and share some oceanfront views while eating or having a beverage. You won't even miss the sound of cars because you'll be too busy enjoying the peace of Haig Point. A short walk (or golf cart ride away) is the beach club, which has its own pool with a sundeck, cabanas and a bar.
Getting active
Haig Point is a golfer's oasis. The crown jewel is the Signature Course, a Rees Jones-designed (you read that correctly) masterpiece that showcases the island's natural beauty while providing a challenge for golfers of all skill levels. Don't have time to play a full round? The nine-hole Osprey offers great views and challenging play to golfers who don't have time for a full 18. All told, Haig Point offers 29 holes (the Signature Course was originally built with 20 holes) in a one-of-a-kind setting.
Off the course, the Haig Point Equestrian Center offers lessons to those looking to be riders and also offers guests rides along the beach!
Eating well
Enjoy meals prepared by Executive Chef Jim McLain, who trained at Le Cordon Bleu in France, at the Calibogue Club. Haig Point's signature restaurant offers breathtaking views on the water and fresh, tasty meals. It's a perfect locale for celebrations, too. The lighthouse and the antebellum-style clubhouse are also gorgeous spots for weddings and events.
Beyond Haig Point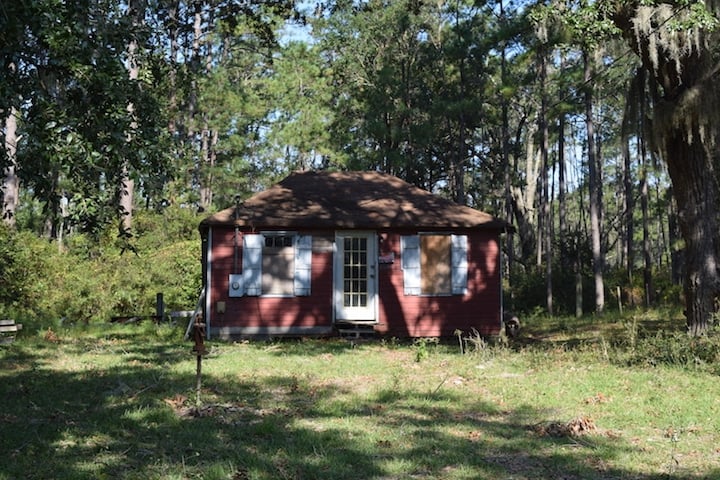 It's worth venturing beyond Haig Point to the other end of the island for the full Daufuskie experience—plus more unassuming locals and delicious seafood joints. As you're driving in your golf cart (that's how you get around), be sure to keep an eye out for the original tiny Gullah houses owned by African descendants. Some have been refurbished, and all are part of the island's identity. En route to scope out the Gullah houses, you may pass Iron Fish Art Gallery. Definitely worth a stop.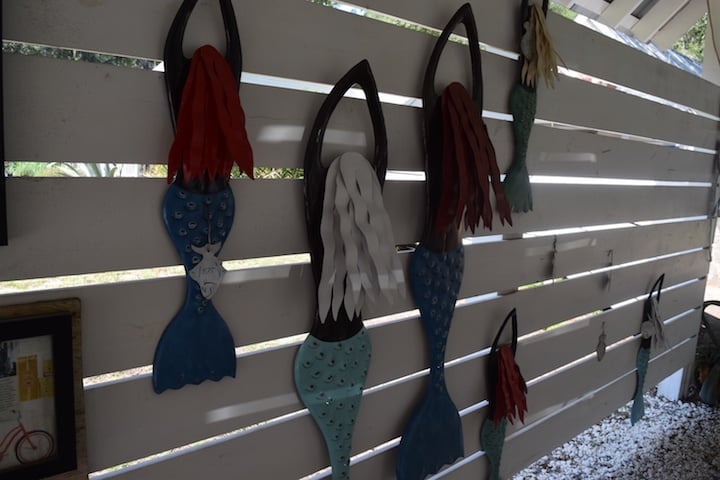 There are just a few bars and restaurants lucky enough to exist on Daufuskie. Check out Marshside Mama's when you venture to the other side of the island. It has the freshest seafood around and a chalkboard that lists the fresh catches of the day. And who doesn't want to coast along in a golf cart to dinner and drinks?!
On one of your half-days, you should also get to know the lowcountry by taking a kayak tour with Tour Daufuskie. Anna was an excellent tour guide with much love for the island and knowledge of the area. My group got up close to some Daufuskie wildlife like egrets, great blue herons, eagles, osprey, and even a dolphin. It was also fun to hear more about her lifestyle. Ah, to actually live on this island!
How to visit members-only Haig Point
How is it possible to access this members-only luxury community that seems to be only for the rich and famous? Visitors to the island can stay at Haig Point for a weekend with the Discovery Experience package. Some meals and activities are included, like transfers to/from the ferry, a round of golf, a lunch at the Clubhouse, and a dinner at the Calibogue Club.
Daufuskie Island is a true escape from the world, and a place of genuine Southern hospitality—as evidenced by everyone waving when you drive by in your golf cart!
---
For more on Haig Point, visit haigpoint.com or call 800-686-3441.