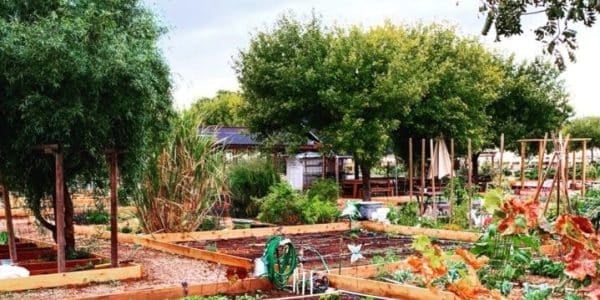 Once known as the hay-growing capital of the world, Gilbert, Arizona, is now a trendy suburb of Phoenix with many establishments dedicated to the farm-to-table movement, including a brewery, and much more. On a recent press visit to Gilbert, I experienced goat yoga, explored an urban hiking preserve, tasted Arizona wine and cuisine, and came to see Gilbert as a booming town worth exploring.
Here are seven things to do in Gilbert, Arizona, starting with goat yoga: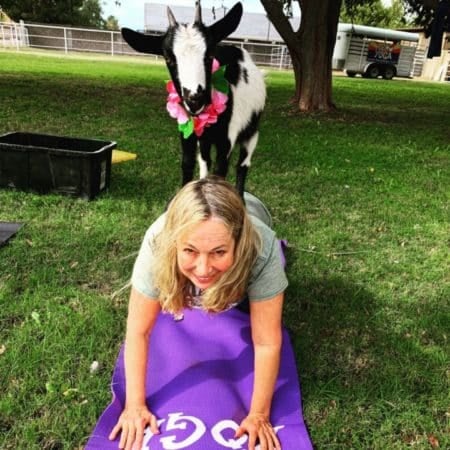 1. Goat yoga!
Okay: The main reason I wanted to go to Gilbert was to experience goat yoga. I thought this made me different, but apparently it's among the top 10 reasons to visit Arizona!
Sarah Williams and April Gould lay claim to the sport's invention. April was using Nigerian goats as training partners ahead of her stint on American Ninja Warrior, while Sarah was already teaching paddle-yoga and looking for something to do in the Arizona winters. The two women, and the goats and the yoga class, came together to create something that will make you smile and wish you lived in Gilbert!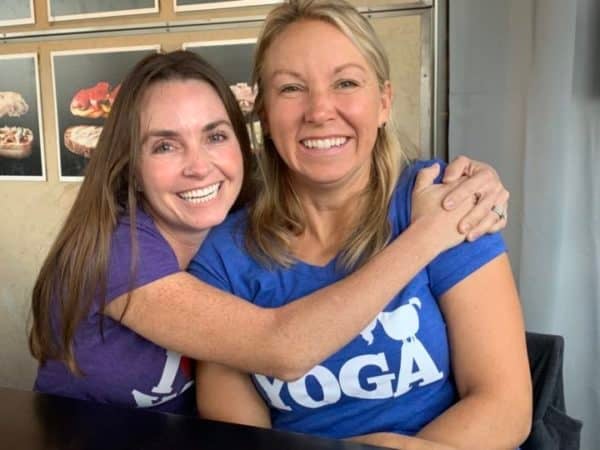 Unfortunately for me, it rained on the day I was set to try it, so in the end I wasn't able to participate in an hour-long goat yoga class. But my short time with Potato, the flower-adorned Nigerian goat, was enough to turn me into a true believer. For an actual class (with 100 people), Sarah and April bring about 20 goats, which walk under your legs while you do Warrior II pose, jump on your back while you're in Downward Dog or Cat-Cow, and even jump on your chest as you do a backbend! The goats are fun and lovable and just want to have a good time. If you get the chance to join them, you will, too.
2. Have a farm-to-table beer at Arizona Wilderness Brewery
Gilbert is also known for its farm-to-table cuisine, including a brewery that utilizes local hops for its ingenious and delicious brews. Arizona Wilderness Brewing Co. was voted the best brewery in the world by RateBeer.com. The guys behind it are constantly inventing new brews using local plants. Partnering with Arizona Grass Raised Beef Co. and utilizing produce mostly grown in Arizona, they bring authenticity to the term "farm-to-table." My favorite beer from Arizona Wilderness Brewing Co. was La Ciudad, a cloudy IPA brewed with Citra and Mosaic hops grown locally. It was absolutely perfect!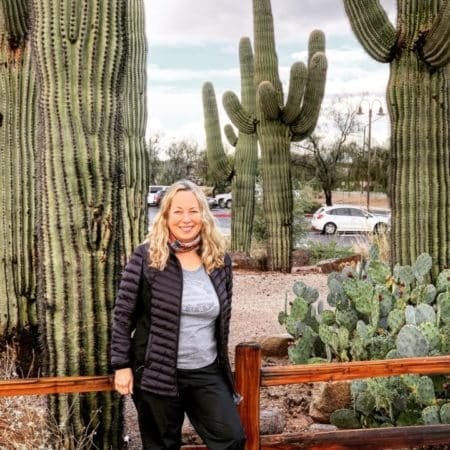 3. Spot birds in Riparian Preserve
A stroll in the Riparian Preserve with naturalist Jennie Rambo provided a relaxing way to get exercise while learning about the 299 bird species that live and visit this urban park of 110+ acres. There's also an observatory open to the public every Friday and Saturday from sunset to 9pm, weather permitting.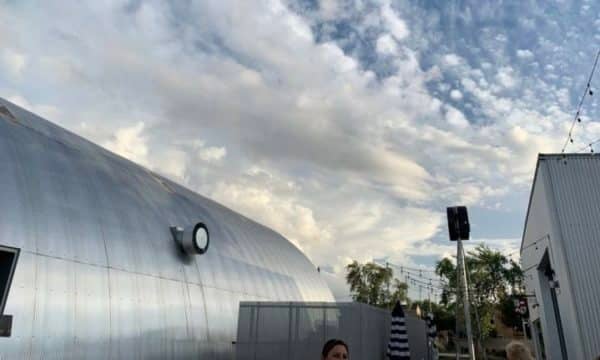 4. Explore, eat and drink at Agritopia
Agritopia is the brainchild of Joe Johnson, who turned his family ranch into a world built of community gardens, housing and a really cool shopping experience inside an old grain hangar. Here you can participate in "u-pick" berries and peaches and citrus or visit the farm store.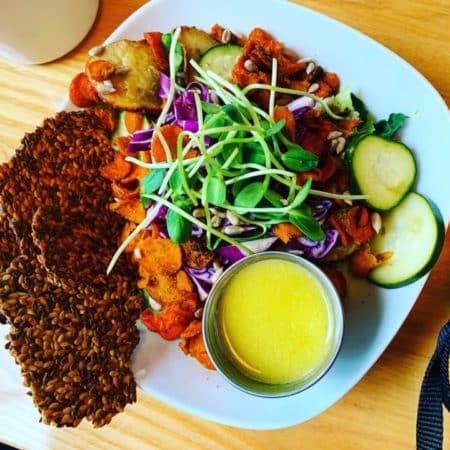 Among the 160 acres of this urban fruit and vegetable farm is Barnone, a conglomeration of individual artisans and restaurants, many of which build their menus from produce grown on the farm. Uprooted Kitchen, for example, is an entirely plant-based restaurant with imaginative selections pulled from the local earth. Erin and Chad started the operation as an Airstream food truck at the Gilbert Farmers Market, later deciding to put down roots at Barnone. As I heard during my visit, they love being in the organic garden and serving their creative cuisine to their many local followers.
Also in Barnone is Garage East, a winery and charcuterie featuring Arizona-grown wine grapes. Experimental wines using other fruits—such as locally grown grapefruit—are combined to make a breakfast wine that was interesting, zippy and refreshing. Wine-tasting is encouraged and the tasting platter offers local cheeses, meats and honey. I found that Garage East's red wines were surprisingly like French wine from the Cøtes du Rhone region.
5. See country music at Dierks Bentley's Whiskey Row
It was fun for me, a gal from the East, to go to Dierks Bentley's Whiskey Row and take in a country rock concert. The place is massive yet still friendly (and family-friendly). I saw two accomplished performers, Matt Farris and Caiden Brewer, and both came over to our table after perforning to say hello. Nice guys, and awesome musicians!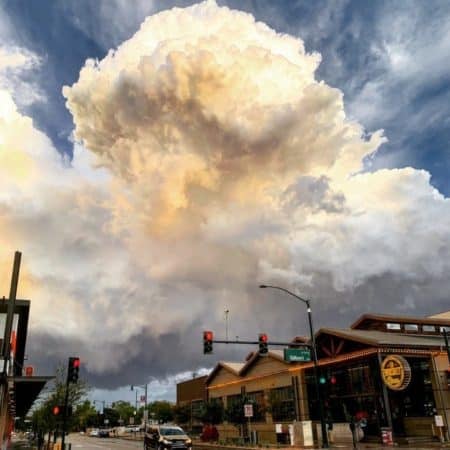 6. Explore the Heritage district
Ten years ago, Gilbert's Heritage District had only three restaurants. Now, there are 30! On a tour of the district with my media group, I toured an impressive professional theater called the Hale Centre Theatre, which is currently showcasing A Christmas Carol. All 350 seats are usually full during the peak season, which is now through April—so book in advance to make sure you get one!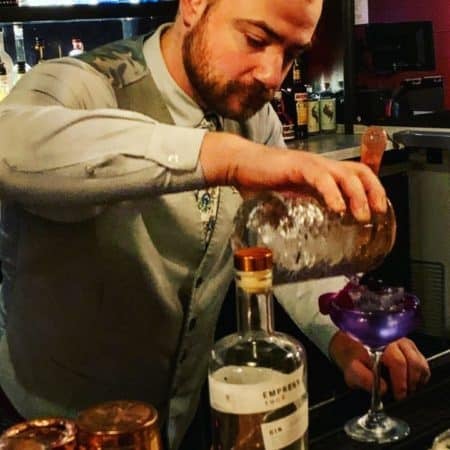 The White Rabbit in the Heritage District is a Prohibition-style cocktail bar featuring live music on Tuesdays and imaginative cocktails in a darkly decorated, 1920s-themed speakeasy. Its heritage room has black and white photographs of Gilbert's ancestors donated by locals. I suggest trying the "Chasing Rabbit," made with organic vodka, lime and grapefruit juice, Pamplemouse grapefruit liqueur, and rosemary simple syrup. Or the bartender can create a cocktail for you like my "Purple Passion" above.
Nico Heirloom Kitchen, also in the Heritage District, might be the best restaurant in Gilbert. I loved its wood-fired beet salad which is set on a bed of arugula with gorgonzola cheese and macadamia nuts as well as heirloom tomato caprese salad and lemon-thyme spinach with shrimp and grits! The atmosphere is beautiful, and the knowledgeable waiter made our dining experience unforgettable.
My favorite coffeehouse in the Heritage District—and all of Gilbert—was Liberty Market, an abandoned grocery store turned into a hip eatery with scones the size of dinner plates and oat-milk lattes worth driving an extra half-hour (from my hotel) for on the way to the airport. (Thank you, Zack, of Arizona Presidential Limousine!)
I know I'll be back soon enough to see what's cooking in Gilbert, Arizona!
Where to stay in Gilbert
My suite at the Home2Suites by Hilton Gilbert (from $101/night) had everything I needed. I loved the oatmeal with fresh blueberries and pecans for breakfast, and the laundry facilities in the gym and free shuttle service were also great. The hotel is also pet-friendly!
More photos from Gilbert: