South by Southwest (SXSW)—the massive music (and tech, film, comedy, and gaming) festival in Austin, Texas—is underway, marking the start of a busy few weeks of music festivals in America:
Thousands will be traveling about the country for these festivals, so our friends at Allianz decided to look at the numbers and compare the crowds they're expected to draw. Of the three, Allianz says, Coachella is set to draw the largest number of attendees traveling by air. Coachella, which takes place in Indio, California, is expected to welcome 46% more flyers than South by Southwest and 89% more than Ultra.
As for where they'll be coming from, here's the breakdown Allianz compiled based on flight booking data: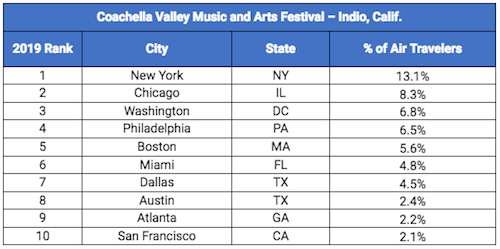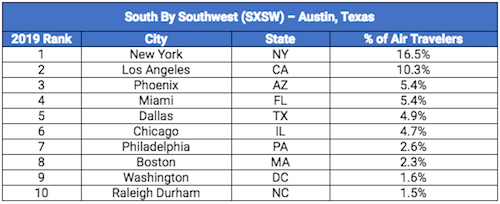 "Each year, Americans shell out thousands of dollars to participate in festivals across the country," said Daniel Durazo, director of communications for Allianz Global Assistance USA. "Allianz's Event Ticket Protector could reimburse up to 100 percent of the ticket price, including taxes and shipping, if you can't attend an event because you or a family member gets sick, your flight is delayed, you lose your job, or a number of other covered reasons, depending on the product. Alternatively, the right travel insurance plan can additionally protect other pre-paid, nonrefundable costs, like flights and hotels, and assist with travel disruptions, helping you get to your favorite performance in time to enjoy the festival stress-free."
Disclaimer: Johnny Jet works as an ambassador for Allianz Global Assistance (AGA Service Company) and receives financial compensation.
---
For more information about Allianz Global, visit AllianzTravelInsurance.com.