Great news for travelers that want to fly between Beijing and Sin City! On December 2, Hainan Airlines became the first carrier to offer nonstop service between Las Vegas and China. If you haven't heard of Hainan Airlines, you soon will because they are expanding rapidly and in a short amount of time. They now have 165 aircraft and fly to 110 destinations around the world including Las Vegas!
Las Vegas is Hainan Airlines' eighth North American city (the other cities are Boston, Calgary, Chicago, Los Angeles, San Jose, Seattle and Toronto). What's super cool is that all of their North American flights are on new Boeing 787s equipped which are known to have better air quality and in-flight WiFi. Both help passengers pass the time on the 12- to 14-hour flights.
The 787 used on the inaugural flight had a Kung Fu Panda motif from the mega 2008 hit animated action comedy martial arts movie produced by DreamWorks. The Kung Fu Panda is not only painted on the side of the plane but its characters are also on the insides of the cabins.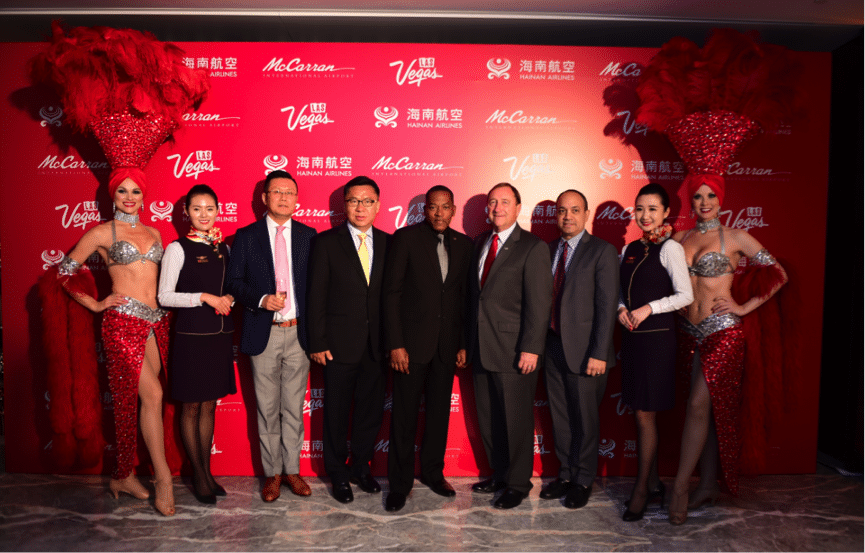 The Las Vegas Convention and Visitors Authority were so excited to have their first nonstop flight from China that they threw a welcome party in the arrivals hall of McCarran International Airport. In attendance were Luo Linquan, Chinese Consul General in San Francisco; Lawrence Weekly, Clark County Commissioner; Rossi Ralenkotter, Las Vegas Convention and Visitors Authority president; Rosemary Vassiliadis, Clark County director of aviation; Warren Eales, McCarran International Airport port director; Hou Wei, Hainan Airlines vice president of marketing and Xu Fei, brand director. The only characters missing were KFP 1, 2 and 3.
You can't blame the city of Las Vegas for being excited since recent data from the US government shows that close to 7.3 million Chinese tourists are projected to travel to the US between now and 2021. That's a lot of money to be made as the average Chinese traveler to the United States spends over $1,000 a day! I imagine those numbers will only increase thanks to this new nonstop service since not many people leave Vegas a winner. At least, I haven't had much luck in the Vegas casinos.
For those fortunate enough to fly in Business Class will be quite comfortable in Hainan Airlines lie-flat seats, using their BOSE noise-cancelling headphones and refreshing up in BVLGARI-branded toiletry bags. They won't go hungry either as the inflight menus are designed by Michelin-starred chefs. No wonder Hainan Airlines has been named a SKYTRAX five-star airline for six consecutive years and my friends who've flown them rave about it.
One thing that's for sure is that Las Vegas has always been popular with Chinese travelers because of the allure of the bright lights, excitement of the casinos, amazing food and the variety of entertainment. On the flip side, this new nonstop Hainan Airlines flight makes it easier for American travelers to spend their winnings on a trip of a lifetime exploring all the great things China has to offer. Sounds like a win-win to me.
This is a sponsored post.