The most eligible bachelor in Manhattan at the moment is neither an actor nor a politician, but rather a duck. Not your typical flash-in-the-pan-with-port-wine-and-cherries type of duck. He's an escaped Mandarin duck who has tourists and locals alike flocking to Central Park just to catch a glimpse of his striking swatches of blue and bright orange.
His unexpected arrival led me to the fine folks at New York City Audubon, which conducts birding expeditions in all five boroughs of New York—but the Mandarin has given special attention to their guided walking tours through Central Park.
Most people don't know this, but the 843 acres that compose Central Park, with its manmade avian habitats (meadows, grassy hillocks, rocky crags, woodlands, ravines, ponds, and streams), make it a world-class birding destination. One could almost think that this is what designers Frederick Law Olmsted and Calvert Vaux had in mind when the park was under construction in 1858. Almost a third of all the wild birds in North America live or pass through New York City each year. More than 280 bird species have been recorded in Central Park alone, and its location offers the perfect place during spring and fall migration (yes, caravans of migrant birds are welcomed; you know, give me your tired, your poor, your hooded warbler).
For only $36, NYC Audubon offered me an insider's view to bird-watching to this novice birder on a brisk November morning. I took part in their Fall Migration Walk, which started at the park's north end, located at 103rd and Central Park West. Our guide led us through woodlands, waterways and meadows as we made our way down to the Jackie Kennedy Onassis Reservoir. In just a handful of hours, we were dazzled with sightings of over 40 species, including a red-tailed hawk, an eastern red bat, mallard ducks, tufted titmice, and a cardinal scanning its surroundings for food.
Tip: If you visit NYC Audubon's website, you can print out their Birds of Central Park checklist, an inventory of 200 species of wild birds that have frequented the area since 1886 to help you keep track of your finds.
After my walking expedition, I was still intoxicated by the beauty of nature, and the idea of renting a row boat and enjoying a lazy afternoon on the lake was too good to pass up. What better way could there be to take in the bursting colors of fall and the dramatic views of the NYC skyline, and to burn off the calories from the bagels and blintzes from a Zabar's breakfast? To the boathouse I went…
Tip: Walks in NYC are also sponsored by the Central Park Conservancy (a non-profit that actually manages Central Park), the American Museum of Natural History, the Linnaean Society of NY, Urban Park Rangers, the Nature Conservancy, and independent naturalists.
Loeb Boathouse, originally constructed in 1874 and then rebuilt after being destroyed by a fire in the 1950s, is known as the unofficial headquarters for many birders. For decades, there's been a loose-leaf notebook at the front. Any birdwatcher is welcome to record their sightings of the day and then toast their hard work with a well-deserved cocktail or a bite of something warm and yummy.
Boats at the boathouse are available on a first-come, first-served basis for $15/hour. One of the most romantic sights to see from the lake is the elegant Bow Bridge, so named to evoke an image of a violinist or an archer. It's the second-oldest cast-iron bridge in America and been featured in films, TV shows and commercials. On this November morning, however, it was almost empty (when I returned over the weekend it was teeming with people…so much for romance).
Bow Bridge links Cherry Hill, with its refined pin oaks and welcoming beech trees, to the Ramble, my personal favorite spot in the entire park. Its thick woodlands cover a space from 72nd street to 79th. Olmsted designed it to be a pristine wilderness, and it is just that (though I did see a rat mating with a Starbucks cup). There are feeders placed in the trees for the birds and critters that scamper, and there are plenty of park benches with moving dedications for passersby.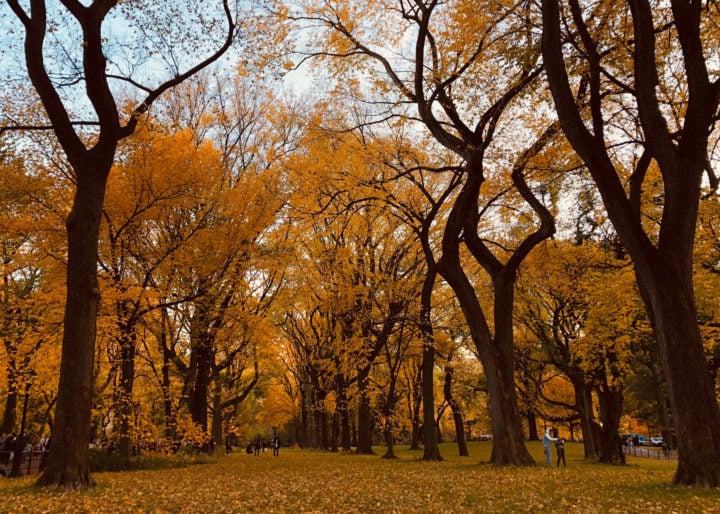 When you do run into other people here, they seem to be kindred spirits yearning for the beauty of the outdoors. I met a lovely woman from Staten Island who kindly pointed out a cardinal and a tufted titmouse. I assumed that she knew what she was talking about because she had a pair of binoculars around her neck, and to this point, the only bird I had ever successfully identified was big and yellow and co-starred in The Muppet Movie.
For me, the Ramble is the true heart of the park. Almost immediately after my first walk through its wooded splendor, I had to go back for a second. Just one visit wouldn't do (sort of like ordering a virgin margarita). Outside of this 37-acre oasis, there are people scrambling from one destination to the next with errands to be run, deals to be made, egos to stroked. Which is fine and part of life. (The Central Park Mall, a tree-lined esplanade that runs through the middle of the park from 66th to 72nd is bustling with businessmen and skateboarders, pretzel vendors and cyclists.) But not here. There's no rushing in the Ramble. It's more like a saunter. And as though they were entering a house of worship, people entering the Ramble lower their voices to a hush out of reverence for nature. It's a meditation unto itself, and you linger as long as weather permits.
Yes, winter is coming. But that's okay. NYC Audubon has walks to guide you through any season.