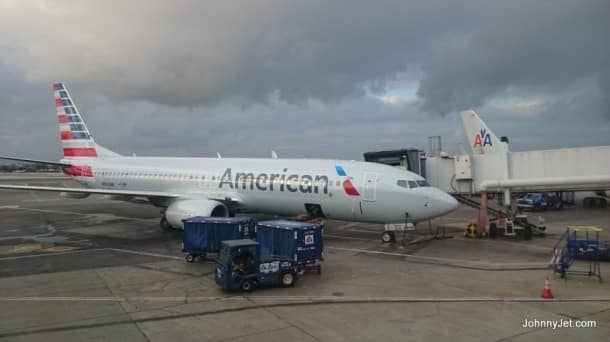 I love how American Airlines isn't following Delta's and United's revenue-based plans (at least, not yet) in which fliers earn miles based on ticket price instead of miles flown. And now, they're starting to lure Delta's and United's business and first class fliers with an amazing new promotion for premium passengers.
American announced today that beginning January 1, their customers will earn even more miles when they fly on a purchased First or Business Class ticket for travel through December 31, 2015, anywhere on their network or with select partners. That means that if you have AAdvantage Platinum status like I do (50,000-99,999 miles flown in a calendar year), you'll earn up to 6,000 additional bonus miles per flight.
An example: If I purchase and travel on a First Class ticket between San Francisco and New York's JFK, I can now earn more than 12,000 miles on that one roundtrip flight (see below)! Here's the mileage breakdown of a SFO-JFK ticket:
| | | | | | | | | |
| --- | --- | --- | --- | --- | --- | --- | --- | --- |
| Base Miles | | Class of Service Bonus Miles | | Elite Status Bonus Miles | | Additional Bonus Miles | | Total Miles |
| 2,586 | + | 1,293 | + | 2,586 | + | 6,000 | = | 12,465 |
12,000 bonus miles is insane since all it takes is 12,500 miles to fly one-way anywhere in the US on an Economy MilesAAver award ticket. In fact, I use that amount of miles often, to buy last minute Los Angeles-to-Toronto tickets since those fares are usually crazy expensive.
The best part about this promotion is that American isn't making their customers register for it (outside of having an AAdvantage account)—and on top of that, it's good for all of 2015!
Here's American's chart for bonus miles earned per flight segment:
Cabin
Purchased Fare Class
Long-Haul Flight (>3,000 miles plus JFKLAX & JFKSFO)
Med/Short-Haul Flight (=<3,000 miles)
 
Executive Platinum / Chairman's Preferred
First / Business
F,A,P,C,J,R,D
12,000
1,000
Discount Business
Z*,I
3,500
500
AAdvantage Platinum / GoldDividend Miles Platinum / Gold / Silver
First / Business
F,A,P,C,J,R,D
6,000
500
Discount Business
Z*,I
1,000
250
Regular Members
First / Business
F,A,P,C,J,R,D
3,000
250
Discount Business
Z*,I
–
–
*Z is only applicable on eligible US Airways-marketed or operated flights.
This gives a sliver of hope that American Airlines won't go to the dark side and follow Delta and United's mileage plans. Actually, I think the only way they won't is if American sees a huge influx of their passengers—so tell your friends, family and colleagues to start flying American!
For more info, check out American's page on the news here.