Delta Air Lines just announced that they are making updates to the SkyMiles program, changes that will start in 2015. "Changes" is the understatement of the year as Delta just put a dagger through every mileage junkie's heart.
Take a look:
"Earning Miles: Miles you earn toward Award Travel will be based on ticket price instead of distance flown for Delta-marketed or -ticketed travel on or after January 1, 2015. You'll earn 5 to 11 miles per dollar based on your SkyMiles status."
This is not a huge surprise to industry followers since JetBlue, Southwest and Virgin America all have revenue based programs. But Delta is the first legacy carrier to implement it so it's a historic moment in the industry. No doubt American and United will follow suit. Here's Delta's official announcement and below are some in-depth stories about the new move:
On Delta's site you can see by using their handy little mileage calculator widget that this is great news for business and first class travelers who spend a lot of money for tickets. But for the majority of the traveling public (including me) this is terrible news as Delta continues to devalue their program.
Here's an example: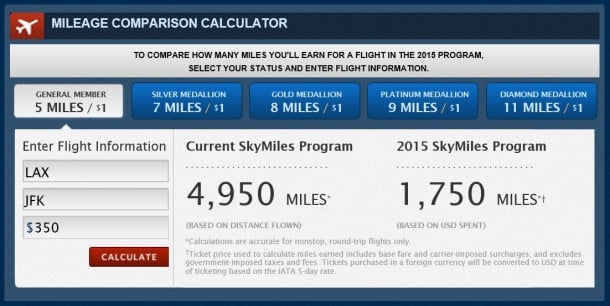 As you can see from the screenshot above if you are a not an elite member of Delta SkyMiles program and you spend $350 on a roundtrip Los Angeles to New York ticket you would normally earn 4,950 miles. But starting Jan 1, 2015, you'll only earn 1,750 miles.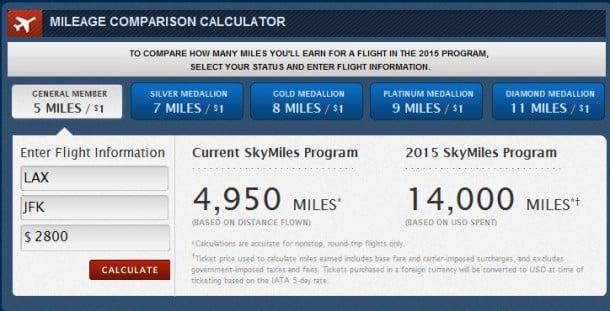 But as you can see from the second screenshot if you spend $2,800 for a first class ticket on that same route (the going fare) then you will earn 14,000 miles in 2015 and beyond instead of the current 4,950 miles. So this is indeed great news for those with big budgets but terrible for us little guys.
My advice is to switch your loyalty as soon as possible to American and United in hopes they see a huge influx and won't follow Delta's lead. Unfortunately, I think that's a fat chance as this will be the industry norm.
Sad day for mileage junkies. The game is over.
Updated: Delta Publishes 2015 SkyMiles Program U.S. Award Chart