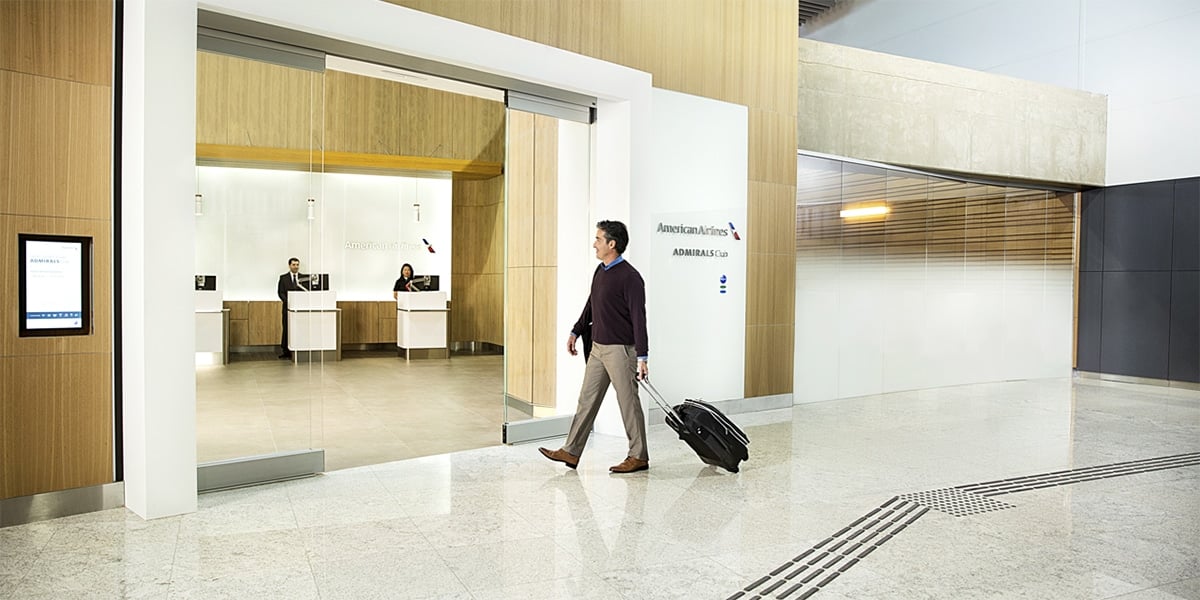 I know a ton of people who haven't flown in over a year. In fact, I'm one of them. However, what sets me apart from most of my friends and family is that even though I'm not flying, I'm still earning miles either through airline credit cards or other ways, including using airline shopping portals when I'm buying goods online.
Most of the major airlines have been kind enough to extend their customers' frequent flier expiration dates. American Airlines has stated: "We'll automatically extend your mileage expiration date 18 months from the date of your most recent activity."
Good to know: Those under 21 years of age are not subject to the 18-month qualifying activity period.
For those who are older than 21, don't have an AA credit card or are not accruing AAdvantage miles, here's a super easy and fun way to extend them another 18 months.
RELATED: 12 Ways to Find Cheap Flights
Just log on to aadvantage40th.com between now and May 3 because American Airlines (AA) is kicking off the 40th anniversary of their frequent flier program with a fun and quite generous online game. Once you visit the website, it will ask you to either log in to your AAdvantage account or sign up for one if you're not a member. See screenshot below:

Next will be a page with information about their credit card and other tricks to earn their miles. This is where it's a little confusing because it's not initially clear that you need to click the large blue buttons at the bottom of each column, which open up to a new window promoting their programs. See screenshot below.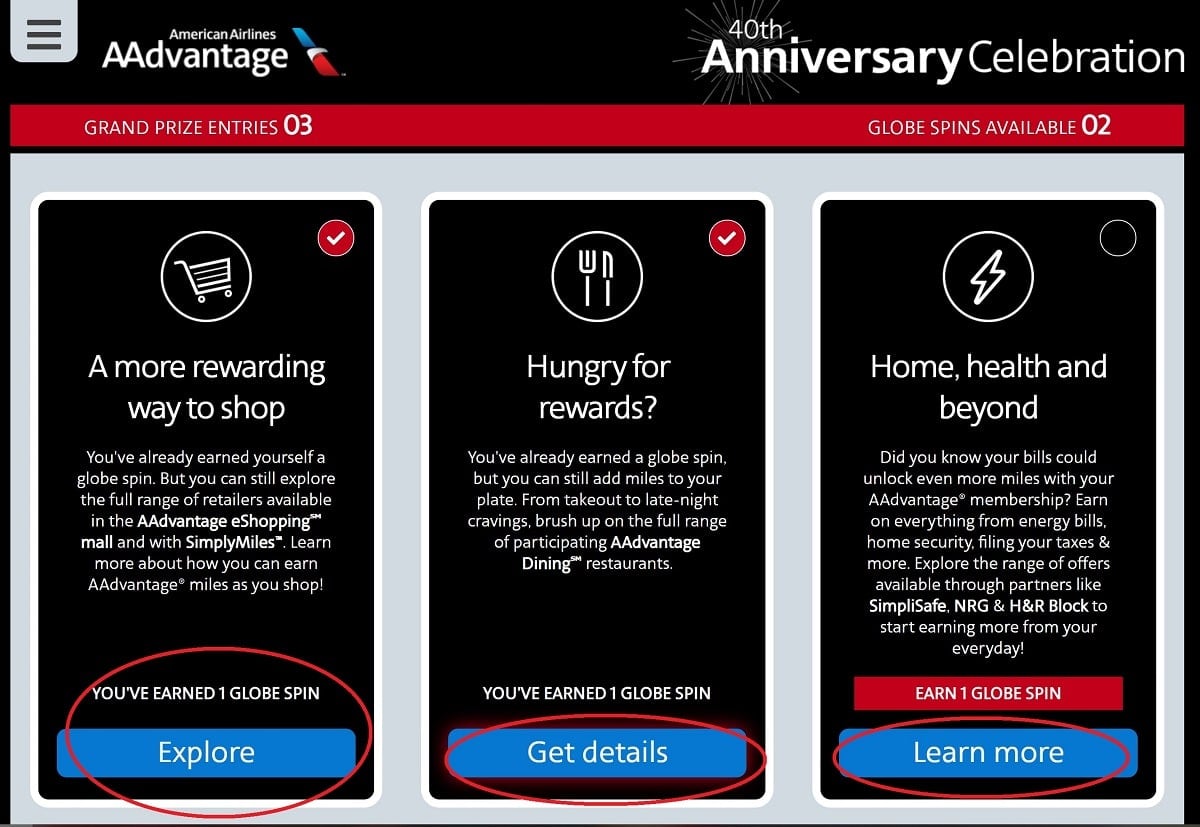 It's obviously all promotional stuff, but hey, nothing is for free. You can quickly close out of those windows because once you click it, you automatically earn a spin of their globe game. If you do all five, you get five spins. I just did the first four because the last one is to share on social, which I passed on.
To my surprise, on my first spin, I won 40 AAdvantage Miles. I know, big whoop. But again, if you need to extend your expiration date, that's all you need to do. See screenshot below: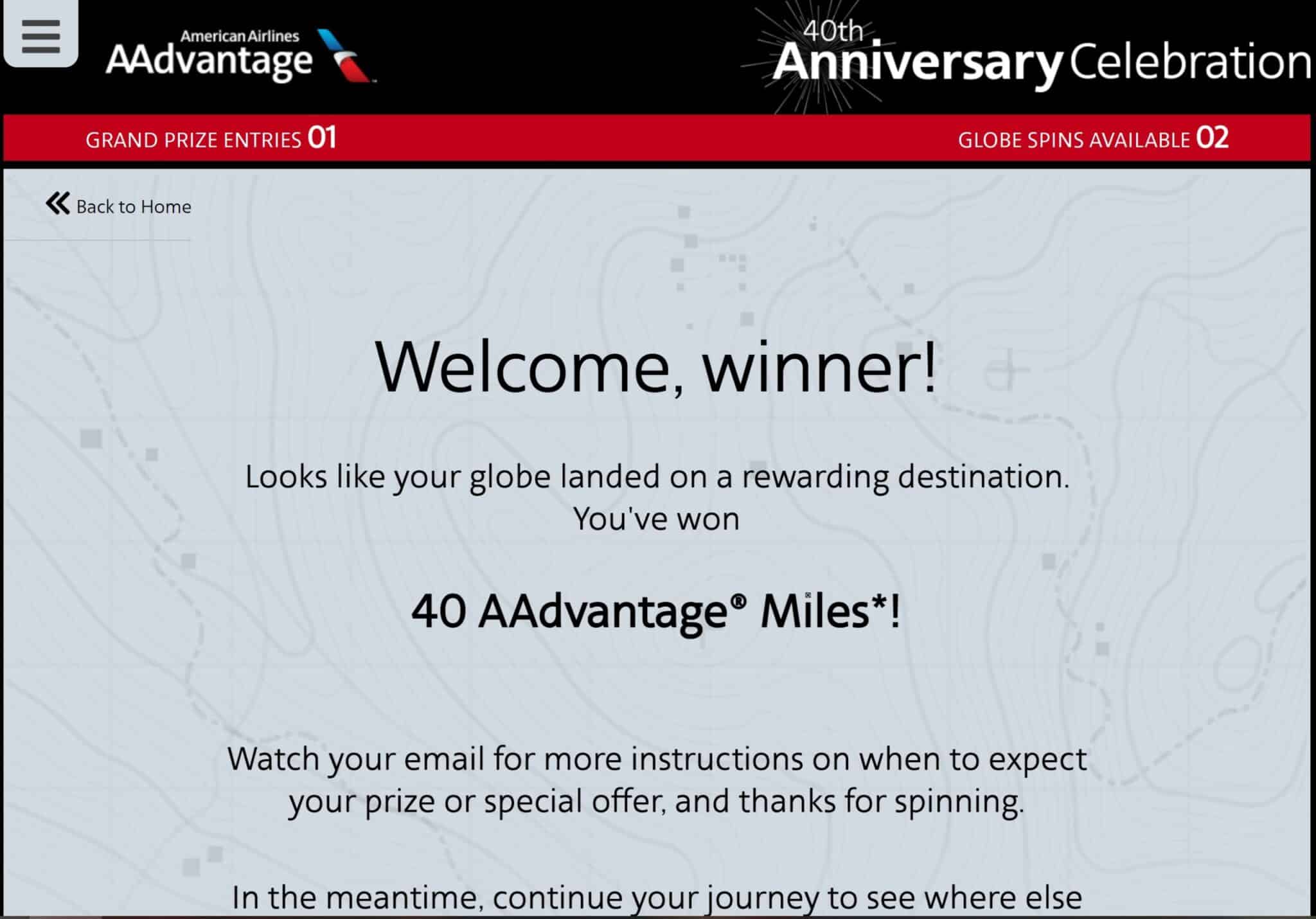 But of course, the gamer in me continued to click the globe to finish out my spins and on one of them I won a 20% off Hyatt Hotels promo code. Not bad, eh? See screenshot below:

The best part about this game, and why I said it's generous, is because you can play every single day through May 3rd. And did I mention that the grand prize is one million miles, which they are going to give to 40 (forty) members! All in all, American is giving away a total of 100 million miles.
To give you a point of reference: I just booked a Los Angeles to Miami ticket using 17,000 miles in American's plush, lie-flat first class seat on a 777.
The next day, after learning about the contest, I gave it another whirl and won 400 AA miles, so now we're talking. Other great prizes, besides bonus miles, are Admirals Club One-Day Passes or a seat upgrade. AA, you had me at free miles but a seat upgrade? You can bet I will be back tomorrow.
FYI: American sends a follow-up email after each win and it states: "You can expect to receive your prize within 8-10 weeks after the promotion ends."  KEEP READING: The Best Credit Cards for American Airlines Fliers