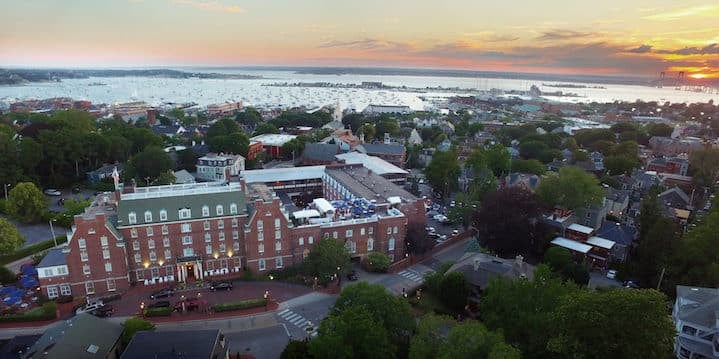 For about 25,000 people, the city of Newport, Rhode Island, is home. To the rest, it's a summer hideaway, a sun-opened enclave of salty Atlantic surf, fresh shellfish and marbled mansions-turned-museums. In the early 20th century, America's wealthiest families stretched their legs here. In the 60s, presidents Eisenhower and Kennedy brought pens and stacks of legislation to Summer White Houses in Newport. JFK even got married in St. Mary's Roman Catholic Church.
In 2018, the world still spins more slowly in Newport. Book yourself a few nights there. Last week at the historic Hotel Viking, I took two. Here, fresh-peeled from my notes, is one of many possible great Newport days:
8am
Breakfast at One Bellevue
Muscle yourself out of your cloud-white Hotel Viking bed and down to the hotel's signature restaurant, One Bellevue. Dinner options here include sure things like the basil-brothed "One Bellevue Stew" ($39), but it's in the morning hours that the One Bellevue menu really shines. The "Crab Florentine" ($19) twists rich breakfast flavors into the ripe fruits of a healthy sea. The "Scottish Salmon Lox," which you construct yourself from piles of lox, capers, diced tomatoes, and chopped onions, is built around a truly awesome seeded bagel. The bagel is from Bagel Boys, which you can visit directly.
Tip: On Sundays, One Bellevue runs a wildly popular Jazz Brunch from 7am to 3pm (music starts at 11am).
Tip again: Since 1926, Hotel Viking has occupied prime Newport real estate on historic Bellevue Avenue (it's actually 1 Bellevue Avenue). Valet parking is $40 per car, per night, but as a friendly valet told me, street parking is free without a permit on Church Avenue and Kay Street. A good spot on either is a one-minute walk to the lobby.
9am
Coffee (optional)
In making sense of a foreign landscape, I like to swing through a non-chain coffeehouse for an espresso drink (etc.) and let a few beats pass. In Newport, I got a cup at One Bellevue with breakfast and still kept to this tradition. A few options, should you like to do the same:
9:30am
International Tennis Hall of Fame
If you really hate tennis, I guess you can justify not stopping into the International Tennis Hall of Fame. Anything above tolerance for the sport is enough to carry a nice visit at these hallowed and castley grounds, which include the grass court on which the (tournament that became the) U.S. Open was first played. Right in the heart of downtown, the story of tennis—from its opaque roots in medieval athletics to the Davis Cup and through 2018—is told with the color of the sport's Newport heyday on the second floor. Entrance to the museum and its hall of legends is $15 (and free for persons 16 and under). Play at the adjacent tennis courts is open to the public.
Tip: Hotel Viking offers free delivery by car service to all sites within reasonable distance of the property. The International Tennis Hall of Fame, on the same Bellevue Avenue, is within reasonable distance.
Another tip: If you're hungry or something like it, the upstairs porch at La Forge nextdoor overlooks the main grass court. Ask to be seated up there.
11am
Stroll Touro Park
From the tennis experience, it's a six-minute walk to Touro Park, a small but central splash of urban green. The centerpiece here is Newport Tower. This cylinder of rock is definitively the bones of a 17th-century windmill, but that hasn't stopped straying historians and conspiracy theorists from painting over it in intrigue. Is Newport Tower actually proof of pre-Columbian contact with Europe? "Carbon dating shows this belief to be incorrect," says Wikipedia—but who cares! It's worth a look on your way to the water.
11:15am
Head for the water
Head west from Touro Park down Pelham or Mill Street to arrive at sun-worn America's Cup Avenue. The water's edge is alive in Newport. Wander along it to Brick Market Place, ogle, buy, and head for lunch.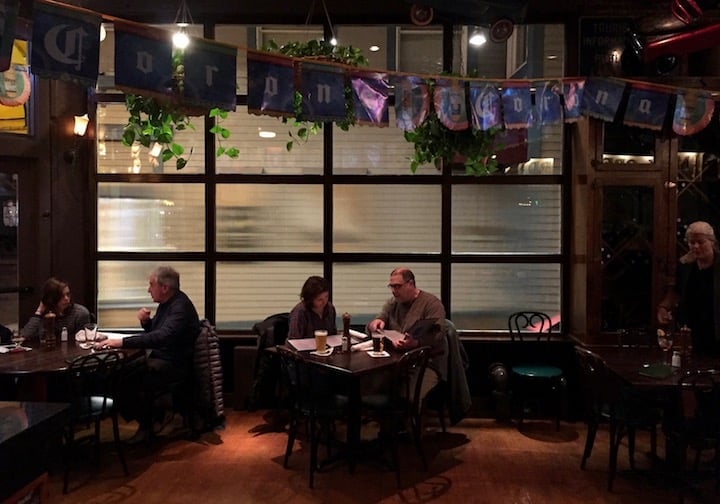 12pm
Lunch at Brick Alley Pub
In a town practically spilling over with fresh seafood, a well-stuffed lobster roll is easy to come by. There's Anthony's. The snack bar at Easton's Beach. Benjamin's. The Mooring, which flips a croissant into a haute bun. Brick Alley Pub on Thames Street, too, serves an excellent one ($21.95) plus Grey Sail on tap in a den draped with neon signs and oceanic refuse.
1pm
Cliff Walk and mansion tours
The mansions of Ocean Avenue are together the top tourist draw in Newport (actually The Breakers, a Vanderbilt property, is the true number-one). There's no better way to knock them out than via the 3.5-mile Cliff Walk, which traces the city's rocky silhouette with a footpath that kicks landward every so often onto another sprawling estate. Entrance to each property can be purchased individually (in advance or just inside the doors) or as part of a two– or five-house package.
Tip: Note that entrance to The Breakers, which is not included in the individual one-house ticket, is $24. A two-($29) or five-house ($35) ticket gets you into The Breakers plus more and so is a better value.
Another: If you wear yourself down outdoors, Hotel Viking's in-house Spa Fjor has the means to wake you up.
4:30pm
Get a beer at Newport Craft Brewing & Distilling Co.
The beermakers formerly dry-hopping under the Newport Storm name now also distill rum, gin and whiskey as Newport Craft Brewing & Distilling Co. In the small tasting room up JT Connell Highway, the beers are solid and the mood, even indoors, is something like "Newport summer." Stop on in.
6pm
Sundown drinks at Castle Hill Inn
Ten minutes inland for beers is about as far from the water as you should stray in Newport, especially when skies are clear. So as the sun prepares its exit, make your return to the main stage to see it off. At The Lawn at the Castle Hill Inn—Rhode Island's first Relais & Chateaux property—you can slow-sip a cocktail in a white adirondack chair where the local land pushes furthest into the Atlantic.
8pm
Dinner at White Horse Tavern
The White Horse Tavern is America's oldest tavern. 1673! Rather than rusting away into the history books, it's chugged on through American independence, Rhode Island statehood, the Civil War, and 150 more years into 2018, in which blog posts curating Newport's best dinner spots award it mention on the merit of its menu. Put on business casual slacks (there's a dress code) and enjoy the "Seared Native Catch of the Day" ($31) or "Seared Georges Bank Scallops" ($36)—and stay for an extra beer in the 345-year tradition.
Tip: Midtown Oyster Bar is another reliable dinner spot. It's hard to gauge that from the website, but it is.
10pm…
Keep it going and/or rest up
After dinner, feel things out. Return to your balconied room (like room 204) at Hotel Viking (stopping at Top of Newport, if you like) or roll the summer night on to Thames Street. Let the night take you where it will…
Lastly: Below is Newport by drone!
---
For more on travel to Newport, Rhode Island, visit discovernewport.org.