Long flights: They're a necessity to get to the most far-flung destinations on the planet and I know some people love them, while others loathe them. Personally, the most difficult thing about flying on a long-haul flight (anything over 10 hours) is just mentally wrapping my head around it. But once I board the plane and see the flight attendants who sometimes make the trip weekly, I realize it's a piece of cake. However, long flights don't have to be dreaded – they can actually be enjoyed if you plan ahead and pack right. RELATED: 17 Ways to Find Cheap Flights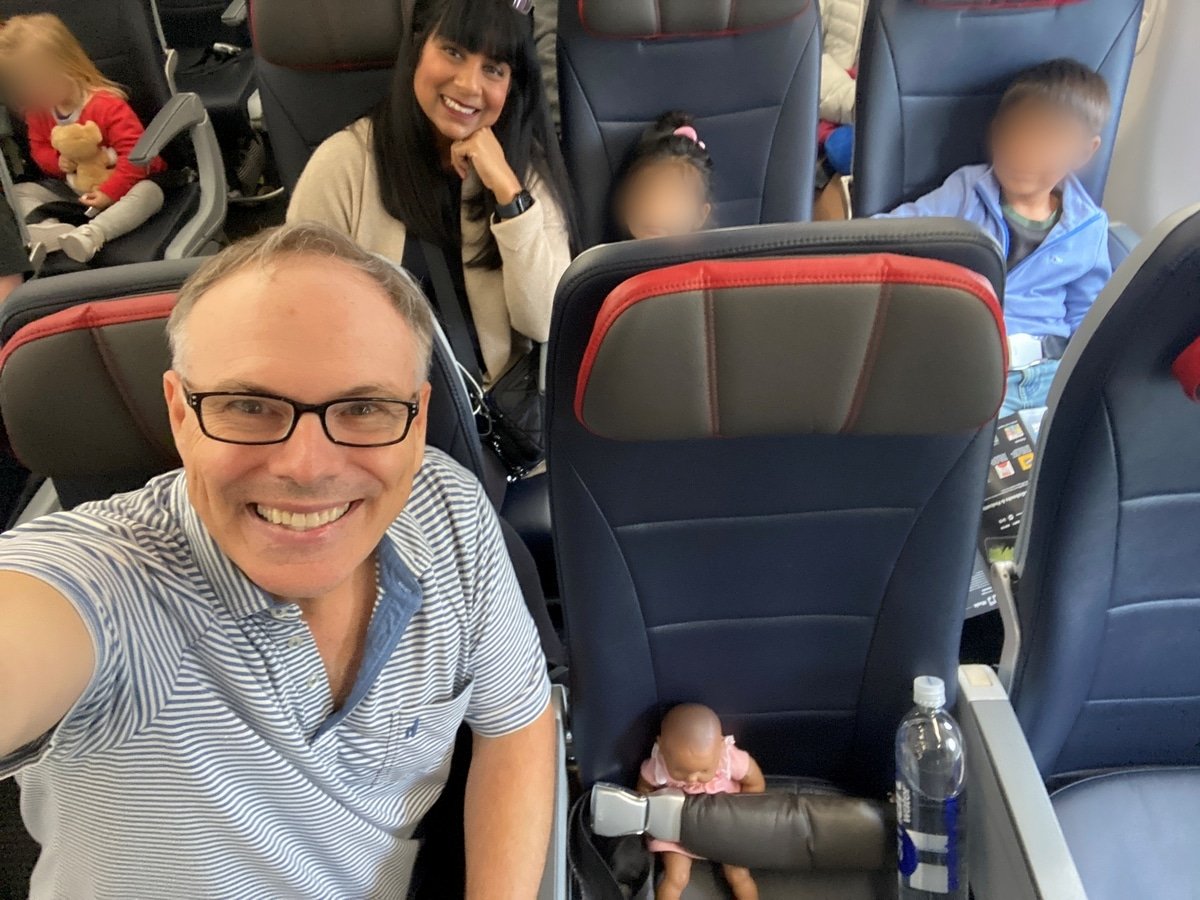 This post contains references to products from one or more of our advertisers. We may receive compensation when you click on links to those products. For an explanation of our Advertising Disclosure, visit this page.
Here are my top 15 tips for surviving a long flight:
1. Upgrade
Ideally, this is the time to splurge for a premium seat so inquire about buying an upgrade to premium economy, Business Class or even First Class with cash or miles. Some airlines offer last-minute upgrades for relatively cheap.
2. Choose your seat wisely
If you plan to sleep for most of the flight, the best seat is usually next to a window so you have something to lean against and you don't have to worry about your seatmates waking you so they can use the loo. But if you think you'll be awake, then get an aisle seat so you can get up and stretch your legs easily. Consult SeatGuru.com for your best options. RELATED: 7 Hacks For Getting the Best Coach Seat on a Plane
3. Power up
Make sure you have all your chargers with you so that you can keep all your gadgets powered up throughout your flight. Alternatively, bring extra batteries or an external charging device in case your plane doesn't have electrical outlets but keep in mind not all airlines allow these so double check. Most airlines will allow them if the rated power is less than 100Wh and according to the TSA: "Portable chargers or power banks containing a lithium ion battery must be packed in carry-on bags." TIP: Keep your chargers organized with a portable carrying case like one of these.
4. Load up your devices
Before you board your flight, make sure that your devices (tablet, laptop, smartphone, e-reader) are loaded up with games, movies, television shows, music, books and the airline's app just in case that's how they stream their entertainment.
5. Pack a pillow (and a blanket)
There are tons of different travel pillows on the market. Find out which one works for you and go with it. Also, not all airlines provide blankets so you might want to bring your own … or at least a cozy sweater.
6. Wear comfortable clothes
The temperature on a plane is rarely comfortable for everyone. You might be freezing, while the person a few rows away finds it too warm. You just never know so it's best to be prepared. Wear comfortable clothes on a long flight and pack some layers so that you can adjust as the temperature changes on the plane. Pack some cozy socks, too, but don't go into the bathroom in just your sock feet – put your shoes on.
7. Don't forget an eye mask and earplugs
Eye masks help you create an ideal sleeping environment by blocking out all the light. Instead of using the cheap, scratchy eye masks that the airlines sometimes pass out on long flights, I bring my own fluffy one. I might look silly in it but it feels so good and does the trick. Mine is made by Lewis N. Clark and is less than $10 on Amazon.com. Also bringing earplugs is essential for a good night's sleep. If you forget them, chances are the flight attendant will have an extra pair.
8. Noise-cancellation headphones and soft music
If there's a screaming baby near you or people speaking loudly, earplugs aren't necessarily going to do the trick. In that case, pop on your noise-cancellation headphones or ear buds and play soft music, an audio book or meditation music to drown out the noise and help put you to sleep.
9. Pack disinfecting wipes and hand sanitizer 
We all know that planes are dirty and germy so minimize your risk of picking up and spreading germs by using anti-bacterial wipes to wipe down your arm rests, seat belt, seat back tray, etc. A somewhat sanitized area should help you relax and rest a little bit easier, especially on a long flight. And don't forget hand sanitizer, which will give you some peace of mind when you eat or touch your face. This hand sanitizer is my wife's favorite and I really like it, too. It smells great, is quick and easy to use and doesn't dry out your hands.
10. Bring snacks/water
On a long flight, you want to be able to eat and drink according to your own schedule, not the flight crew's so pack some snacks and bring water (purchased or filled-up in the terminal after you've gone through security.) At some major U.S. airports, taxi time can be up to an hour and once you are in the air, it's usually 40 minutes before the crew brings out the food and drinks.
11. Buckle up
If you're planning to sleep, make sure your fastened seat belt is visible over your clothing or blanket. That way, the flight attendants won't have to wake you when they do their safety checks if the seat belt sign goes on. If your seat belt is visibly fastened, they won't disturb you.
12. Bring sleep assistants
Bring a sleep device that works for you. There are a whole slew to choose from like the SleeperSTIK, which provides neck and lumbar support and can help to make a long flight more comfortable. If traveling with young children, check out the items my wife recommends for keeping kids quiet on an airplane.
13. Bring games and something to read
If you are old school and traveling with someone, bring a deck of cards or a portable game. My favorite game is Travel Scrabble. But you better bring the Scrabble Dictionary for challenges or use the in-flight WiFi if available to check the Scrabble Dictionary online. If you're not into tech gadgets, travel armed with magazines, newspapers and books. Everyone needs something good to read to pass the time.
14. Sleeping pills
The key to surviving a long flight is being able to get some shut-eye. I personally don't take any kind of pills (including melatonin) since I want to be fully aware in case of an emergency. But I know many people who swear by them. Usually, the drug of choice is Ambien but consult your doctor first before taking anything and test it out before getting on the plane.
15. Be nice
Last but definitely not least: Be nice. You're all on this long flight together so be pleasant to everyone, from the gate agents to your fellow passengers. Put on a smile and bring three bags/boxes of chocolates. One for the gate agents, one for the flight attendants and one for yourself! The flight attendants can really make or break your flight and they'll appreciate this simple acknowledgment of their hard work.
Did I miss anything? Do you agree or disagree with these 15 tips? What do you do to survive a long flight?
Editor's Note:This post has been updated since its original publication.

KEEP READING:
–8 Ways To Make Sure An Airline Doesn't Lose Your Bag … And That You Don't Get Robbed or Stalked
–The Trick For Getting Airport Luggage Carts for Free
–Airline Lost Your Luggage? Do This If You Want to Get Compensated
–Why Frequent Fliers Use Apple AirTags or Samsung SmartTags When They Travel
–An Airline Executive's Number One Tip for Avoiding Lost Luggage When You Fly

Want more travel news, tips and deals? Sign up to Johnny Jet's free newsletter and check out these popular posts: The Travel Gadget Flight Attendants Never Leave Home Without and 12 Ways to Save Money on Baggage Fees. Follow Johnny Jet on MSN, Facebook, Instagram, Pinterest, and YouTube for all of my travel posts.