Last September, I enjoyed the best solo road trip of my life on the roads of Cape Breton in Nova Scotia. I wrote about it in two posts:
There's more to Nova Scotia than just Cape Breton, however. Below, in the form of 13 things to do in Nova Scotia, is my account of the two days I spent driving to Cape Breton along the south shore of Nova Scotia, and on the way home along the north shore to the ferry in Digby.
1. Rode the CAT ferry from Portland, Maine, to Yarmouth, Nova Scotia
I drove my Mini car on, grabbed everything I thought I would need for the 5.5-hour ride (windbreaker, hat, computer) and traversed 185 nautical miles aboard the high-speed aluminum CAT catamaran. There were two movies, a half-hour tour (given by the onboard trip planner, who is available to help you plan out your time on Nova Scotia after the tour), great meals and cappuccinos, and a sunny spot on the deck to breathe in the fresh air. One lucky travel writer (me) was granted access to the bridge to hang out with the mates, get a great view, ask questions, and generally feel like a "cool kid"!
A note on the CAT: Starting in June, Bay Ferries will be operating the CAT to Yarmouth from Bar Harbor instead of Portland (as it used to, as written in 20 Stops to Make on a Cape Breton Road Trip).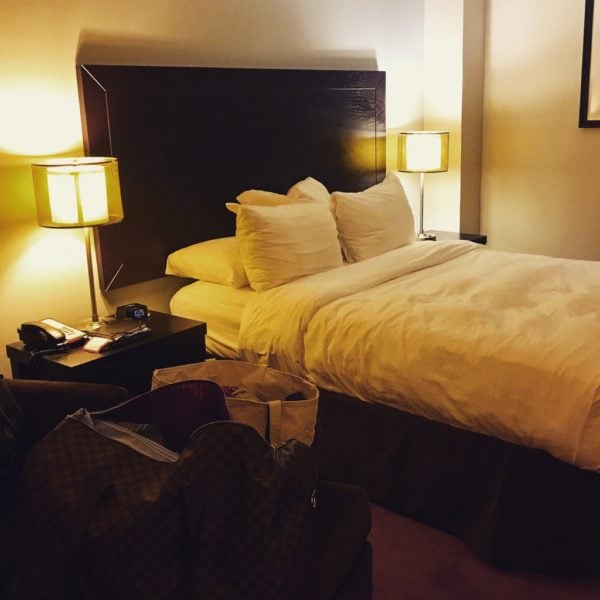 2. Slept well at the Rodd Grand Yarmouth
The Rodd Grand Yarmouth is not much from the outside or even from the lobby, but the staff, comfortable bed, premium cotton sheets and pillows, and clean bathrooms with luxury bath products made for a good night sleep before a long travel day. On the night of my stay, there were lots of travelers from the CAT ferry there, including those from a touring bus. It was a nice intro to the nice folks of Nova Scotia.
3. & 4. Drank a great oat milk latte and a smoothie in Mahone Bay
The first tourist office I stopped at (there are many throughout Nova Scotia and Cape Breton, all manned or  "womanned" by knowledgeable staff, maps and brochures) recommended the picturesque town of Mahone Bay, where I had the best oat milk latte at The Barn and a delicious "Haskapa Love" berry smoothie at Keliza Healthy Living.
5. Saw the folk art of Maud Lewis at the Art Gallery of Nova Scotia
Halfway through my road trip to Cape Breton, I stopped in the Nova Scotian capital of Halifax to visit Art Gallery of Nova Scotia to see the folk art of Maud Lewis and how the artist was inspired by the simple life of the north shore of Nova Scotia. I personally love her sensitive paintings of animals (especially cats). Maud sold her quaint folk art from her cottage, which is also a work of art and was saved and restored and is now on view at the art gallery. It's painted inside and out. (I love artists! We'll paint on anything, and a lack of supplies never holds us back!)
6. Strolled the Halifax waterfront
A quick walk along the long boardwalk/pier of the Halifax waterfront on a top-10 weather day as I visited the touristy shops carrying things from Nova Scotia and "not your usual touristy stuff." And parking in Halifax was not that difficult!
7. Learned Scottish and Nova Scotian history at Hector Heritage Quay
I stopped in Pictou on the way to Digby to tour the Hector Heritage Quay, home of a replica of the schooner that transferred the original Scottish immigrants to Nova Scotia. I loved learning its history especially since I am now a huge Outlander fan!  Here's a brief synopsis:
After the massacre of Culloden, where the Scottish were "put down" and slaughtered by the English in the final battle of the Jacobite rebellion, the Scottish were not only defeated in battle; their morale and way of life had also been taken away. The English took their land and forbade the Scots from wearing their clan tartans (some of which are on display in the lobby of the Hector) and playing their bagpipes—the heart and soul of the Highlanders. The Scottish were literally starving to death. The ship Hector offered a new start for the Highlanders in a land said to be like Scotland. Each man was offered 150 acres plus an extra 50 for each family member.
On July 8th of 1773, the Hector set off on a treacherous and deadly journey. Smallpox killed 18 people (mostly children), water was rationed to one pint per person per day, it rained and rained, and the oatcakes grew moldy. But the Camerons, Frasers, Sutherlands, and MacDonalds survived and forged a new life in Nova Scotia ("New Scotland") and became the forbearers of many of today's residents. In 2019, the Scottish heritage is still strong in Nova Scotia.
The replica Hector is open seasonally from May through October 12. My private tour (late September was quiet in this sleepy seaside town) brought home the unbelievable fortitude of the Scots. The ship has a large deck and a cabin of sleeping quarters, with each family sharing a 5′ x 6′ bunk, and it was painted with black-and-white stripes to make pirates think there were guns aboard (and that was one saving grace). Amazingly, the replica was built using plans for the Hector that were uncovered in a Rotterdam museum.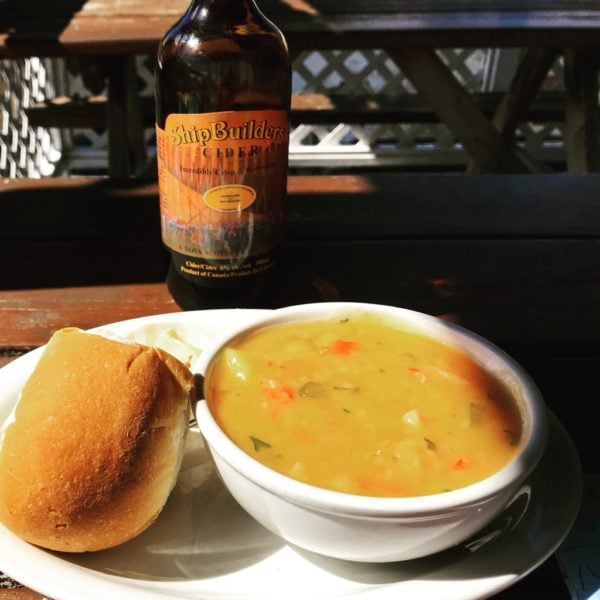 8. & 9. Had lunch and coffee (with a Syrian family) in Pictou
After the tour of the Hector (and its gift shop), I stopped for lunch at Stone Soup Cafe, recommended by the tourist office in Pictou. At Stone Soup, I had chowder and locally grown spinach made into a salad with local Knoydart cheddar cheese, red onions, dried blueberries, chopped roasted almonds, and blueberry dressing! A local hard cider called ShipBuilders Cider helped revive me after the long drive from Cape Breton. Later, visiting the farmers market in the curling arena and having coffee at Syrian cafe Aladdin with a recently migrated Syrian family was also a warm and wonderful experience.
10. Spent the night in Wolfville, the "salad bowl of Nova Scotia"
Known as the "salad bowl of Nova Scotia," Wolfville is abundant in all kinds of produce. It's famous for apples and apple cider (hard and soft), grapes, and of course wine. I was lucky to stay a night at the Blomidon Inn, a former shipbuilder's home turned into a fairytale inn with ensuite bathrooms.
11. Enjoyed sunset appetizers at Lightfoot & Wolfville Vineyards
At sunset, I enjoyed fresh Atlantic oysters and Scheurebe wine and wine-tasting at Lightfoot & Wolfville Vineyards. It's one of the most impressive winery tasting rooms I've set foot in, and the wine is really good, too. This part of Nova Scotia is a new wine-growing area that's becoming rapidly popular—and for good reason.
12. Rode the MV Fundy Rose ferry back to Maine
I took the MV Fundy Rose, a traditional ferry from Digby, Nova Scotia, to New Brunswick on my way home to Maine because the high winds were too strong for the CAT ferry. I have to say that I enjoyed it just as much!
13. Felt safe on my own the whole trip
Feeling totally safe as a single gal driving around Nova Scotia was the best!