There's no doubt travel is back and it's going to be crazy for the holidays. With all the talk of a recession and kids going back to school, I thought that the air travel numbers would fall off a cliff. It's been the complete opposite. In fact, just a few days ago (Sunday, November 13), TSA officers screened 2,435,219 people at airport checkpoints nationwide. A year ago on the same day: 2,150,150. Three years ago on the same day (pre-pandemic): 2,396,681. Travel is back and then some.
On top of that" "AAA predicts 54.6 million people will travel 50 miles or more from home this Thanksgiving. That's a 1.5% increase over 2021 and 98% of pre-pandemic volumes. This year is projected to be the third busiest for Thanksgiving travel since AAA started tracking in 2000.
As always, the busiest days of the year to fly are the Wednesday before Thanksgiving and the Sunday after. (This is the best day of the year to fly and it's coming up!)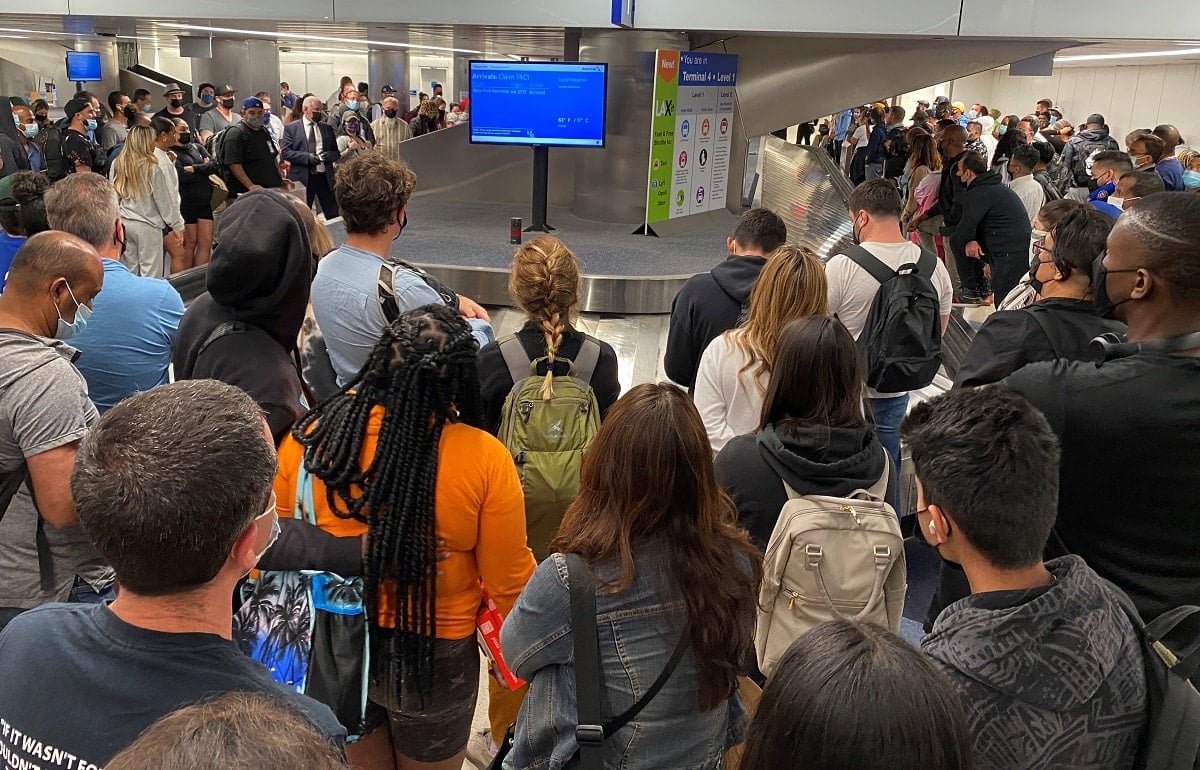 I know people are worried about labor shortages and Covid but if there are going to be problems over the holidays, that's not what will cause them. Problems (ie flight delays and cancelations) will arise from weather. If you're traveling for Thanksgiving, here are my tips for making your travels smoother and safer:
1. Give yourself extra extra time
I probably sound like a broken record but this is something that can't be overstated. If there's a traffic jam, you can't find parking and you cut it short and you miss your flight, you're going to be as cooked as grandma's turkey. Flights are going out completely full so if you miss your flight, you might as well go home and start cooking.
2. Pack snacks
No matter if you're flying on a short, one-hour flight or across the country, always bring snacks and drinks. If your short flight is delayed or canceled, at least you won't be at the mercy of flight attendants, have to fight the lines at airport concessions or pay their astronomical prices. I keep Luna bars in my carry-on if I'm in a pinch, or more importantly, if my wife is, so she won't go hangry. If my kids are with me, I travel like a stocked vending machine at Disneyland.
3. Stay hydrated
You can't bring bottled water through security but you can bring an empty water bottle so do that and then fill it up at a refilling station, water fountain, club lounge or ask a restaurant for a cup of water on the other side. In fact, here's a trick that I'm surprised TSA allows but they do!
Tip: Don't place the top of your water bottle so it touches the spout of a fountain or faucet. You don't want anyone else's germs and no one wants yours. Be sure there's at least an inch or two separation when filling up.
4. Ask the TSA
Wondering what you can pack and what you can't? Just ask the TSA directly. Believe it or not, they do a great job responding to questions via Twitter (@AskTSA) during normal business hours or you can download their free MyTSA app.
5. Don't act like a rookie
Now that you know what you can (and can't!) bring through security, don't act like a rookie. Know the rules to speed things up. Have your shoes, belt, anything metal including coins, wallet, phone packed away in your bag or in the pockets of your jacket and just put them all on the conveyor belt. If everyone knows the drill, you won't have to wait so long. If going through an international airport like London's Heathrow, follow this advice.
6. Get Clear and TSA PreCheck
Speaking of waiting, last year the TSA administrator said travelers going through the standard security check should expect wait times around 30 minutes. If you have TSA PreCheck, it's under 10 minutes. Expect the same this year and if you want to make it under two minutes, sign up for Clear. Just be sure that the airports and terminals you fly out of most offer it before shelling out the money.
7. Fly off-peak
If you haven't purchased your ticket yet (what are you thinking?) there are, surprisingly, some deals left to be had, especially if you fly on Thanksgiving Day or the Friday after. These are two of the slowest and cheapest days of the year to fly. Here are some tips for finding cheap flights for Thanksgiving and while we're at it, for Christmas, too. TIP: If you want to greatly reduce your risks of being delayed, take the first flight of the day out. Planes and crews are usually at the destination so you don't have to wait for any of them coming in from another location.
8. Upgrade your seat and state of mind
 Most business travelers aren't traveling over the holidays, so travelers can usually buy a first-class ticket or snag an upgrade for much cheaper than normal. With packed planes, COVID and other viruses, now is the time to splurge to lessen your chances of catching something. It especially makes sense if it's not that much more money and you're checking bags since first class comes with two free checked bags, free food and of course, a comfortable seat with fewer people around you.
9. How to get the best seat
If you can't fly first class, don't fret since I'll share my trick for getting the best seat in economy (usually in the exit row or bulkhead). First, consult SeatGuru.com for the best seat on your type of aircraft, then sign up to ExpertFlyer so they can monitor your desired seats so you don't have to keep checking yourself. You can choose a specific seat like an exit row aisle or a type like any window or aisle. When one opens up, you will be notified. Seats can open up anytime but usually start five days to 24 hours out and lasts all the way right up to boarding. This is when airlines start upgrading their frequent fliers who almost always have the best economy seats already pre-reserved. So when they get lucky, you can too (if you're quick).
10. Buy a back-up ticket
If you positively don't want to or just can't get stuck, then buy a refundable back-up ticket on another airline for a few hours after your original flight. That way, if your flight gets cancelled or you get stuck in traffic, you aren't screwed. Here are some more tips about this nuclear travel hack.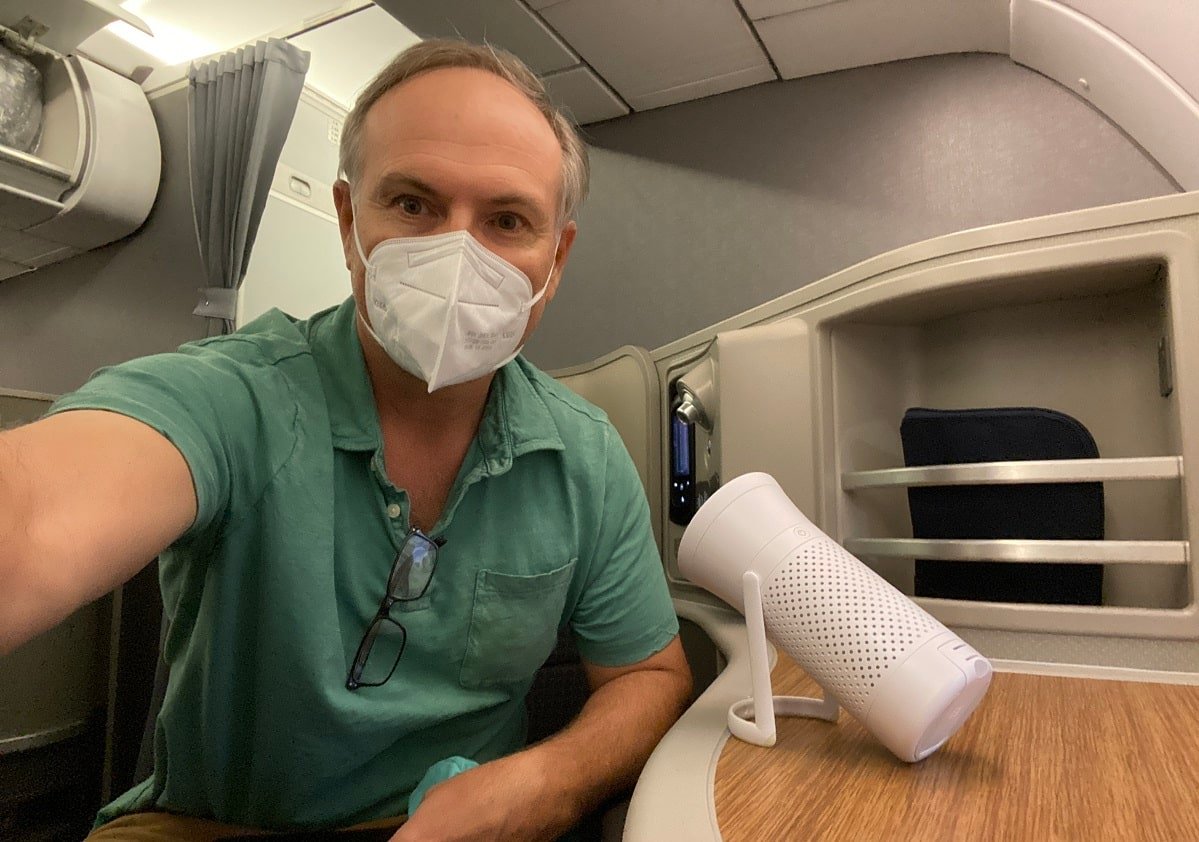 11. Bring an air purifier to ensure clean air
The air on planes is filtered through HEPA filters so you should be fine unless your surrounding seatmates have COVID. If you want to ensure you have even clean air while in the air or on the ground, get this Wynd air purifier. I brought it on my trip to see my dad in Connecticut and I used it in the airline lounge, on the airplane, in the car service (when it started raining and we had to close the windows), at my hotel and inside a restaurant. You may get a mixed bag of looks from people. Some will look at you like you're a freak (like my brother did) and others will be jealous.
12. Be extra nice
If you're a regular reader, then you know that my number one travel tip is to always be genuinely nice to everyone but especially to gate agents and flight attendants. They already had a difficult job pre-pandemic and now they've been putting up with the crazies. I always make sure to greet them with a smile and almost always bring them a box or bag of chocolates.
This is definitely going to be a memorable holiday for many since it might be the first Thanksgiving in a while that many loved ones are getting together. I hope these tips help you travel safely and smoothly this holiday season.