This post contains references to products from one or more of our advertisers. We may receive compensation when you click on links to those products. For an explanation of our Advertising Disclosure, visit this page.
There's no doubt travel is back and it's going to be crazy for the holidays. "AAA projects 55.4 million travelers will head 50 miles or more from home over the Thanksgiving holiday travel period. This year's Thanksgiving forecast is an increase of 2.3% over last year and marks the third-highest Thanksgiving forecast since AAA began tracking holiday travel in 2000. The top two years were 2005 and 2019, respectively."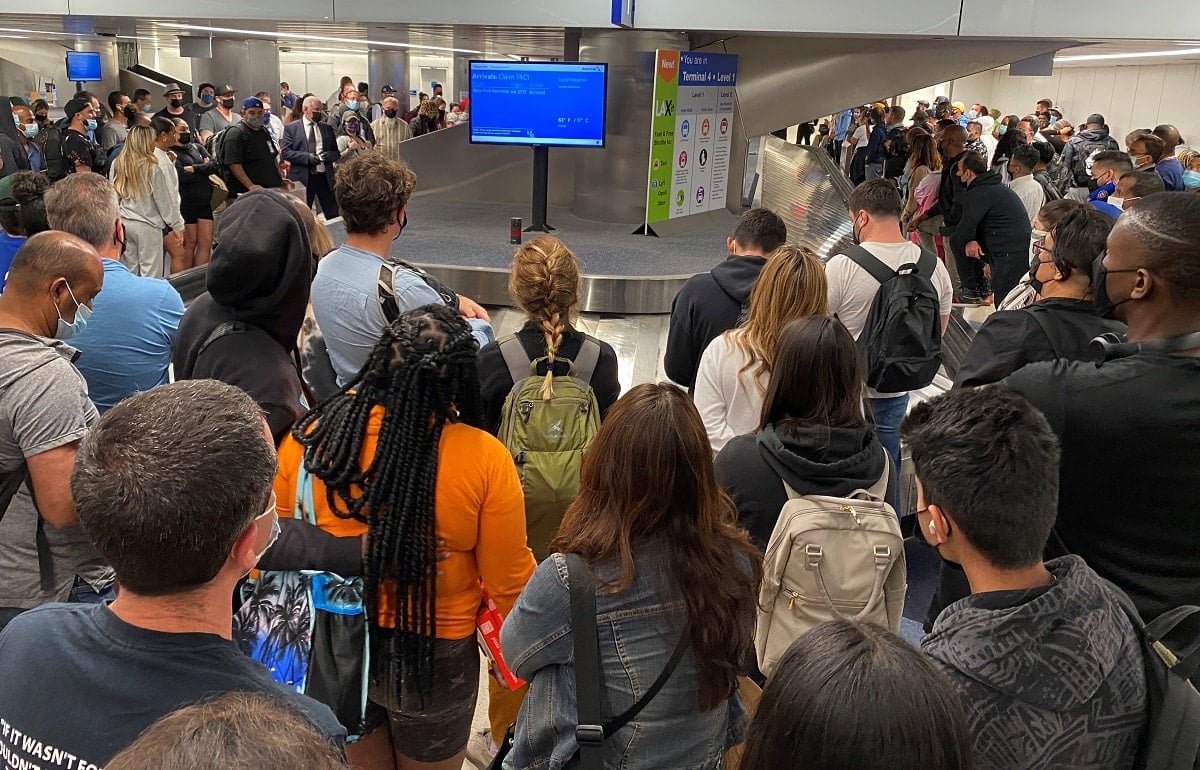 According to the TSA, their officers screened 2,677,486 people nationwide at security checkpoints on November 12. Four years ago on the same day (pre-pandemic): 2,396,681. I'm predicting the Sunday after Thanksgiving will break the current record of 2,884,683.

As always, the busiest days of the year to fly are the Wednesday before Thanksgiving and the Sunday after.
TIP:
This is the
best day of the year to fly
and it's coming up!
If you're traveling for Thanksgiving, here are my tips for making your travels smoother:
1. Give yourself extra time
I probably sound like a broken record but this is something that can't be overstated. If there's a traffic jam, you can't find parking and you cut it short and you miss your flight, you're going to be as cooked as grandma's turkey. Flights are going out completely full so if you miss your flight, you might as well go home and start cooking.
2. Pack snacks
No matter if you're flying on a short, one-hour flight or across the country, always bring snacks and drinks. If your short flight is delayed or canceled, at least you won't be at the mercy of flight attendants, have to fight the lines at airport concessions or pay their astronomical prices. I keep Luna bars in my carry-on in case I need something in a pinch, or more importantly, if my wife does, so she won't get hangry. If my kids are with me, I travel like a stocked vending machine at Disneyland.
3. Stay hydrated
You can't bring bottled water through security but you can bring an empty water bottle so do that and then fill it up at a refilling station, water fountain, club lounge or ask a restaurant for a cup of water on the other side. In fact, here's a trick that I'm surprised TSA allows … but they do.
Tip: Don't place the top of your water bottle so it touches the spout of a fountain or faucet. You don't want anyone else's germs and no one wants yours. Be sure there's at least an inch or two separation when filling up.
4. Ask the TSA
Wondering what you can pack and what you can't? Just ask the TSA directly. Believe it or not, they do a great job responding to questions via X, formerly Twitter, (@AskTSA) during normal business hours or you can download their free MyTSA app. You can also just text "Travel" to AskTSA (275-872) to ask the TSA a question.
5. Don't act like a rookie
Now that you know what you can (and can't!) bring through security, don't act like a rookie. Know the rules to speed things up. Have your shoes, belt, anything metal including coins, wallet, phone packed away in your bag or in the pockets of your jacket and just put them all on the conveyor belt or in a bin. If everyone knows the drill, you won't have to wait so long. If going through an international airport like London's Heathrow, follow this advice.
6. Get Clear and TSA PreCheck
Speaking of waiting, TSA administrator David Pekoske said travelers going through the standard security check should expect wait times around 30 minutes. If you have TSA PreCheck, it's under 10 minutes. If you want to make it under two minutes, sign up for CLEAR. Just be sure that the airports and terminals you fly out of most often offer it before shelling out the money.
7. Fly off-peak
If you haven't purchased your ticket yet (what are you thinking?) there are, surprisingly, some deals left to be had, especially if you fly on Thanksgiving Day or the Friday after. These are two of the slowest and cheapest days of the year to fly. Here are some tips for finding cheap flights for Thanksgiving and while we're at it, for Christmas, too. TIP: If you want to greatly reduce your risk of being delayed, take the first flight of the day out. Planes and crew are usually at the destination already so you don't have to wait for any of them coming in from another location.
8. Upgrade your seat and state of mind
Most business travelers aren't traveling over the holidays, so travelers can usually buy a first-class ticket or snag an upgrade for much cheaper than normal. It especially makes sense if it's not that much more money and you're checking bags since first class comes with two free checked bags, free food and of course, a comfortable seat with fewer people around you.
9. How to get the best seat
If you can't fly first class, don't fret. I'll share my trick for getting the best seat in economy (usually in the exit row or bulkhead). First, consult SeatGuru.com for the best seat on your type of aircraft, then sign up to ExpertFlyer so they can monitor your desired seats so you don't have to keep checking yourself. You can choose a specific seat like an exit row aisle or a type like any window or aisle. When one opens up, you will be notified. Seats can open up anytime but usually start five days to 24 hours out and last all the way up to boarding. This is when airlines start upgrading their frequent fliers who almost always have the best economy seats already reserved. So when they get lucky, you can too (if you're quick).
10. Buy a back-up ticket
If you positively don't want to or just can't get stuck, then buy a refundable back-up ticket on another airline for a few hours after your original flight. That way, if your flight gets cancelled or you get stuck in traffic, you aren't screwed. Here are some more tips about this nuclear travel hack.
11. Don't check luggage
If you're a frequent flier then you know it's best not to check a bag. This way, you won't have to show up to the airport extra early to check it, wait around for what seems like an eternity at the baggage carrousel upon arrival, worry about it getting lost or having items stolen. A carry-on bag will also save you money on baggage fees, allow you to take public transportation more easily and get on a different flight if your original one is delayed or canceled. But if you have to check a bag, be sure to pop an Apple AirTag or Samsung SmartTag into your luggage so you can track it yourself and not have to rely on the airline's app.
12. Be extra nice
If you're a regular reader, then you know that my number one travel tip is to always be genuinely nice to everyone but especially to gate agents and flight attendants. I always make sure to greet them with a smile and almost always bring them a box or bag of chocolates.
I hope these tips help you travel safely and smoothly this holiday season.
KEEP READING
• How to Save Money With a Secret Third Carry-On
• How to Use Your Wireless Headphones to Watch In-Flight Movies
• 10 Airport Security Hacks Every Traveler Should Know
• How to Get the Best Coach Seat on the Plane
• The Sleep Hack Every Traveler Needs to Know
• Never Get Your Valuables Stolen on the Beach
Want more travel news, tips and deals? Sign up to Johnny Jet's free newsletter and check out these popular posts: The Travel Gadget Flight Attendants Never Leave Home Without and 12 Ways to Save Money on Baggage Fees. Follow Johnny Jet on MSN, Facebook, Instagram, Pinterest, and YouTube for all of my travel posts.