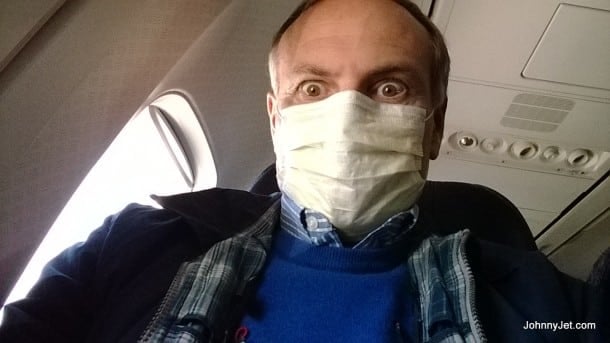 This post was updated on October 25, 2021. It was originally published in 2012.
There's nothing worse than being sick, except for being sick away from home. And unfortunately, it has happened to me multiple times. The good news to come out of these nasty bugs is that I learned some valuable tips—the 11 below—that I can now pass on to you to help you minimize your own risk on the road this season.
1. Get vaccinated
Every frequent traveler knows they should get a flu shot each flu season and hopefully you've already gotten your Covid vaccine. Here are some places to get a flu shot.
2. Use disinfectant wipes
When I travel I'm almost borderline Howard-Hughes-insane about germs – and that was pre-pandemic. Covid just heightened all of my efforts to sanitize things. I constantly wash my hands, use hand sanitizer, make a conscious effort not to touch my mouth, eyes or nose, and wipe down plane seats and hotel rooms with disinfectant wipes (I recommend Clorox or SONO). When I've been lazy, I've paid the price for it. Don't make the same mistake.
3. Pack a mini first aid kit
I always carry a mini first aid kit in my carry-on (Tylenol in particular has brought me instant relief in the past). Here's what I pack in my carry-on first aid kit. You can get most of this on the road but why wait? And trust me: When you get sick you're going to wish you packed this stuff before you left.
4. See a doctor
The one thing I forgot to replenish in my first-aid kit last time I traveled was Amoxicillin, and that hurt because I got an upper respiratory infection, so I needed a doctor. All hotels can arrange for one, so call the front desk and inquire, or make plans to see one back home. Last time, I emailed my doctor from the road and saw him as soon as I arrived back in the United States. Some locations like where I live in L.A. offer doctor house or hotel calls by using the Heal app. Search your location for similar apps.
5. Travel insurance
Before you leave home, check to see if your health insurance covers you during your travels (especially international). If not, buy travel insurance but be sure to always read the fine print and find out what's covered when it comes to Covid. Travel insurance is not expensive and provides great peace of mind. I use InsureMyTrip.com, which lets you call or book the best plan for a particular trip online using one of their 24 travel insurance brokers. However, I always go with Allianz since they're the largest and in the past, I have worked as one of their brand ambassadors.
6. Rest
I'm pretty sure one of the reasons I got shingles back in 2015 was that I was traveling too much and not getting enough sleep. I could feel my body getting worn down. When I finally got sick, I was smart and canceled everything on my agenda to allow myself more time to rest.
7. Don't spread your germs and wash your hands
If there's one thing Covid has taught us, it's: If you're sick, just stay home. No one wants to be around a sick person. If you have to go to work or catch a flight then wash your hands more than usual, use hand sanitizer and cover your mouth when you cough or sneeze. According to the CDC, this is the proper way to wash your hands:
8. Wear a surgical mask
Well before the pandemic I wrote, "In Japan everyone wears a surgical mask when they're sick. Why can't we bring that tradition to America or, better yet, the rest of the world? Who cares if people think you look like a freak? As you can see from the photo above I put on my mask on a flight not because I was sick but because the passenger next to me was not wearing one and coughing without covering his mouth. After I put on my mask and gave him my "crazy eyes" he got the hint."
9. Use disinfectant wipes AGAIN
Yes, I'm repeating this for a reason. Obviously, it makes sense to disinfect a surface before you touch it. But what many people don't think about is disinfecting the surface again after you've touched it. It's the same principle as wiping down your equipment after you've used it at the gym. So if you're sick when you fly, give everything you've touched (overhead compartment latch, seatbelt, in-flight entertainment screen and controls, tray table), a quick wipe down when you land. Same goes for everything in your hotel room if you're sick there. Let's stop the madness of passing germs on.
10. Drink lots of fluids
When you're sick, during flu season or any other time, you should be drinking lots of fluids, and I'm not talking about alcohol or caffeine. When you travel, you should drink even more. I drink gallons of water when I'm sick on the road. I also carry those tiny packets of Emergen-C that I can pour into a bottle and shake or mix in a glass of water. I was recently sick in Palm Springs and my buddy, former travel writer and Palm Springs resident Chris McGinnis brought over some Liquid I.V. for me and suggested I take it, along with a steamy hot shower because he thought I might have been dehydrated. You know what? He might have been right. I added a single packet of Liquid I.V. to my water and started feeling much better within a couple of hours. Now I keep it in my first aid kit.
11. Change your plane ticket
One of the best things to come out of the pandemic is the airlines finally eliminating most of those ridiculous change fees. I always thought that airlines should've made an exception for people who are sick because the metal tube just makes them sicker and spreads their germs to others. Fortunately, now they do so take advantage of it. I've changed my LAX to JFK flight five times in the past month because either I or one of my family members have been sick.
I hope you find these tips/tricks to be helpful. Let me know what works for you or if I've missed anything, and here's to happy, healthy and safe travels this Covid/flu season and beyond!