A big thank you to Coco Collection for hosting this stay so we could provide this detailed review.
Almost every luxury property in the Maldives offers picturesque villas over calm turquoise-hued waters. With hundreds of options available, it can be hard to choose the right one.
The Maldivian-owned Coco Collection island properties I stayed at this past spring – Coco Bodu Hithi, in North Malé Atoll and Coco Palm Dhuni Kolhu in the Baa Atoll – offer more than a typical Maldivian vacation. Complete with access to the marine wonders of the UNESCO Biosphere Reserve of Baa Atoll, they also feature opportunities to participate in coral restoration, learn about turtle rehabilitation, and even have a private island escape.
Coco Palm Dhuni Kolhu is among the first locally-owned luxe resorts in the region, and the two resorts in the collection sit on their own islands, blessed with stunning natural beauty. They both offer something for everyone, from lagoon bungalows with private pools to family-friendly garden and beach villas. Guests enjoy global cuisine at various restaurants, buffet-style and cooked-to order dining, beachside BBQs, intimate pergola multi-course feasts on the beach and picnic meals on a deserted island. Being surrounded by an untouched marine environment means snorkeling and swimming with turtles and fishes, along with diving to see manta rays.
To top it off, Coco Collection's commitment to the environment, their plastic reduction, coral restoration project, and on-site Olive Ridley Project's turtle rehabilitation center, make them stand out, attracting conscious travelers from around the globe.
Keep reading to find out why Coco Collection's two resorts are a great choice for your next Maldives vacation.
1. Elegant Overwater Experience Close to the Airport 
Coco Bodu Hithi, in North Malé Atoll, sits on a pristine island with palm-fringed shores and native tree-lined paths connecting thatched-roofed buildings. The resort is easily accessible by a short boat ride from the Maldives International Airport in the capital city of Malé.
Coco Bodu Hithi is Maldivian at heart. I was greeted on the dock with traditional song and dance; a welcome message made of palm leaves adorned the king-sized bed in my overwater Coco Residencies villa. The villas feature high-ceilinged, thatched-roofs and local art that reflect the islands' character, while traditional boats, called dhonis, are used for excursions and sunset cruises.
The resort is elegant in its offerings, from its five restaurants providing fine dining, global cuisine and beach barbecues and two inviting bars to an award-winning overwater spa. Guests have the option of a five-course dinner under a pergola on the beach, or turn their overwater villa into a private restaurant with their own grill chef and servers.
The spa, which sits on a platform above the azure waters, has eight overwater rooms and offers restorative treatments inspired by Thai, Indian and Indonesian influences. There is also an on-site fitness center, Jacuzzi, sauna, steam room, and a cold plunge pool. My favorite experience was partaking in a rejuvenating sunrise yoga class on the pavilion, where panoramic lagoon views and the soothing waves helped me recover from the jet lag.
2. Relaxing Island Getaway in the Baa Atoll 
Coco Palm Dhuni Kolhu, located in the Baa Atoll, a UNESCO Biosphere reserve, is a 30-minute seaplane ride from Malé and is the original Coco Collection resort. When it opened in 1998, it was among the first locally owned luxury resorts in the nation. While Coco Bodu Hithi's offerings have an air of refined elegance, Coco Palm Dhuni Kolhu has an even more relaxed and soulful atmosphere. Guests can walk around barefoot, be immersed in nature and enjoy the wonders of the marine world, steps from their accommodations.
Charming rooms and pathways are rounded and curved to integrate with the lush tropical forest – complete with shade-providing palms, giant Banyan trees and Beach naupaka (beach cabbage) shrubs along with hibiscus and red frangipani plants – giving visitors a sense of serenity. My favorite was the airy and beautiful spa that blends in with its surroundings, offering refreshing natural teas, Asian-inspired spa treatments and a sauna.
The main dining area, Cowrie, is a massive Maldivian structure with high ceilings, offering a scrumptious buffet of global and local dishes, made from regionally sourced ingredients. For those craving Asian food, the menu of Cornus has Thai dishes along with Malaysian, Indonesian, Indian and Chinese cuisine. Beach Bar, surrounded by idyllic views of the sea, is the perfect place for lunch, while the Conch Bar, located on the western side of the island, is well positioned for cocktails and views of the gorgeous Maldivian sunset.
3. Luxury Villas with Private Infinity Pools 
Coco Bodu Hithi's water villas and Coco Residences (spanning 1,980-square-foot each) sit on platforms above the soothing waters of the blue-green lagoon. The resort was the first in the Maldives to introduce private pools in each single villa. These accommodations, perfect for couples, feature a private infinity plunge pool, a spacious living room, bedroom and bathroom, with indoor and outdoor showers, and an expansive deck to sunbathe. The deck's steps allow guests to reach the house reef right from the comfort of the villa.
Those staying in one of Coco Residences, situated on a semi-circular enclave above water, have all day access to a restaurant and bar. The resort also has island villas, sitting on fine sand around the island. They are the largest of the villas and are ideal for families. A private path leads to an exclusive beach area and each villa is surrounded by lush tropical vegetation that provides privacy.
4. Varied Accommodations to Immerse in Nature
A vacation on this island nation brings up visions of honeymooning couples sipping tropical drinks on soft white sandy beaches with swaying palms in the distance. While this idyllic destination in the Indian Ocean is remote and gorgeous for a romantic getaway, it could be just as fun and exciting for families, friends, and even solo travelers.
At Coco Palm Dhuni Kolhu, guests can choose from contemporary overwater villas and rustic family-friendly garden and beach accommodations with timber lattice work, stone walls, rustic tiles, and thatched roofs. Surrounded by mature tropical trees, the beachfront villas are spacious and comfortable with canopy beds, seating areas, a dressing table, wardrobe, and lie steps from the pristine beach. My favorite was the private outdoor garden bathroom.
The Sunset Beach Villas, sitting on the western shore, are good for taking in the iridescent sunset every night. On the eastern shore of the island are the Deluxe Villas with freshwater plunge pools and sunken baths. Lagoon Villas sitting over the turquoise waters in the shape of a palm leaf, provide spacious luxury accommodations and privacy for couples, complete with a luxury Jacuzzi bathroom, sundecks, and freshwater plunge pools. Both Lagoon villas and Beach villas are good for families.
5. Maldivian-Owned and Committed to Sustainability
Coco Collection, founded by four Maldivian brothers, offers unique private island properties that provide locally inspired hospitality in a sustainable and responsible manner. Out of the approximately 200 private island resorts, only about 20 are Maldivian owned, making a stay here all the more impactful.
More importantly, both resorts are set on natural islands, with native vegetation that's been around since the islands were born, as opposed to landscaped gardens that are common on other island resorts.
Both Coco Bodu Hithi Island and Coco Palm Dhuni Kolhu are working towards a zero single-use plastic policy. On each of the islands, the Chefs' Gardens provide fresh herbs and produce, and food waste is turned into garden fertilizer. Sea water is pumped and filtered for use in gardening and showering. The resorts have onsite drinkable water production, glass bottling plants, and onsite recycling of glass, styrofoam and aluminum.
6. Exceptional Wildlife Viewing 
Beyond luxurious accommodations, the main draw of a Maldivian vacation is its incredible marine life, which is literally at your doorstep when you stay at either of the Coco Collection resorts. One morning, while sitting on the porch chair at Coco Palm Dhuni Kolhu, I noticed a baby black-tip reef shark – a harmless fish – who swam closer to the shore from the house reef located nearby. Being in the UNESCO Biosphere Reserve means access to some incredible marine life, and swimming, snorkeling and diving will bring guests up close to Hawksbill turtles, nurse sharks, manta rays and adorable spinner dolphins.
Among my favorite activities include a guided swimming session with the resident marine biologist to see turtles and colorful reef fish on an excursion at Coco Bodu Hithi, and a thrilling boat ride on a traditional boat in the Baa Atoll to see hundreds of spinner dolphins.
Coco Dive, located at both resorts, offers magical underwater experiences, with sightings of manta rays, batfish, Napoleon fish, nurse sharks and schools of fish, for both beginner and seasoned divers.
7. Turtle Conservation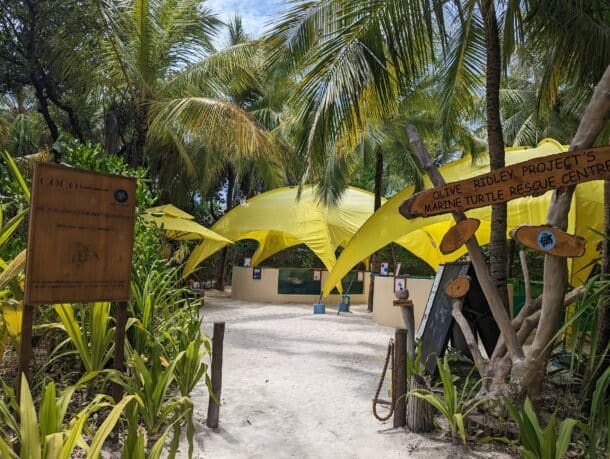 Coco Palm Dhuni Kolhu is home to the first and only veterinarian-led turtle rescue center in the Maldives, run in partnership with the UK-based charity, Olive Ridley Project. The center rescues and rehabilitates turtles injured from ghost net entanglements, before being released back into the ocean. It is fully equipped with diagnostic machines, a surgical room, and staff and volunteers to provide care for injured turtles.
Guests can learn about the rescued turtles and the work being done to conserve turtles on guided tours, and watch staff feed them in their individual tanks at scheduled times. In addition, Coco Palm Dhuni Kolhu helps these reptiles by regularly monitoring Green sea turtle nests on the beach during nesting season, relocating eggs to safe areas, and helping hatchlings reach the ocean.
8. Coral Restoration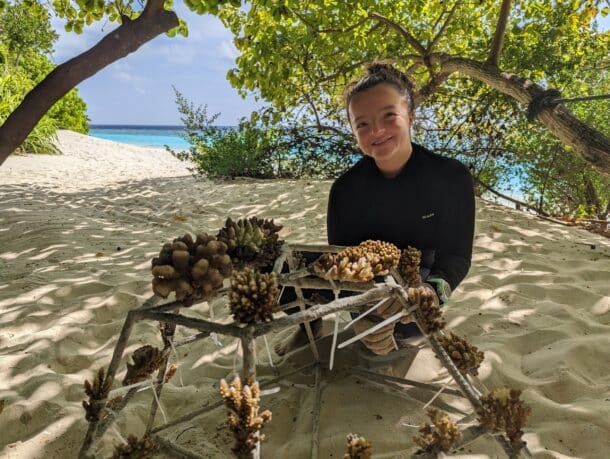 One of the most impactful things I did while at Coco Palm Dhuni Kolhu was help replant corals. During the 2016 bleaching event (intensified by climate change), nearly 70% of the coral reefs on the island nation died. In an effort to help restore healthy corals, Coco Palm Dhuni Kolhu has a coral replantation program that guests can participate in during their stay.
The morning of the onsite coral restoration experience, resident biologist Rosie and her predecessor, Ciara, collected corals that have naturally broken off and brought them in a bucket full of water. These corals had parts in varying degrees of health, with some bleached or dead, but there was still hope for them to survive if they were anchored.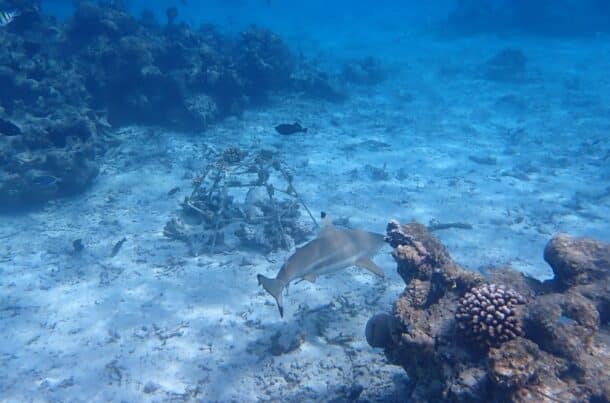 We sat together under the shade of trees and tied these bits of coral to a metal and cement frame. Rosie and Ciara then swam to the resident coral reef garden with the frame – which already houses 30 frames – and added it to the collection. It will now remain there forever, providing a permanent home for the growing coral and the marine inhabitants that rely on them.
Guests also have an opportunity to "adopt" a coral frame that they've helped put together for a fee and receive regular updates on how they are thriving. I already received updates with images showing my little corals in the company of some reef tip sharks.
9) Memorable Cultural Experiences 
One of the most interesting things about travel is the chance to learn about other cultures. While guests at both Coco resorts have a chance to taste Maldivian food in the restaurants, listen to local music, and hop aboard the traditional Dhoni sailboats for sunset cruises, there's something more immersive about visiting the people and learning first-hand.
On the island of Thulhaadhoo in the Baa Atoll, 30 minutes from Coco Palm Dhuni Kolhu, guests can see the traditional lacquer work skills of its artisans and admire the pots, ornaments and vases made using this 17th century craft. While there, there's an opportunity to visit with a Maldivian family for afternoon tea and go shopping in the local markets afterwards.
10. Private Island Escapes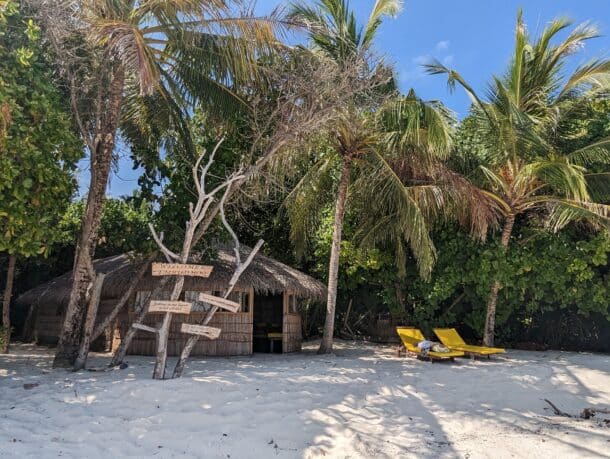 Have you ever dreamed about having an entire island to yourself? At Coco Palm Dhuni Kolhu, you can spend an entire day or night on the deserted island of Embudhoo, just a 15-minute boat ride from the resort. There, on the picture-perfect beach, spend time with your loved ones, swim in the warm waters, sunbathe, or relax in a hammock chair under the shade, or walk around the small island.
The forested island is devoid of any structures, except for a single traditional hut with a canopy bed and bathroom, perfect for couples seeking an intimate getaway. A picnic lunch or BBQ dinner will be arranged by the resort, and then you are left to be all on your own to enjoy this exclusive beach paradise.