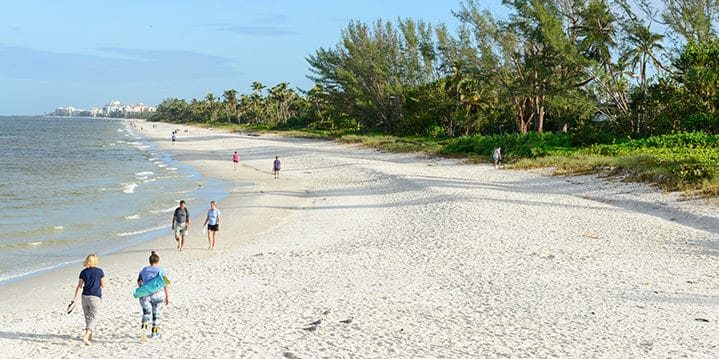 Naples, Florida: picturesque Gulf Coast community and my host for a few days in October. Here are ten reasons to explore it from the stronger-than-ever boutique Inn on 5th:
1. Naples survived Hurricane Irma and is better for it
The number-one reason to come to Naples, Florida? Despite having been slammed by Hurricane Irma, this tenacious city is back and in some ways better than it was before. When Irma's path dramatically changed course at the last minute and set its sights for Naples—picturesque Gulf Coast community—its residents were caught off guard. They braced for the worst. But incredibly, after only three weeks they had almost completely recovered. Though there was certainly significant damage and power loss, I was hard-pressed to find obvious signs of damage when I visited in early October.
2. The Inn on 5th is open and improved
The luxury, boutique-style Inn on 5th, located in the upscale shopping and entertainment district of downtown Naples, served as media central during the storm. CNN broadcasted from the Presidential suite, Fox News aired from the balcony, and all the other major networks claimed their space in delivering minute-by-minute coverage of this epic weather event as it unfolded.
Though proud to host the media, hotel management realized their news guests would be creating a public relations nightmare by virtue of their intended coverage. When it was all over, the hotel knew that its major challenge would be to convince the public that the hotel was intact, if not better than it had been pre-hurricane.
The Inn on 5th also housed first-responders, as well as scheduled guests and families seeking last-minute refuge. Not only did a handful of emergency staff feed and take care of their guests, but they also still managed to maintain a high level of service—and that's with an extended power outage!
Inn Marketing Director Cathy Christopher recalls how during the brief thirty minutes of calm and weirdly blue skies when the eye of the storm passed over, workers ran outside to clear debris from drains, check the roof (which had just been replaced), and took other flood-prevention measures. Because of these efforts, the hotel suffered virtually no damage.
3. The spa, which will currently come to your room
A month prior to Irma a lesser storm inflicted serious flooding during a near-finished re-roofing project. Major water damage occurred in guest rooms, the spa and even the lobby. Reconstruction was already underway by the time Irma arrived. Now, all guest rooms have been upgraded and restyled, the lobby has repainted and refreshed, and the spa has been expanded beyond what it was.
During my visit in October, the spa had not yet opened so it was offering in-room massage treatments. Karla, a massage therapist with the Inn on 5th for fourteen years, gave me a one-hour therapeutic massage, with deep-tissue work, some foot reflexology, and a cranial release technique. She also gave me some helpful suggestions for treating an existing shoulder condition, using homeopathic remedies and essential oils.
4. Free transportation around Naples
The Inn offers complementary chauffeured transportation throughout downtown Naples with use of the available golf carts, an Escalade and a Tesla Model X.
5. Ocean Prime, the on-site restaurant
Adjacent to the main building is Ocean Prime, a first-class restaurant known for its steaks and fresh seafood. Its tall ceiling and refined lighting give it a grand, romantic atmosphere; it's urban sophisticated but not pretentious.
When I asked for a cocktail suggestion. out came the "Berries & Bubbles," a dramatic dry ice-smoked drink, with Belvedere citrus vodka, marinated blackberries, house-made sour, and champagne.
My house salad was colorful and crisp; the lobster bisque, rich and flavorful; and the locally caught snapper, blackened, paired nicely with a glass of Puilly Fuissy. The impressive ten-layer carrot cake capped a perfect meal. The service was attentive and not overbearing.
6. The white-sand beach
A brisk fifteen-minute walk out the hotel door will bring you to one of Florida's ultra-fine, white-sand Gulf Coast beaches. Even on a balmy early weekday morning there was brisk activity: joggers tracing the water's edge, toddlers playing in the sand, and from the pier, plenty of folks casting their lines for pompano, red fish and Spanish mackerel.
7. First-class shopping and dining
A walk out the door will put you on Naples's famous Fifth Avenue South, a boulevard lined with luxury stores, bistros and cultural centers. And a short golf cart ride will take you to Third Street South for even more boutiques to fall in love with.
8. Sunset cruises
A most relaxing and knock-your-socks-off visual experience is a sunset cruise out in the Gulf of Mexico. Pure Florida offers a variety of one-and-a-half-hour narrated cruises daily on any one of several boats in its fleet.
On our outing, my group met our boat captain at the dock in Tin City, a short stroll from the hotel. He and his mate took us out of Naples Harbor as the sun was getting low on the horizon. As we headed out into the Gulf, we gawked at the $10-plus million mansions, marveled at the second-largest mangrove forest in the country, and listened to some great "bad" jokes from the captain and other crazy stories. Beer and sodas were offered for purchase but some raucous septuagenarian ladies planned ahead and brought their own cooler of wine and their party set the tone. When that sun began its descent it was so magnificent and seemed to last forever, colors changing constantly. And there were dolphins! Not to be missed. Adults are $40, kids under 12 are just $20.
9. The Naples Botanical Garden
The Naples Botanical Garden suffered a pretty big blow from Irma. They lost over five hundred trees and, they estimate, close to a third of their plant material. "It looked like chopped salad," recalled a gardener who returned the day after the storm. Horticulturists and tree experts from around the country came to help in the recovery effort. These included teams from: Atlanta Botanical Garden, Bok Tower Gardens, Chicago Botanic Garden, Fairchild Tropical Botanic Garden, Longwood Gardens, Marie Selby Botanical Gardens, and Missouri Botanical Garden.
Luckily, the ecosystem here on the Gulf side of Florida is like a giant greenhouse, and almost immediately after the storm new growth began to emerge. To be honest, as a first-time visitor, I had a hard time recognizing what was missing. The 170 acre grounds looked full and in bloom. But that's testament to their cleanup and restoration efforts over just three weeks.
The silver lining to all of this is that not a single palm was lost and that a full shipment of annuals—primarily begonias—arrived late, missing the storm all together. The relatively new garden, opened to the public in 2008, attracts to close to a quarter million visitors each year.
10. The Naples Zoo!!
As a photojournalist who covered news in New Jersey for 20 years, I always checked in with zoos and animal shelters to see how they were preparing for natural disasters (floods, brushfires, etc.). So, I paid a visit to the Naples Zoo at Caribbean Gardens to see how they managed both before and after the storm. I met with Zoo CEO Jack Mulvena, who took me on a private tour of the zoo on the eve of their reopening. He explained how they crated and moved 89 animals, 70% of their population, to higher ground while securing those remaining behind as best they could. Unfortunately, they lost two African antelopes to the storm according their press release.
When zoo staff returned (the six-member emergency team had to leave last-minute because of the feared 15-foot storm surge), they were faced with an overwhelming debris field throughout the 43-acre grounds. Uprooted and snapped-in-half old-growth trees and thousands of fallen branches crushed animal enclosures and fencing and completely obstructed all pathways. Almost as soon as the clouds cleared, volunteers showed up to help clean and rebuild—including zoo teams from Kansas City, Oklahoma City , Sedgwick County Zoo, St. Louis, and Topeka—and they all came with tools! Mulvena estimates that the cost of cleanup and repairs exceeded $430,000 but through donations via social media, direct checks and items purchased on their Amazon wishlist, the zoo has recouped its losses and met most of its needs.
Mulvena sees the outcome of the storm as an opportunity to not only rebuild but improve the overall structures and visitor experience. And as far as the planned construction of an on-site animal hospital, they will implement some changes in lieu of what they experienced from the storm. The zoo celebrated its grand reopening on October 14 with free admission to all Naples residents. Adult admission is $21.95, while children can get in for $12.95.
---
For more on the Inn on 5th, check out innonfifth.com.